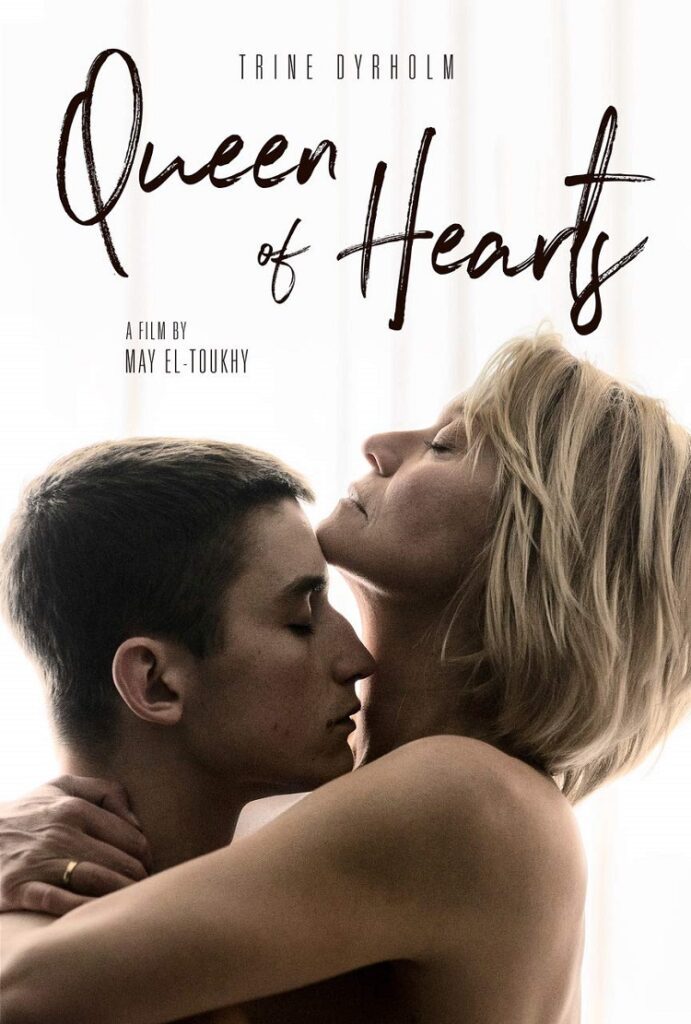 Queen of Hearts, Denmark's Oscar submission for Best International Feature Film, is indeed a slight parable to Alice in Wonderland. However, Anne (Trine Dyrholm) initially acts as the "Alice" of the storyline, falling down a rabbit hole of conflicting desire before slowly becoming the titular Queen and acting as her own worst enemy. While her incestuous affair with her teenage stepson Gustav (Gustav Lindh) gives her bliss, their forbidden love leads to a web of lies and betrayal.
Before both Anne and Gustav consummate their feelings, the film presents Anne's sedate daily routine as a way of indicating her motivations for engaging in her affair. She may have a loving husband and a decent career as a lawyer. Yet, her husband feels absent even when he's there and her career involving helping children in need appears to be less fulfilling. Anne's solitude is also demonstrated through a key sequence involving her dancing to the song "Tainted Love." The lyrics perfectly summarize her need for affection and to escape the constrictions she feels are put upon her.
Through the use of physical movements and her expressive face, Trine Dyrholm perfectly captures Anne's feelings of isolation. Dyrholm previously gave a performance full of fire and brimstone in Nico, 1988 as the famed rock singer Nico. In Queen of Hearts, she shows a more icy disposition, giving Anne a bit of mystery in the process. Anne's continuous silence makes the viewer what her thought process is even if it's clear what her intentions with her stepson may be.
Although Dyrholm carries this film well, proper credit should go to Gustav Lindh's performance as Gustav. Lindh wonderfully captures both his persistence and confused naivete and serves as a perfect foil for his female co-star. While Dyrholm maintains Anne's restraint, Lindh plays Gustav as more of an open book that tries to get through the brick wall that Anne builds between herself and those around her.
Going back to the story's Alice in Wonderland connection, the screenplay by writer/director May el-Toukhy and Maren Louise Kaehne makes the similarities apparent but not to the point where it comes overbearing. There may be scenes of Anne reading Alice in Wonderland to her children, yet it's clear to the viewers that Anne has been led down her own aforementioned rabbit hole. Additionally, due to the grainy cinematography by Jasper Spanning, it feels like Anne's journey takes place in a nearly bleak Wonderland.
With its desolate glance at the life of a woman creating slight chaos as she seeks fulfillment in her mundane life, Queen of Hearts might test the patience of some viewers. However, Trine Dyrholm's dynamic performance is what makes the picture come together. It's a portrayal that's further proof of Dyrholm quietly becoming one of our best international performers