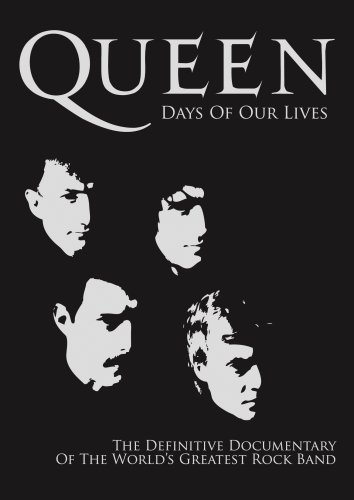 Before Queen released their first album in 1973, the late Freddie Mercury already had lofty ambitions for his musical career, telling friends he wasn't going to be a pop star, he was going to be a legend. He was right, and more than 40 years later, we are still talking about Queen. To celebrate their 40th anniversary, the BBC ran a two-part documentary mixing old clips and recent interviews with guitarist Brian May and drummer Roger Taylor. Those make up the Blu-ray Queen: Days Of Our Lives.
Borne from the ashes of Smile, May and Taylor's pre-Queen band, Queen built an audience through relentless touring and bombastic stage shows, mixing opera with heavy metal, rock and pop. It's safe to say that no band before — or since, really — sounded like Queen. With his powerful voice, flamboyant persona, and unwavering confidence, Mercury was the perfect front man for the band and is regarded as one of the greatest front men of all time.
May and Taylor provide extensive commentary on the band's history. The band were all highly educated and May's father thought he was "throwing away his education" by playing rock music. In a touching scene, May says it was only after seeing the band play two shows at Madison Square Garden in 1977 that he finally "got it." Bassist John Deacon has retired from music and seemingly disappeared altogether. All interview footage of him, as with Mercury, is archival footage.
And, for Queen fans, what footage it is. Everything from live performances from Smile to long-lost Top of the Pops clips to actual footage of the band recording "We Are The Champions" is included on the disc. Besides the band members, everyone from original Smile keyboardist Chris Smith to Queen session musician Fred Mandel to producer Reinhold Mack is interviewed for the disc.
Queen often took a beating from the press and some of their critics are also interviewed. Tony Stewart, who once wrote a story for NME about Mercury with the headline, "Is This Man A Prat?" is quoted in the documentary, as is Melody Maker Los Angeles writer Harvey Kubernik, who seems to understand Queen now, but certainly didn't then. His articles back then questioned whether Queen was even rock 'n' roll and why the band would name itself Queen when it was comprised of four men.
The documentary is brutally honest and not always praising of the band, even from the band members themselves. Taylor in particular is critical of the direction the band began to take with "Another One Bites The Dust" and more so on Hot Space. He blames Deacon for wanting to explore funk music, but especially blames Mercury's former manager, Paul Prenter, for wanting the music to sound as if it came from a gay nightclub. Taylor didn't want to go in this direction musically and says as much. Unfortunately, without Deacon present to tell his side, some of Taylor's comments come off as mean spirited. Both May and Taylor blame the reaction to their video for "I Want To Break Free," which featured the band in drag, as the reason for their declining popularity in America. It likely contributed, but the downfall really began with Hot Space.
The Blu-ray contains over 90 minutes of bonus material, including seven new music videos, 12 additional sequences not seen in the original broadcast and 10 unseen interviews. The new footage is crystal clear, fully taking advantage of the medium, but much of the footage is archival, so there is only so much it can be cleaned up. Still, all of it looks very good.
For fans wanting to learn more about Queen, Days of Our Lives is probably the best documentary on the band to date. Even for veteran fans, there are enough tidbits and unseen footage to make this a very worthwhile disc.