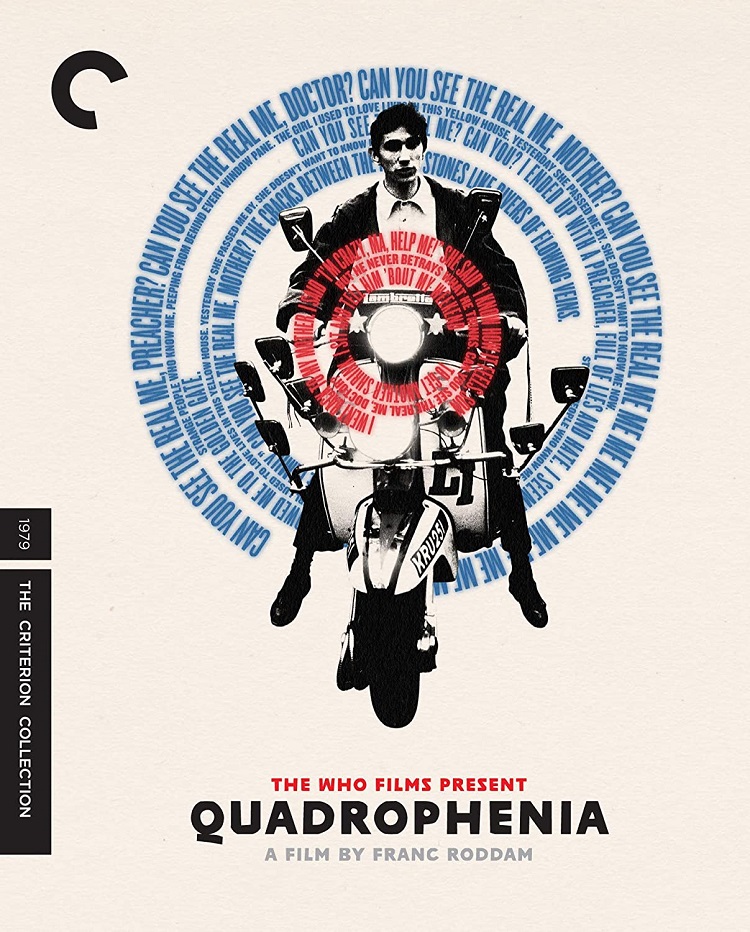 Even if you've seen this film before, you've never seen it like this. Boasting a complete restoration including a new 5.1 DTS-HD Master Audio soundtrack mixed by The Who's longtime sound engineer directly from the original elements, the new Criterion edition dazzles on Blu-ray and almost certainly looks better than its original theatrical release. The original 2.0 stereo sound mix is also included for the purists. Of course all that technical wizardry would amount to naught if the movie was subpar, but that's not the case here. The film brilliantly examines one young man's angst against the larger backdrop of ongoing tension between mods and rockers against the even larger backdrop of British youth rebelling against a conformist society that has no place for them. Thanks to its new sheen and the timeless nature of the material, the film doesn't seem dated in the least and remains an essential viewing experience.
Jimmy (Phil Daniels) is a wayward teen who finds solace with his group of mod friends who spend their time riding scooters, popping pills, dressing sharp, and dancing. His parents can no longer relate to him, even though he's still living in their home, and his office job is so conformist and boring that he's loathe to show up even though it affords him decent pay. Still, he's mostly content to continue his current path until a couple of catalysts appear: a cute mod girl who becomes the object of his affection and an escalating conflict with a group of rockers. The rockers ride motorcycles, wear leather, and harass the clean-cut mods at every opportunity. The two rival gangs get in mild scuffles in their community, but when both groups decide to take a road trip and descend on Brighton Beach for a bank holiday weekend, the forecast is big, big trouble.
Jimmy finally snags his girl while in Brighton, and also crosses paths with an idealized mod named Ace Face (Sting), basically the pinnacle of mod-dom with awesome clothes and a killer scooter to match. So far, so good, but when the dirty rockers get to town a full-on riot breaks out, with seemingly hundreds of each group engaged in bloody street brawls that terrorize the community and lead to a huge police dragnet to haul them away. Ace is once again a mod hero in the courtroom, refusing to be cowed by the judge or his penalty fine. That sends Jimmy home on a high, validating his existence as a mod but unfortunately invalidating his need to remain gainfully employed.
After telling off the boss and quitting his job, getting kicked out of his home, realizing that his girl isn't actually his girl after all, then discovering that Ace isn't as cool as he thought, his life enters a downward spiral fueled by a massive amount of drugs paid for by his severance check. It's clear the film is nearing its end, and while the resolution to Jimmy's story is fairly predictable it plays out in a masterful manner that guarantees its impact is felt long after the final frame.
The Who's classic rock opera of the same name was the basis for the film, and they were fully involved in the film's creation as well, acting as producers that even saw singer Roger Daltrey auditioning bands to appear in a club scene in the film. Many of Pete Townshend's songs appear as well, although they're more background music than plot drivers. The film's story was obviously very personal to them due to their mod roots, which is made even more apparent in the bonus features.
Those features include a new interview with film's co-producer and The Who's co-manager, a new interview with The Who's sound engineer including a fascinating demonstration of the before-and-after restoration efforts on both the soundtrack and film, a segment on the film from a 1979 BBC entertainment show called Talking Pictures, a 1964 French news segment about rockers, and most importantly, a 1965 French youth culture show examining the British Mod movement. That show includes a number of songs performed live in a club by The Who at a very young age, highlighted by the 19-year-old Townshend absolutely shredding a guitar. It's outstanding viewing, and a real treasure to have on the disc of an already stellar film.
Quadrophenia is available on Criterion Blu-ray and DVD on Tuesday, August 28th. For more information, visit the Criterion website.