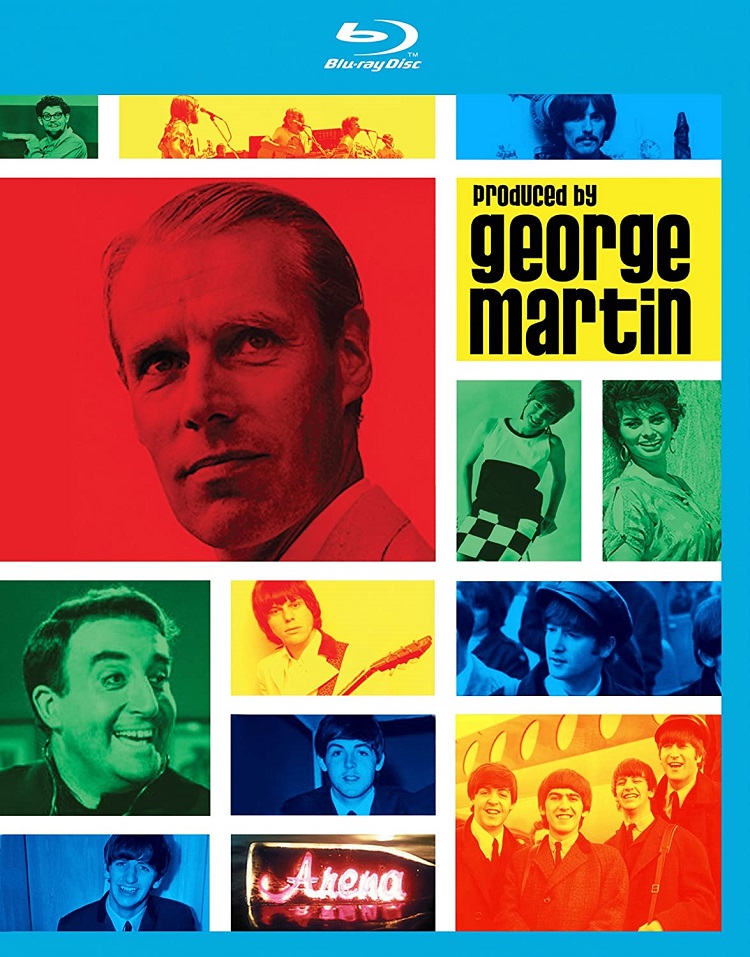 This January, Sir George Martin CBE turns 87. The reserved, seemingly guarded young man with movie-star looks and ears that helped transform raw tracks into treasures of music history is now the stately elder of popular music. He requires a hearing aid following years of positioning himself in the studio's vortex of sound, but as you watch him audibly review his contributions to music throughout the duration of Produced by George Martin, it's obvious that whatever frequencies he can no longer discern, he hears in his heart.
Made for BBC Two's Arena series last year, this Francis Hanly-directed documentary is touted as a "rich and intimate portrait" of the man responsible for such recordings as Peter Sellers' Peter and Sophia (1960), Flanders & Swann: At the Drop of a Hat (1960), Cilla Black's Cilla (1965), and all your favorite Beatles albums, save Let It Be, which Martin still seems to have difficulty doing, based on his frank interpretation of how and why the band chose Phil Spector to produce the final version of the album. The thing to know, however, is that although this profile certainly is rich as a chronological account of George Martin's accomplishments, you may not walk away from it feeling as though you've learned much more about him in a personal sense than you previously knew.
The good news is that the few candid glimpses viewers do get help clarify how someone so methodical in nature became so prolific. The mastery over task that seems to drive him even trickles down to Martin's work as a home mixologist, evidenced by a scene in which he demonstrates the proper way to make a martini. There's also his enduring aspiration to exceed expectations. More than once, Giles Martin, son of George and producer in his own right, characterizes his father as competitive and ambitious, which he eventually gets George to fess up to. It's not a terribly surprising admission from a man who plays billiards with such intensity and who, at 16 years old, decided to change the trajectory of his working-class background by swapping his cockney accent for the BBC accent of the day.
The extensive roster of colleagues who speak with and in honor of Martin includes his second wife Judy; Cilla Black; Jeff Beck; Margaret Eliot, his former oboe teacher and mother of Jane and Peter Asher; actor Michael Palin; composer Howard Goodall; and, of course, the remaining Beatles. Watching Ringo Starr and him listen to Beatles tracks results in the same tingly feeling one gets while witnessing Martin play back an early take of John Lennon singing "A Day in the Life" in The Beatles Anthology. It simply never gets old, no matter how many times you see him do it. It doesn't appear that it gets tiresome for Martin either. If there's one topic he is open about, it's aging and mortality. And in that particular discussion, he comes across as someone who is genuinely proud of everything he has accomplished and grateful for the people he's met on his way to the top.
A 138-minute Blu-ray can't cover everything, unfortunately, which is why the snippets of Martin's childhood history, time as a pilot in the Fleet Air Arm in the Second World War, and experiences at the Guildhall School of Music and Drama are so brief. But the disc does contain an additional 52 minutes of interviews not originally aired on television, which at least keeps the conversation going a bit longer. (There's also the benefit of getting to see the present state of Rick Rubin's hair.) Beatles fanatics and George Martin devotees who've read all related literature may not glean any new insight from this documentary, but there's plenty of fantastic period footage and up-to-date interviews to keep the story feeling fresh.