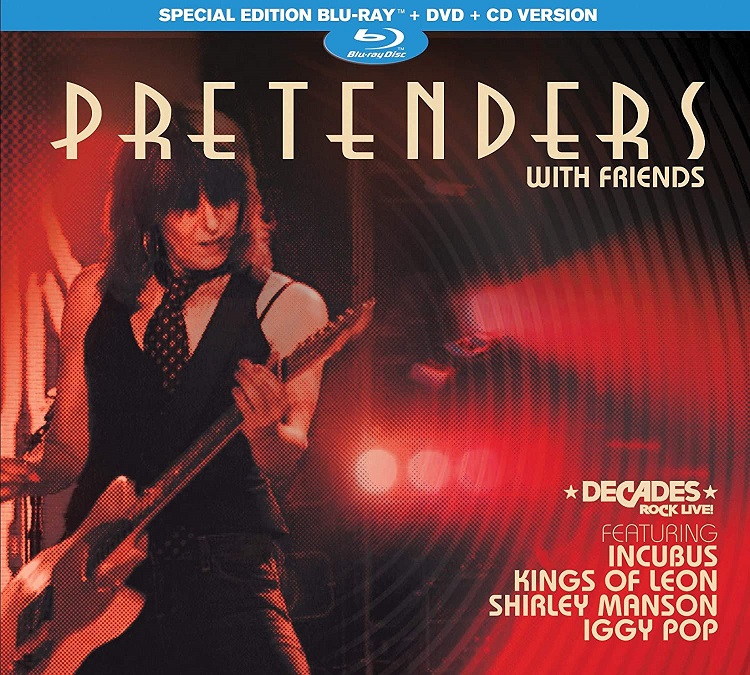 Decades Rock Live! was a VH1 Classic television series that gathered bands and guests to play a concert at Trump Taj Mahal's in Atlantic City. Pretenders with Friends is an episode taken from that series recorded on August 11, 2006, and thankfully, the folks at Cleopatra Records and Rock Fuel Media have released the performance on a three-disc set (Blu-ray, DVD, CD). The 16-song set runs about 65 minutes. Led by Chrissie Hynde, the Pretenders at this time were original drummer Martin Chambers, guitarist Adam Seymour, and bassist Nick Wilkinson. They deliver a set mainly comprised of their greatest hits from their first three albums with a couple from what had been their latest up to that point, 2002's Loose Screw.
Shirley Manson came out sharing lead vocals on "Talk of the Town" and Garbage's "Only Happy When It Rains," the latter of which Hynde said was a treat to sing with Manson and called it one of her faves. After "Day After Day," Hynde invites out her "favorite band" Kings of Leon, which is pretty cool because while they had a couple albums out they hadn't broken big yet. Two drums and basses give extra oomph to their "The Bucket" Hynde sings background vocals but is joyfully singing along even when away from the microphone. She and Caleb Followill share vocals on the Pretenders' "Up The Neck."
Through the magic of editing, Hynde and Seymour are on stage with Incubus for the latter's "Drive" as she sings along on the chorus. Chambers joins them for the Pretenders' "Message of Love." Unbelievable that they censored one of the band's all-time best songs, the ferocious "Precious," with a couple bleeps, so whoever decided that should fuck off. Introduced by Hynde as "the greatest human being in the world," Iggy Pop delivers "Fools Must Die," a track new to me Then Hynde sings Kate Pierson's part on "Candy." After performing a couple of classics from their debut album, "Mystery Achievement" and "Brass in Pocket," on their own, all their friends join them for a rollicking "Middle of the Road" that is anything but as Hynde belts out the harmonica riffs that close out the song.
Presented in 1080p and displayed at an aspect ratio of 1.78:1, the concert was clearly lit for the TV broadcast. Colors are strong hues and the blacks are inky. Texture details are apparent and the focus is typically sharp. The 5.1 surround track fills the speakers with the music. The instruments and vocals are balanced well together in the mix. The subwoofer offers good bass support to the songs.
Bonus Features include "Decades Rock Confidential," Seven short segments recorded before the concert with most of the performers sitting together and mostly singing each other's praises. All are too short at about a minute a piece with the producer asking questions of everyone. There's also a Slideshow, Trailer and trailers for other Cleopatra Entertainment releases, which are concert films by Johnny Thunders, Todd Rundgren's Utopia, Joe Lewis Walker, Culture Club, and Jane's Addiction.
Pretenders with Friends is a hits-heavy, star-studded concert. It is highly recommend for fans of the band and also makes a great introduction for those new to them. Having a CD of the program, even though their are gaps of silence between tracks, is a welcome addition for those who want to take the music with them.