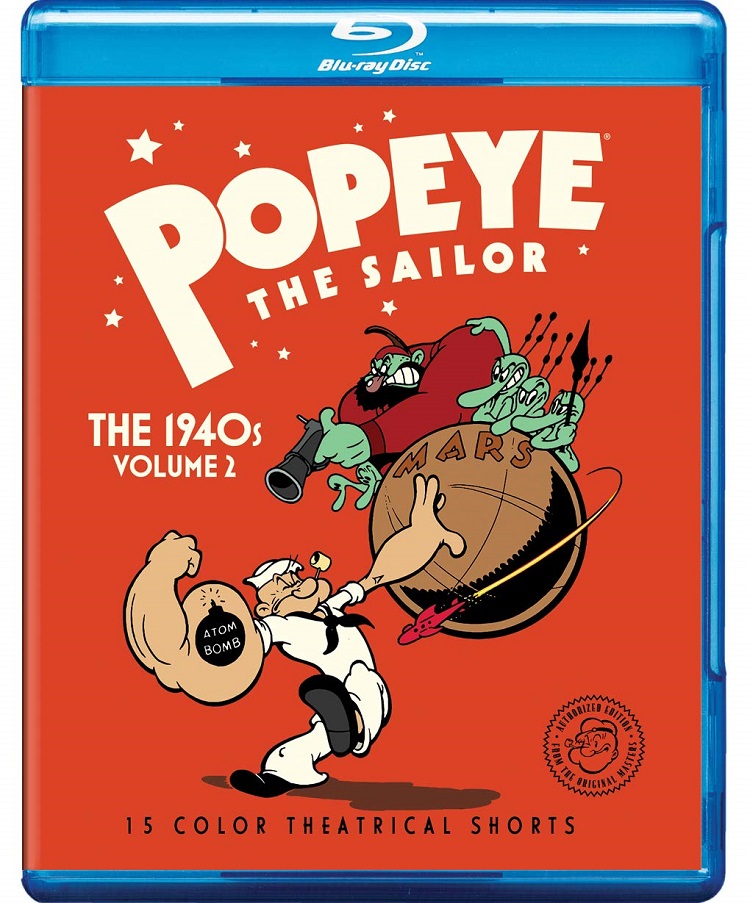 After a disclaimer about the unfortunate ethnic and racial depictions that occur in a few shorts, Popeye the Sailor: The 1940s, Volume 2 presents the next 15 titles released in chronological order, which debuted during the years 1946 and 1947. For those who don't know the cartoon series, the stories make frequent use of a basic template. Popeye has a girlfriend named Olive Oyl, or at least that's what he thinks the nature of their relationship is. Bluto (or his stand-in) catches her eye and she runs off with him, but then when he gets sexually aggressive with her, she calls Popeye for help, who always comes running. The stories contain very weird messages about the characters' relationships, so much like wondering why the Three Stooges hang out together, it's best not to put anymore thought than the creators.
House Tricks is a color remake of The House Builder-Upper (1938) as the boys compete to build a house for Olive. Popeye is voiced by Harry Foster Welch, who performed the part in 11 cartoons from For Better or Nurse to Abusement Park after Jack Mercer had been drafted. Welch's vocals don't sound as clear as Mae Questel (Olive) and Jackson Beck (Bluto). His Popeye sounds deeper than Mercer's and also has a little Jimmy Durante in it.
Service with a Guile sees the fellas outdoing each other at Olive's gas station. Klondike Casanova finds Popeye, in his blue outfit, working in a saloon while Olive is the stage attraction. Dangerous Dan McBluto, possibly French Canadian, but comes on too strong. Peep in the Deep, a remake of Dizzy Divers (1935), finds Olive and Popeye out at sea looking for treasure. Bluto is on board their ship for no apparent reason. The underwater effects are well done. Olive faint at the site of treasure, which is a gag from its era and works for those in on the joke
Rocket to Mars contains the brief return of Jack Mercer, as his laugh gives away, but Welch finished the short. An accident sends Popeye to the stars on a rocket. The Martian leader, who looks like Bluto and sounds like he is speaking into a bucket, is preparing for war. He isn't too bright because he thought turning Popeye invisible would be some type of deterrent. An insulting Japanese caricature briefly appears from behind an 8-ball planet, which is rather odd.
Rodeo Romeo finds Olive dragging Popeye to the rodeo where Badlands Bluto is the star. The story has a good plot twist as Bluto replaces Popeye's spinach with loco weed, which naturally backfires. The Fistic Mystic finds Olive and Popeye in "Badgag". Here, Bluto is a street magician. Both shorts contain old clips of Mercer alongside Welch. I can see why The Island Fling stopped airing with its insulting drawings of island native Friday and his family. The character plays like Jack Benny's Rochester to Bluto's Robinson Crusoe.
Abusement Park finds the fellas competing for Olive's affections at amusement park during Welch's final time in the role. Mercer comes back on board for the remainder of the series in I'll Be Skiing Ya where Popeye teaches Olive how to skate but instructor Bluto has other ideas. Bluto goes by the name Count Marvo, Magic King in The Royal Four-Flusher.
Popeye and the Pirates starts with a title card revealing "an obvious edit where a gag was removed prior to release, which was likely a result of production code censorship of the era…The deleted footage is assumed to have been destroyed decades ago." It occurs as Popeye changes out of drag, which he wore to sway the pirate captain's (Bluto) interest from Olive, into his sailor clothes. Wotta Knight find Sir Popeye and Sir Bluto compete in a joust to awaken Sleeping Beauty (Olive with Rapunzel-length hair) with a kiss. The inclusion of a little black boy is bizarre and doesn't even fit the story's setting. In Safari So Good, Bluto is a Tarzan type, and in All's Fair at the Fair, Bluto the Fearless performs at the fair.
The video is presented in 1080p/MPEG-4 AVC displayed at an aspect ratio of 1.37:1. Sourced from brand new 4K remasters of original nitrate negatives, the colors really pop in bright, vivid hues. Blacks are inky and whites are bright, contributing to the strong contrast. The detail and depth created in the artists' drawings comes through. The audio is available in DTS-HD Master Audio 2.0. The track sounds clean, free from signs of age and wear. The dialogue sounds clear aside from the couple mentions above, and blends well with the music and effects.
While these shorts don't reach the series' past great heights created by the Fleischer Studios, Popeye the Sailor: The 1940s, Volume 2 is an enjoyable continuation from this era. Although I would recommend not binge watching them because of the stories' similarities. The impressive work put into making these cartoons available in high definition should be commended and make one hopeful for future animated releases from Warner Archive.