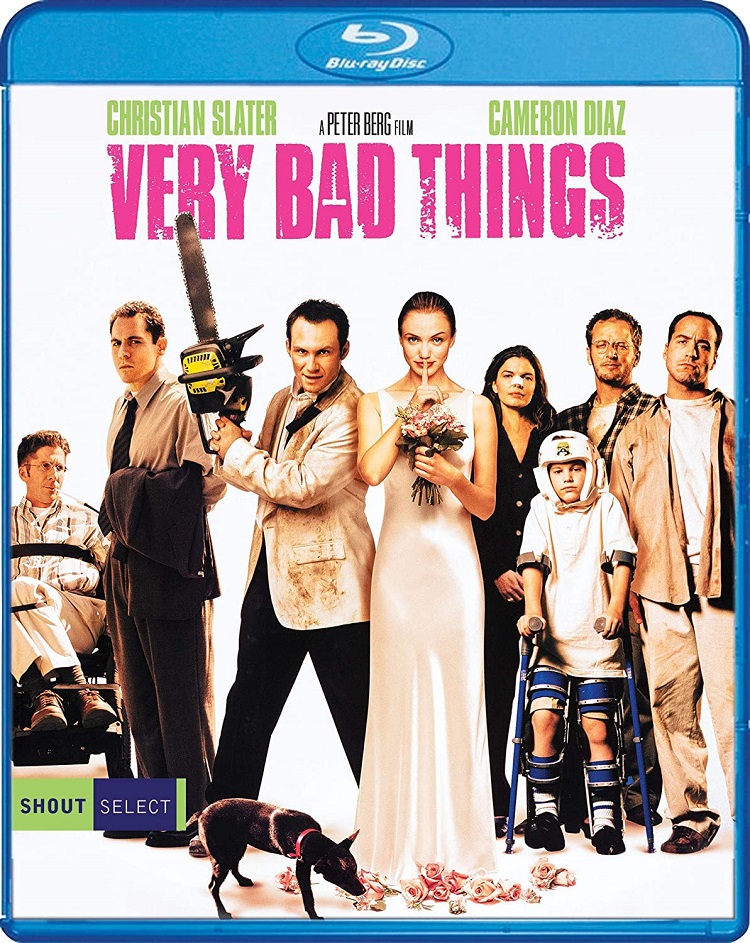 After Pulp Fiction (arguably the film that defined the 1990s) came out, it changed the dynamic of how violence was depicted in the movies back then. It kind of signaled a genre that could be called the "Violent New Wave," where some films used violence just as a selling point, while others used it as an important piece of the puzzle to show how far society has fallen. Actor-turned-director Peter Berg's polarizing 1998 black comedy, Very Bad Things, can be placed in between the two. On one side, it's about how masculinity can take some really unsavory turns; the other, it's also a depiction of the supposed dreams of domesticity that can literally turn into hell.
The film stars Jon Favreau as Kyle Fisher, a guy is going to marry the beautiful Laura (Cameron Diaz). He heads to Vegas with four of best friends, self-congratulating real estate hustler Boyd (Christian Slater); bickering brothers Adam and Michael (Daniel Stern and Jeremy Piven); and introverted mechanic Moore (Leland Orser). Their drug- and alcohol-infused bachelor party goes sour pretty fast after Michael accidentally kills a stripper during an insane sexual romp. Things get horribly worse when Boyd becomes the ring-leader and murders a security guard to cover up the crime. The guys bury both of them in the desert and try to move on with their lives, but what happens in Vegas doesn't always stay in Vegas. As the suspense and tension racks up and everyone involved start to lose their minds, Boyd starts killing them one by one to maintain his own safety. As this point, friendships and lives are completely torn apart forever.
To be honest, when I first saw this film several years ago on Comedy Central, I just forgot about it. Watching it now, I do kind of understand why it was divisive when it was released. Yes, it is a very appalling film, filled with nasty, unsympathetic characters, even Diaz, who plays Laura as a domineering Bridezilla who just wants a perfect wedding and what she thinks middle-class domesticity could bring her. And some of the more innocent people involved, including Jeanne Tripplehorn as Adam's wife (the only moral center of the film), get caught in the crossfire. However, I do admire how ballsy Berg goes with his film (his directional debut), especially with the violence (albeit cartoonish). But, the violence depicted actually provides the context of people doing despicable things, including to save themselves, and get the things they want or think they deserve.
The cast (Favreau, Slater, Diaz, Stern, Piven, Tripplehorn, and Orser) are great to watch, even when they become manic and dangerous. They represent people who can easily exist in a world where depravity wins first, and humanity comes at a close second-to-last. I may get some scorn for saying this, but I think that the movie is a testament to actors being able to deal with such dark material and run away with it.
The new release from Shout Factory, which is available January 28, provides special features including a fun, new commentary with film critics Witney Seibold and William Bibbiani (hosts of the podcast Critically Acclaimed), new interviews with actors Stern and Piven, a theatrical trailer, and stills gallery.
This film may not be for everyone, but if you're in the mood for really dark and unforgiving social commentary from a savagely foul point-of-view, then Very Bad Things should be right up your alley. It goes for the throat and never lets go.