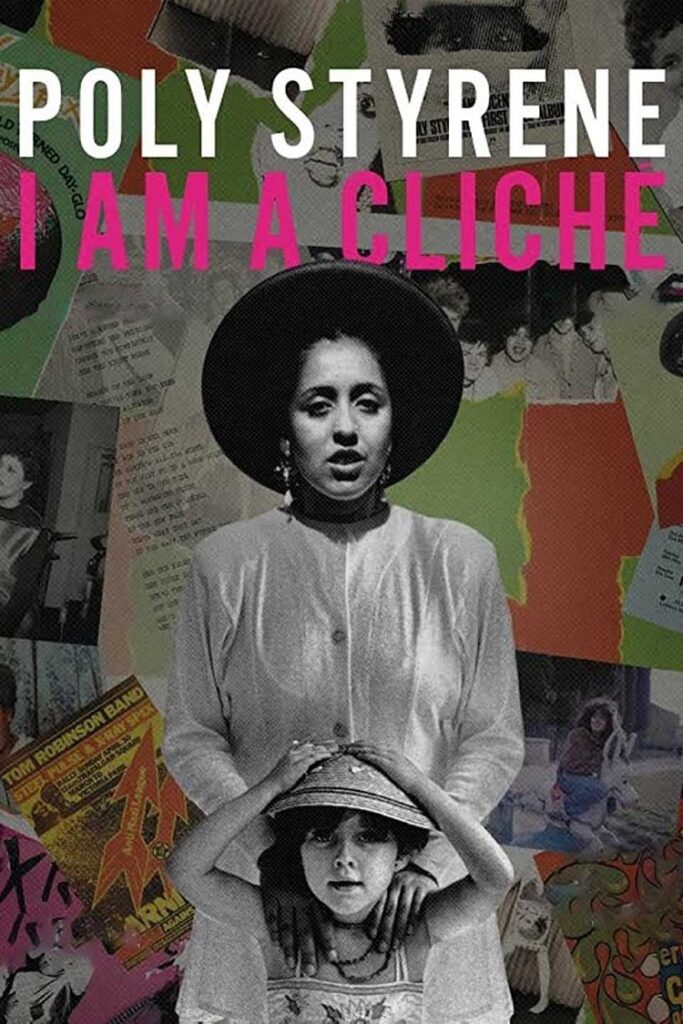 "I wasn't ready to be the caretaker of Poly Styrene's legacy. I just lost my Mum," Celeste Bell says at the beginning of Poly Styrene: I Am a Cliché . Bell is not only the curator of Styrene's legacy, but her only child. In the documentary, Poly Styrene: I Am a Cliché, Bell retraces the distinct parts of her mother's life. Much of the film follows Bell as she looks through boxes of her mother's magazine and newspaper clippings, poetry, artwork and memorabilia, Bell tries on clothes in thrift shops like her Mom used to and revisits some of her Mom's old hangouts. Bell co-wrote the documentary, and directed it along with Paul Sng.
Styrene, known to the world as a punk icon, battled bipolar disorder, explored spirituality by living in an ashram in India, and later with Hare Krishnas in a manor in England. She had an on-again, off again relationship with her daughter (much of it due to her bipolar disorder), and experienced a creative renaissance shortly before her death from breast cancer in 2011 at the age of 53. Born Marianne Joan Elliott-Said to a white British mother and Somali father, Styrene always felt like an outsider as a child, and fought back against bullying schoolmates and neighbors.
In interview clips from her punk days, Styrene looks and sounds just like a soft-spoken teen in braces, in contrast to her onstage persona and wise-beyond-her-years lyrics. Teenage Marianne christened herself Poly Styrene after seeing the word in the phone directory, and and she recruited band members through a newspaper ad. Her band, X-Ray Spex, forged their own path through London's punk rock scene. Poly's brash, determined vocals and Lora Logic's saxophone gave the group a unique sound. Styrene's lyrics dealt with the superficiality of the modern world, and their most infamous song "Bondage Up Yours" was a straight-up diss to the patriarchy, and all repressive powers-that-be.  Styrene, with her kinky hair, colorful, mis-matched and Day-Glo clothes, commanded attention with really trying.
The documentary features short, grainy film clips of Styrene at a Sex Pistols gig, X-Ray Spex at CBGBs in New York, and various archival photos, including a a rare snap of Styrene hanging out at John Lydon's house with John, Sid, and Nancy.  Interviewees are heard, but not seen, and include Styrene's peers, Pauline Black of the Selector, Rhoda Dakar of the Bodysnatchers, Gina Birch and Ana da Silva of the Raincoats, and Lora Logic. Actress Ruth Hegga reads passages from Styrene's diary, and we also hear from Don Letts, Kathleen Hanna, Neneh Cherry, and Thurston Moore.  
Styrene's trailblazing music career is only part of the story. "She was never quite in her body. She was always somewhere else", says Styrene's sister, Margaret Emmons, about Poly's forays into UFOs and mysticism. The film clips and photos of Styrene in India- and as a Hare Krishna – give the viewer a glimpse into the life she had after leaving the music business.
Poly Styrene: I Am a Cliché examines the unorthodox life of one of punk rock's most enigmatic figures through the eyes of her daughter (and occasional musical collaborator). Poly Styrene was one of the most original artists of the punk era. During her short career, she inspired many musicians and artists, and her work continues to influence many musicians and other creative people in the 21st Century.