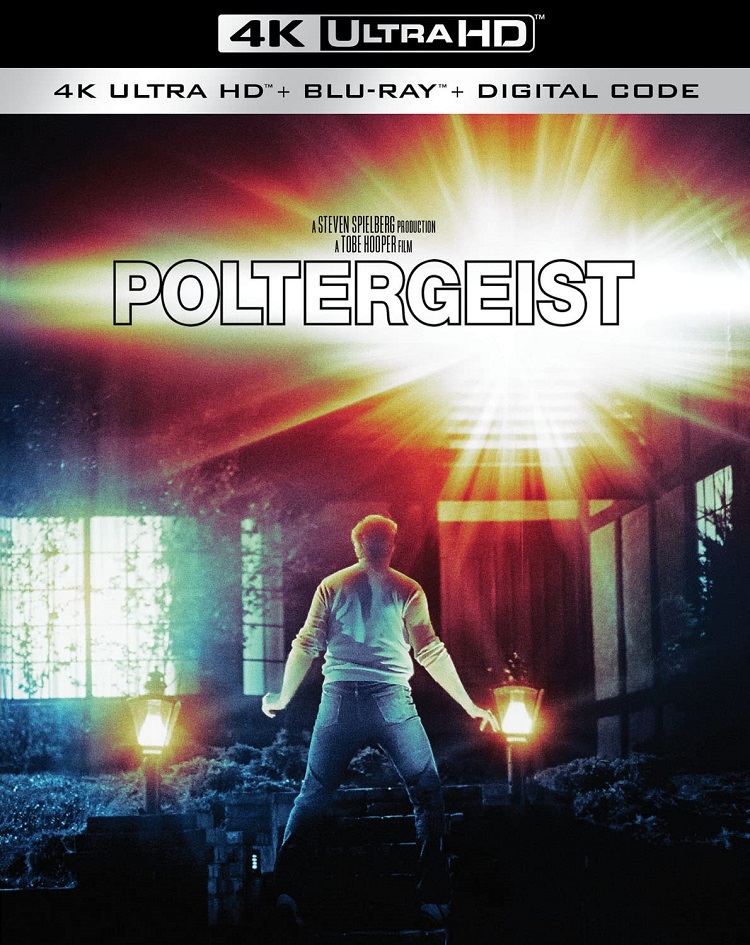 What else can one say about Tobe Hopper's 1982 classic Poltergeist that hasn't already been said? It's a film about the dark side of suburbia; a superb showcase for special effects; a portrait of an ordinary, loving family faced with a truly disturbing situation that tests their bond; a terrifying ghost story; and one of the first films that led to the creation of a new MPAA rating.
Everyone knows the plot, so I don't feel that I really need to explain it. There are so many iconic moments that continue to make the film an all-time haunted house chiller: Little Carol Anne's (Heather O'Rourke) abduction, the tree almost swallowing Robbie (Oliver Robbins), the slab of steak sliding across the kitchen counter, Marty (Martin Casella) ripping his face apart, Diane (JoBeth Williams) trapped in the pool with skeletons (which were real), the dolly zoom shot in the hallway, and many more!
There's also a famous debate of who really directed the film, Hooper or Steven Spielberg (who wrote and produced the film). In my opinion, they both did. The special effects/family conflicts are totally Spielberg, while the scares and tension is pure Hooper, as well as Diane and Steven (Craig T. Nelson) smoking pot from Robbie, which suggests that they are still young at heart; the love generation trying to contain one last grasp before a new reality. It grounds the film before the horror shows up.
With a brilliant, Oscar-nominated score by the legendary Jerry Goldsmith, Poltergeist stands the test of time, and is one of the great films of 1980s.
Making its 4K UHD debut, it doesn't have any new special features, only a trailer, making-of doc, and the Real World of Poltergeist doc, but I bet the picture and quality is amazing. If you don't happen to own the classic film, then I think that this release is a good one to own. Read Jack Cormack's review.
Other releases:
Exotica (Criterion): Atom Egoyan's great 1993 portrait of lost souls in a strip/nightclub in the outskirts of Toronto.
Le Corbeau (Criterion): Henri Georges Clouzot's controversial drama about a village doctor who becomes a pariah after poison-pen letters are sent to leaders, accusing him of affairs and illegal practices.
King Kong (Warner Archive): The 1933 masterpiece has the lovely Fay Wray being pursued by the mighty Kong after he is taken from his natural habitat and placed into the streets of New York City, where he obviously wreaks havoc.
The Lost Boys 4K UHD: Two teenagers (Jason Patric and Corey Haim) and their mom (Dianne Wiest) move into a seemingly peaceful Californian town, and run into a group of badass vampires.