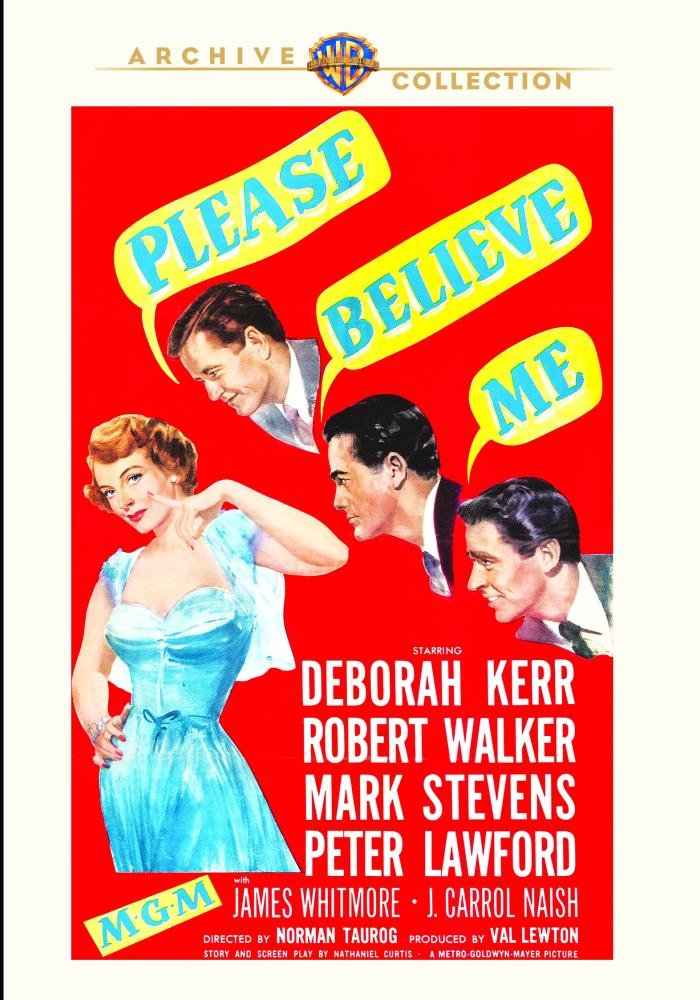 Sooner or later in life, everyone encounters a seemingly inescapable element of disappointment. And I should know, as it happens to me every damn day, usually around the time I wake up. Ultimately however, there is always a bit of good to come out of every let down ‒ depending on one's perception, of course. For me, it's the satisfaction of knowing I'll be able to return to bed at the end of the day. For Deborah Kerr in the 1950 MGM rom-com Please Believe Me, it's the prospect of true love following a seemingly life-changing inheritance. After an aging Texas pen-pal whom Kerr's Alison Kirbe made the acquaintance of during World War II passes away, he leaves her his sizeable estate. As (bad) luck would have it, the fanciful old man's landholding is essentially little more than a vast wasteland with a dilapidated shack (perception).
Miss Kirbe, however, has yet to learn of her true situation, as not even fax machines have been invented yet. So, our heroine sets out from London to America for her new life, unbeknownst of what awaits her in Texas (apart from Texas, that is). But the future discovery of miles and miles of utterly useless land (although, she'll technically be able to build a suburbia there is a good fifty years or so), are the least of the stalwart woman's worries once wind of her untold "riches" get out to the likes of Terence Keith (Robert Walker, in one of his final roles before his untimely death the following year), who is looking for a wealthy dame to help pay off his gambling debts. Mr. Keith every step of the way is Vincent Maran (James Whitmore, in one of his first roles), who is actually a henchman (with a heart) under the employ of gangster Lucky Reilly (as played by the great J. Carrol Naish, who finally doesn't have to use an accent).
Despite their malicious intentions, Terry and Vinnie really aren't that bad of individuals (this isa romantic comedy, after all). But once Alison meets up with another pair of gentlemen ‒ this time in the guise of rich playboy Jeremy Taylor (Peter Lawford; one can only wonder who drank more on set, he or Robert Walker) and his lawyer Matthew Kinston (Mark Stevens) ‒ sparks begin to fly between the three major gentlemen callers (Whitmore's just in it for the ride, as it were) as each man tries to woo the unknowingly penniless heiress for different reasons. Keith needs to get out of debt, Taylor is looking for fun, and Kinston is trying to protect Taylor from gold-diggers. Once the investigative attorney ‒ who has his own heart set out on the beauty for purely moneyless motives ‒ finds out about the Texas property, he instantly sees Alison in a different light, especially with her newfound scammer friends.
While the sands of time have most assuredly buried the film somewhere on Ms. Kerr's inherited desert over the years, Please Believe Me is nevertheless a charming vintage comedy that ultimately benefits from its four strong leads. Kerr leads the way with an iron fist, while her onscreen male suitors each give nicely different performances. Highlighting them all, however, is the unsung supporting job of then-newbie James Whitmore as the tormented underling of J. Carrol Naish. It should not go without saying that Mr. Naish (one of my favorite B movie actors) is in top form here, too, and gets a delightful ‒ if perhaps a little sadistic ‒ scene with bit player Leon Belasco. Abbott & Costello regular Bobby Barber and Ian Wolfe, the distinguishable character actor who was always a hundred years old, also have small parts in the film.
One of the most interesting aspects of Please Believe Me actually lies on the other side of the camera, as it was the penultimate production for iconic visionary Val Lewton (who also passed away suddenly in 1951, several months before Robert Walker), who brought us the now-legendary RKO horror films of the '40s, beginning with Cat People (1942) and I Walked with a Zombie (1943). On the scriptwriting front was Nathaniel Curtis, who mostly worked in television, but who also wrote Abbott & Costello's musical comedy version of Jack and the Beanstalk in 1952 (which, sadly, did not feature Bobby Barber). Norman Taurog (whose has had several other works recently unburied by the Warner Archive, including The Hoodlum Saint and The Beginning or the End ‒ the latter of which also starred the doomed Robert Walker) directs.
Please Believe Me hits home video for the first time via the Warner Archive Collection's Manufactured-on-Demand DVD-R. The 1.37:1 transfer is a joy to behold, and the monaural English audio track comes through without a noticeable hitch. The movie's original theatrical trailer is included as the MOD item's sole bonus item, but Please Believe Me when I say that should not dissuade you from checking out this forgotten rom-com. Sure, it might seem from the get-go like you're in for a disappointment, but it's ultimately a fun little farce (providing you perceive it in the right light, which is to be not at all serious). After all, how often do you get to see a romantic comedy from one of classic horror's greatest minds?