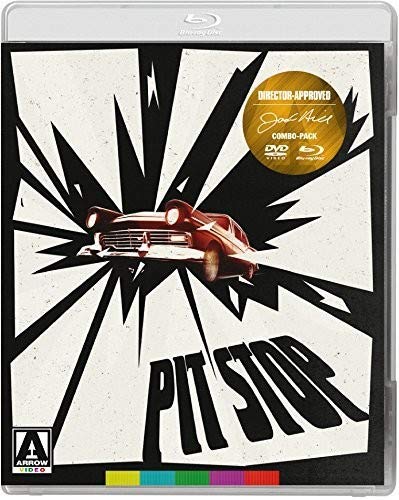 When the 1960s arrived, there started a new type of film: the independent film. Films under this label were made outside the Hollywood system. They had limited to no budgets, unconventional or method actors, and sometimes cheesy production values. However, director Jack Hill's 1969 cult classic Pit Stop isn't the case. Although the film had a limited run, a next to no budget, and a radical story, it really rises above that to tell the story of rebellious youth with something to prove, obsession with fast cars, and pretty girls along for the ride. Hill's unique eye for detail, his knack for fully realized characters, and stark photography take this film to almost legendary heights. Surprisingly, it certainly has aged remarkably well, more than most films during that time.
Richard Davalos (whose rose to prominence with 1955's East of Eden) stars as wildly reckless Rick Bowman, a loner who gets in trouble during an illegal street race that causes his rival to get into accident when the guy crashes into a house. After he gets released from jail with the help of an unsavory businessman named Grant Willard (Brian Donlevy), who admires his drive and unorthodox ambition, Rick is pitched the idea of racing one of Grant's cars in a figure-eight race. At first, Rick refuses, but is eventually won over after meeting the very cocky and maniacal, king of the figure-eight races, Hawk Sidney (cult icon Sid Haig).
Things get a little out of hand, when after two failed races, Rick wins a third race, beating Hawk; he also steals Hawk's on-and-off again girlfriend Jolene (Beverly Washburn). This leads a terrifying moment when Hawk confronts and brutalizes Rick, nearly breaking his arm. Suddenly, Hawk senses Rick's toughness and apologizes for event; the two eventually start getting along. Soon, Rick meets Ed McLeod (George Washburn), a past-his-prime driver with a gorgeous wife named Ellen (a wonderful Ellen Burstyn) with whom he eventually has a fling.
The story takes a more tragic turn when Rick lets his determination to win get the best of him after Grant decides to beat the best driver in California, Sonny Simpson. This causes Ed's death after getting whiplash when Rick goes overboard. In the end, he loses his soul, his girl, and his ambition; he also loses his chance of redemption.
What makes Pit Stop a near perfect blend of raw energy and stark realism is the documentary-like footage of the dangerous world of car racing. When you watch it, you feel like you're there right in the action, which makes the experience even more grueling. Although a rather small film, it is very well made and refreshing, with a cast of great actors that increases the brilliance of the film.
Davalos as Rick, is perfectly cast as the rebel who loses his humanity and never gets it back. Haig is dementedly riveting as Hawk, at first creepy and unlikable, but turns on a dime as having real emotion and sadness. Washburn as Jolene nails her moments as the girlfriend who loves but is eventually led astray. I have to give special mention to the great Ellen Burstyn, billed as Ellen MaRae, who steals every scene she is in, especially in her introduction where she is working with her husband on car parts. This is a great gender-role reversal, in which a woman shows that she can get her hands dirty as much as a man can. The film's music is another crucial factor to the film's cult legacy, because it represents the freedom of a certain time and place; it gives the film an even more potent flourish.
Since Arrow is becoming the Criterion of cult releases, the Blu-ray/DVD combo of Pit Stop is no exception, with a new, crisp high-definition transfer that doesn't overshadow, but in fact enhances the film's drive-in feel.
The special features do not disappoint, and they include:
A brand new audio commentary with Jack Hill moderated by his biographer Calum Waddell – this is an excellent commentary track where Hill talks about making the film, its budget, how he was able to get great cast, and how indie filmmaking really works. He goes into great detail about the entire production, which is rather refreshing because this is what you want from a great commentary: it goes deep into the creation of a worthwhile film.
Crash and Burn – Jack Hill on the making of Pit Stop: a wonderful interview where Hill talks about how the film came to be made, from the budget to the music to the cast. A really informative featurette.
Drive Hard – Sid Haig on acting in Pit Stop: the cult legend goes into detail on his working relationship and friendship with Jack Hill, his performance and how he was cast in the movie, and his overall career. It's a must-see interview.
Life in the Fast Lane – producer Roger Corman on the genesis of Pit Stop: the legendary Corman talks about how and why he ended up creating his own production company, which was responsible for making some of the greatest cult films of all-time, including Death Race 2000 and Piranha. A small, but great interview.
Restoring Pit Stop – restoration demonstration: a small, four-minute piece about restoring the film with commentary by tech supervisor James White
Original theatrical trailer
This release also includes a reversible sleeve featuring the original poster art by Jay Shaw and a collectible booklet with a great new essay on the film by critic Glenn Kenny and music writer Grey Newell on the film's soundtrack, which comes with stills and artwork.
I think that Pit Stop gets unfortunately lost in the shuffle, especially in Jack Hill's famous career, and it wasn't a success like it should have been. However, it is one his very best films, and with this new Arrow release, I hope that this classic gets the attention it so richly deserves, because it is a knockout as far as I'm concerned.