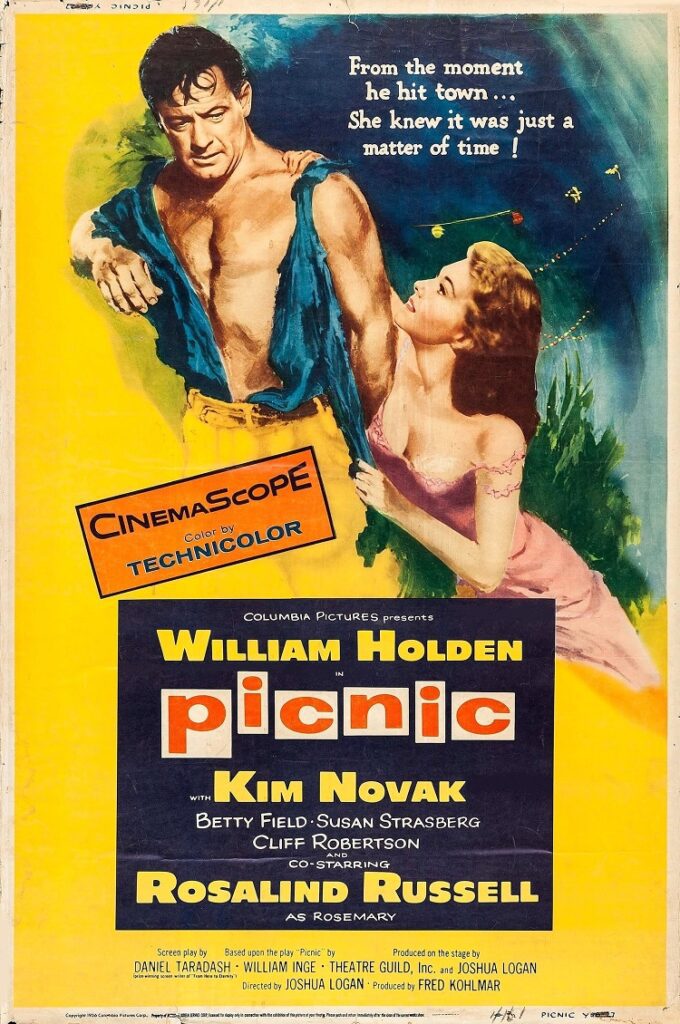 Sometimes, all it takes is for one stranger to come-a-roamin' into town for everything and everyone to change. In the case of 1955's Picnic — the first and by far the best adaptation of William Inge's famous stage play — that stranger is a man by the name of Hal Carter (portrayed by the one and only William Holden). Once upon a time, Hal was the quintessential embodiment of the all-American boy: a college football hero who had a way with the ladies, and the potential to become a moving picture star to boot. Alas, those days are behind him now — and Hal has reached that all-too-common stage of life that has affected many down through the history of time: destitution.
Hopping off a freight train one hot summer afternoon, Hal finds himself in a small, rural Kansas town to look up an old college pal of his, Alan Benson (a young Cliff Robertson). His objective is to — hopefully — land a job from his friend's well-off father's business. But his influx into this settlement of simple, wearisome folks sparks more than just an interest in professions: he also generates an ember of fascination with several local lasses, from drop-dead gorgeous homecoming queen-type girl Madge (Kim Novak), to her sassy book smart younger sibling, Millie (Susan Strasberg), and onto bitter, prudish old maid schoolteacher Rosemary (Rosalind Russell).
Director Joshua Logan (who helmed a number of Broadway and theatrical hits, including Mister Roberts, South Pacific, and Camelot) does a marvelous job turning Inge's oft-produced play into a feature film worth remembering. Despite being perhaps just a tad too old for the part, Holden delivers an outstanding performance as our failed antihero (and keep in mind he was completely plastered during his dance scene), and Novak and Strasberg are exceptionably memorable as sisters, with Betty Field portraying their mum. Also appearing in this classic of rural life in '50s America are Verna Felton, Nick Adams, and Arthur O'Connell.
Niche specialists Twilight Time bring us their sixth classic on Blu-ray via a limited release which is available exclusively at screenarchives.com. The transfer here is a beautiful one, and showcases James Wong Howe's cinematography immaculately. Accompanying the feature film are two DTS-HD Master Audio mixes — one in 5.1, the other in 2.0 — and another DTS-HD 2.0 track that presents us with an isolated George Duning music score. There's also a Theatrical Trailer of the film presented in High-Def, and optional English (SDH) subtitles. Rounding out the release is an informative booklet by Julie Kirgo that just might shed some light on the film to those of you well-versed in the history of the film.