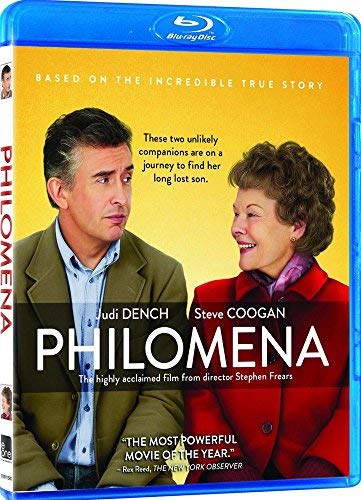 My wife tends to avoid sad films, sad songs, sad everything. She says life is tough enough on its own without having to wallow through somebody else's horrible story. I'm exactly the opposite. I love sad bastard tales. There is something cathartic about living vicariously for a time through another life full of heartbreak, death, and bleakness. Somehow knowing there are others out there suffering helps me sort through my own miserable existence. Or at least it makes me realize I've not got it that bad. Not at all.
Philomena Lee had a hard life. At a young age, she had a child out of wedlock and was sent to a convent where she was ill treated, worked to the bone, and where her child was taken away from her when he turned three. Because of the times, she was shamed for having become pregnant and having a child without being married. So much so that for fifty years she kept the entire ordeal to herself. Finally, in her old age, she went searching for her son, enlisting the help of her daughter, and a disgraced journalist.
Last year, a film was made of her story starring Judi Dench and Steve Coogan. It won lots of accolades and is a beautiful, touching film. Though not quite as sad as I have perhaps presented it. There is lots of humor threaded through a story that is also filled with sadness. Such is life, I suppose.
I reviewed the Blu-ray, and am proud to make it my Pick of the Week.
Also out this week that looks interesting:
The Secret Life of Walter Mitty: Ben Stiller takes the James Thurber short story about a man stuck in a dead end job who daydreams of a more exciting life and turns it into an epic adventure. Or at least that's how the trailers look. Reviews haven't been great, but I'm hoping it's big fun if not great movie.
Breaking the Waves (Criterion Blu-ray): I've never seen a Lars Von Trier film. He's on my list but all of his films look terribly difficult and I have to really prepare myself to watch that sort of film and life just hasn't allowed me for that sort of thing in awhile. Maybe it's time to start.
Bletchley Circle: Season 2: Ashamedly, outside of Downton Abbey and Sherlock, I've been lapsing in my PBS drama watching of late. I'd never even heard of this historic spy series until the other day when I did catch a preview for it while flipping channels. It sounds fascinating and I guess I'd better hit up season one before grabbing thew new episodes.
Ripper Street: Season 2: I caught the first episode of the first season of this BBC America period crime drama. It was pretty good but a little to by the number for me to get too excited. Still there was enough to enjoy for me to keep it on the back burner.
The Nut Job: The latest animated comedy from Universal. Looks fun. Read our review.
Flowers in the Attic: My mother gave me the book years ago. I never read it, but the cover photo has stayed in my mind ever since. This is a new version of the story starring Heather Graham and Ellen Burstyn.
Interior. Leather Bar.: In 1980 William Friedkin directed Al Pacino in Cruising a crime drama about a cop who goes undercover into the gay S&M scene. Notoriously 40 minutes of the film (much of which was reportedly graphic sex) was cut in order to get an 'R' rating. Directors James Franco and Travis Mathews have now made a docufiction film about that missing 40 minutes. I've never seen Cruising, and reviews of this new thing have not been great, but the concept is intriguing. I love that Franco is doing this sort of "outside the mainstream" moviemaking as well. Color me interested.
Great Expectations: A new adaptation of the Dickens classic from director Mike Newell with Helena Bonham Carter and Ralph Fiennes.
Free Ride: Anna Paquin stars in this druggie drama. I've not heard or seen anything about this, but I like Paquin enough to give it a try.
Better Living Through Chemistry: A dark comedy about a guy with a crap life who decides to take a drug-fueled adventure through the most glamorous women he's ever met. I'd give this a pass were it not for Sam Rockwell who makes everything better.