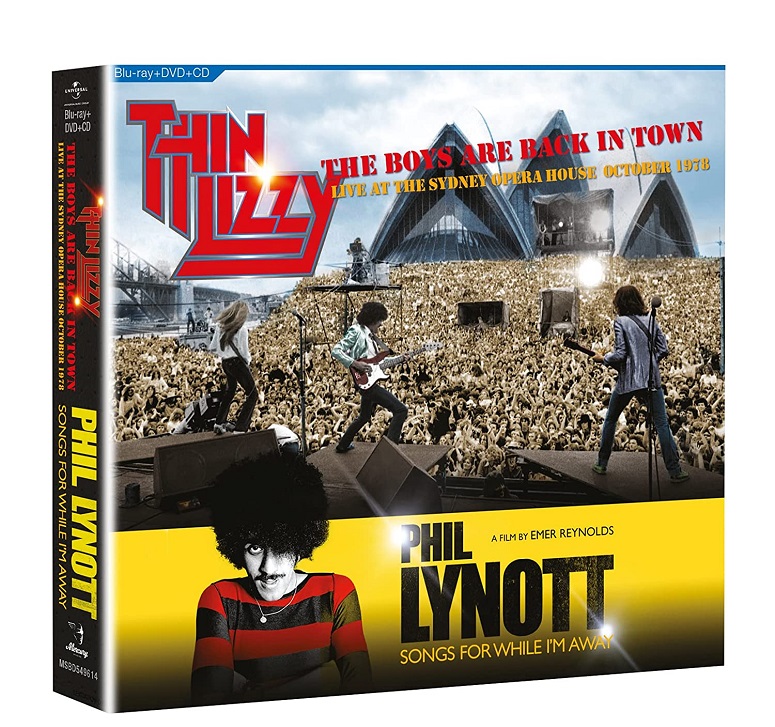 Mercury Studios has paired the 2020 documentary Phil Lynott: Songs For While I'm Away, which aired on BBC Two,with the concert film Thin Lizzy: The Boys Are Back In Town Live At The Sydney Opera House October 1978, portions of which were released in 1988 on VHS and DVD as Thin Lizzy: Live at Sydney Harbour '78. It is available on 2xDVD+CD and Blu-ray+DVD+CD with the Phil Lynott documentary on the Blu-ray and audio of the Sydney concert on the CD.
Phil Lynott: Songs for While I'll I'm Away is a documentary about the late co-founder/lead singer/bassist/main songwriter of Thin Lizzy. He had a tough growing up, raised by his grandparents at a young age in the 1950s when, as his uncle says, one didn't see black people in Ireland. He found purpose in music and formed Thin Lizzy, named after a female comic strip robot named Tin Lizzie, with former classmate Brian Downey on drums and Eric Bell on guitar.
The band headed to London and learned what was required of them while opening for Slade. They had an unexpected hit with their modern take on the Irish folk song "Whiskey in the Jar," which didn't exhibit their typical sound. Life in Thin Lizzy got to be too much for Bell, whose last show was New Year's Eve 1973. This began a revolving door of musicians playing with Lynott, starting with two guitarists, Scott Gorham and Brian Robertson, joining the band and expanding their sound.
Although they were successes in the UK, they had trouble breaking big in the U.S. In 1976, "The Boys Are Back in Town" were as close as the band ever got to a Top Ten hit, coming in at #12. It was taken from Jailbreak, their only Gold record in the States. In addition, they had three different planned tours cancelled over the years.
Continuing to work but achieving less success plus Lynott's drug use led to the band deciding to take a 6-to-12 month break in 1983, but they never reformed in Lynott's lifetime. On Jan 4, 1986, he died much too soon at the age of 36 from septicaemia and pneumonia, another tragic yet all-too-familiar story in the annals of rock.
The documentary is comprised of a lot of great archival footage of the band in its various incarnations. Through old interviews and his songs, the viewer gets to hear Lynott tell his story. Also included are former bandmates and collaborators Bell, Gorham, Huey Lewis, Jerome Rimson, Midge Ure, and Darren Wharton; family and friends including his wife Caroline and their two daughters; and famous friend (Suzi Quatro) and famous fans ( Adam Clayton and James Hetfield). Noticeable in their absence are Thin Lizzy members Downey and Robertson.
Thin Lizzy: The Boys Are Back in Town: Live at the Sydney Opera House October 1978 offers three options. "Sydney – Original Cut" features eight songs, It runs 41 minutes and offers a Play-all option. "Lost Sydney Performances" are five songs cut from the previous release. They are "Still in Love with You", "Warriors", "Johnny the Fox Meets Jimmy the Weed", "Don't Believe a Word" and "Suicide" and are only accessible individually. Not sure why anyone wouldn't play the entire "Full Sydney Show".
The line-up for this concert is Lynott (bass / lead vocals), Gorham (guitar / background vocals), Gary Moore (guitar / background vocals), and Mark Nauseef (drums), performing a free show in front of approximately 100,000 fans. The band has a driving, hard rock song reminiscent of the '70s anchored by a talented two-guitar attack, best showcased during "Are You Ready" when the band is introduced. Gorham shows off his slow blues licks on "Still in Love with You", their "only slow long" according to Lynott. In addition to the couple songs familiar from classic rock radio stations, the set list impresses and it's hard to believe they weren't a bigger thing. "Warriors" was written for Jimi Hendrix, and you can hear his influence in the band's sound and Lynott's vocals.
This new release presents "cleaned up video and remixed audio from multi tracks". Unfortunately, the video shows its age with a very soft focus and lighting that can throw off the colors, especially when the colored lights shoot directly into the camera. However, the audio will please the fans. The vocals and instruments come through with a strong fidelity and the music finds its way into the surrounds. The audio is available in three options: Dolby Digital Stereo, Dolby Digital 5.1, and DTS Surround Sound. The CD sounds just as good as the DVD.
While fans well versed in the band might like a deeper dive, for those that don't know the story of Lynott or Thin Lizzy, Songs for While I'm Away does a good job telling their story and should send people to seek out their music beyond the accompanying Sydney concert. Believe these words: add this Thin Lizzy set to your classic rock collection.