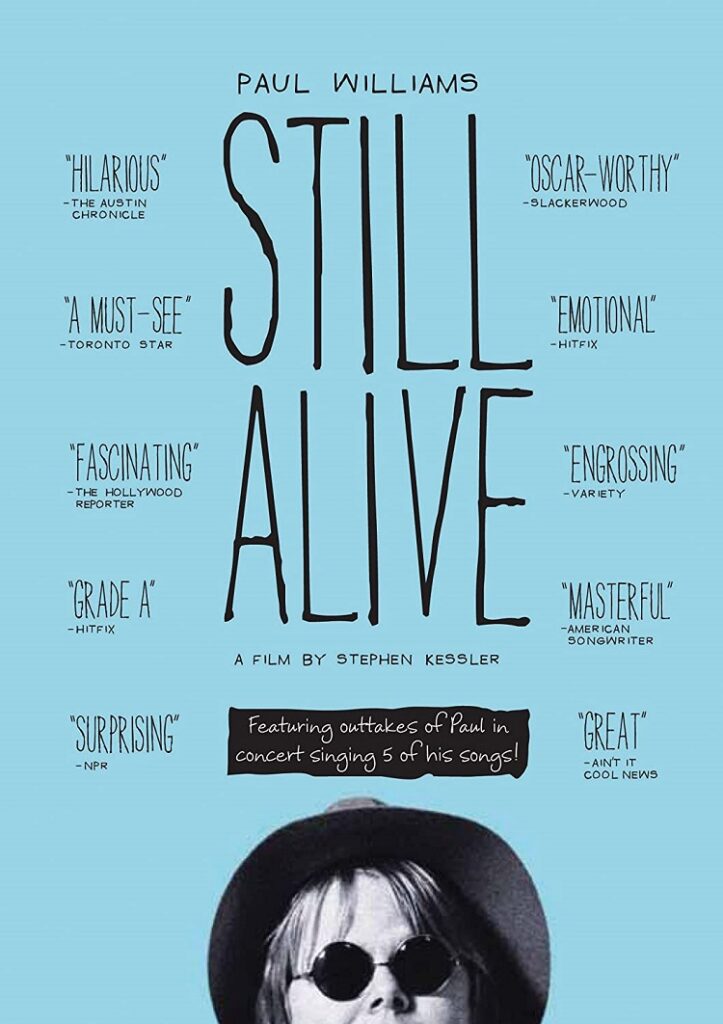 Director Stephen Kessler didn't idolize the usual guitar-toting rock star when he was a kid in Queens, NY. He idolized Paul Williams, the diminutive singer-songwriter who wrote many of the most famous radio hits of the 1970s , including such standards as the Carpenters "We've Only Just Begun" and "Rainy Days and Mondays." He co-wrote the Oscar-winning "Evergreen, (Theme from A Star is Born)" with Barbra Streisand and the Muppets' "Rainbow Connection" and many other ubiquitous hits. But songwriting wasn't his only claim to fame. Williams appeared on dozens of TV shows in the 1970s. Name any kitschy show (Circus of the Stars, Love Boat, Police Woman, Match Game, etc.) from that era and chances are Williams appeared on one or more episodes. He also co-starred in movies, including Smokey and the Bandit and Brian De Palma's Phantom of the Paradise.
Sometime in the 1980s, Williams disappeared from TV screens and pop charts, falling prey to drugs and alcohol. Kessler's film picks up the story at a concert in Winnipeg, where Williams performs for an audience of loyal fans, including Kessler. Kessler documents his clumsy attempt to gain Williams' go-ahead for the documentary. Kessler's pesky and a little bumbling, but he's a genuine fan, not just a documentarian. Bit by bit, filmmaker and subject strike up an awkward friendship,
Many young filmmakers integrate themselves into documentaries they're directing, making their story part of the film's fabric. In Still Alive, Kessler's pursuit and subsequent bond with his idol provides the framework for telling Williams' story.
Still Alive doesn't focus much on Williams's halcyon days, except for the old TV show clips. It concentrates on his childhood, (His father was an alcoholic, and Williams was sent to live with relatives in California as a teen.), his fall into substance abuse and subsequent return to sobriety, and performing. We see Williams and crew trudge fearlessly into a dangerous part of the Philippines to perform a concert despite U.S. government travel warnings. As Kessler flounders in Woody Allen-like neurosis about possible terrorism, Williams takes the warnings in stride.The film focuses more on Paul Williams the person than Williams the songwriter. (Williams is currently the president of ASCAP and is collaborating on a project with techno band Daft Punk).
Still Alive gives perspective on the downside of fame and the climb back up. Kessler digs up tapes of some of Williams' old TV appearances, and a clip from a talk show where Williams was clearly under the influence is used to great effect in the film.
While I had my doubts about the director plugging himself into the film's trajectory, this tactic works – up to a point. While the film is entertaining and ultimately achieves its goal, I believe it could have been much better if Kessler had devoted more time to his subject and less time to his own backstory.