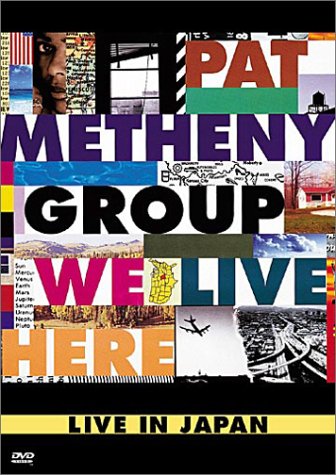 The Pat Metheny Group concert that was recorded for the We Live Here: Live In Japan DVD took place at the Golanda-U-Port Hall in Japan, on October 12, 1995. It was previously released on VHS and DVD, but has been out of print for many years. Even though I am a big fan of the guitar maestro, I missed this one, and have been reluctant to pay collector's prices to get it. Fortunately, Eagle Vision have just reissued the set, and the Pat Metheny Group were in top form that night, without question.
Pat Metheny's debut, Bright Size Life was released in 1976, and since then he has played in nearly every musical configuration possible. Whether solo, as a sideman, in an orchestral context, or with the classic trio of himself, Lyle Mays (keyboards), and Steve Rodman (bass), the sound and style of his guitar remains a constant. Much like his former friend and collaborator, the late Jaco Pastorius, Metheny's playing is instantly recognizable.
He is also a restless musical soul, which has served him well in some respects, and maybe not so well commercially. Metheny was with ECM Records from 1976 – 1984, for 10 albums. He had developed a nice little niche there, with a style of jazz that had a wide appeal. His collaborative effort with David Bowie, "This Is Not America" from the film The Falcon and the Snowman (1985) proved to be a big hit. Afterwards, he moved over to Geffen Records, and began pursuing more adventurous avenues.
In 1995, the Pat Metheny Group reconvened after a six-year hiatus for the We Live Here album. We Live Here: Live in Japan was recorded on the tour that followed. Besides Metheny, Mays, and Rodman, the PMG consisted of Paul Wertico (drums), David Blamires (vocals, various instruments), Mark Ledford (vocals, various instruments), and Armando Marcal (percussion).
The 13-song concert runs for 110 minutes, and includes five pieces from We Live Here. The audience was probably not very familiar with this material at the time, as the recording had just been issued, but they respond enthusiastically to everything. I would have also. With the PMG, it is not really about hit songs, it is about the powerful interplay of the band. And of course, the magnetic guitar playing of Pat Metheny.
Interestingly enough, they open with "Have You Heard" off of the PMG's previous album, Letter From Home (1989). Those signature Metheny leads are what everyone came to hear, and they are featured prominently during this piece.
Next are two tunes from the record they were promoting, We Live Here. While I am a Metheny fan, I do not claim to know everything by him, so I was not sure about these at first. Not to worry though, they are great, and very much in the mold of what I have always enjoyed in his music. The title track of Metheny's final ECM album, First Circle (1984) comes fourth in the program, and is one of my favorites. It is great to see and hear him play the acoustic guitar on this one, and the wordless vocals of Blamires and Ledford add that haunting touch many of us enjoy so much.
The rest of the concert proceeds pretty much in the same vein. My feeling is that if you like what Pat Metheny does, then familiarity with certain songs does not matter very much. Still, he does have a "hit" of sorts, in the previously mentioned "This Is Not America," which they do play. I must say that without David Bowie's vocal, the tune does not really do much for me. They do a credible version of it, but I just found myself wanting to hear that deep voice of Bowie in contrast to the melodic textures of the song.
The music is (unsurprisingly) excellent throughout the show, but one of the things I also enjoyed about this DVD was the structure. Between most of the songs, there are short, generally one-minute interviews with each member of the group.
These do not really interrupt the flow, as the concert has been edited very well. Most all of the between-song applause and conversation from the stage has been taken out, so these segments work as nice bridges. In many cases, they also provide good introductions as well. For example, just prior to the performance of "Antonia," David Blamires recalls a telephone call he once received from Metheny. The boss had asked him if he knew how to play accordion, which he did not at the time. But he learned, and plays a nice duet with the guitarist in the song.
The We Live Here album was the first of what Metheny and Mays later referred to as "the triptych." Their next two sets, Quartet (1996) and Imaginary Day (1997) rounded out the project. They were off to a great start with We Live Here, as this concert attests to. If you missed We Live Here: Live in Japan the first time around (as I did), this DVD is highly recommended. The Pat Metheny Group were brilliant in every way that night.