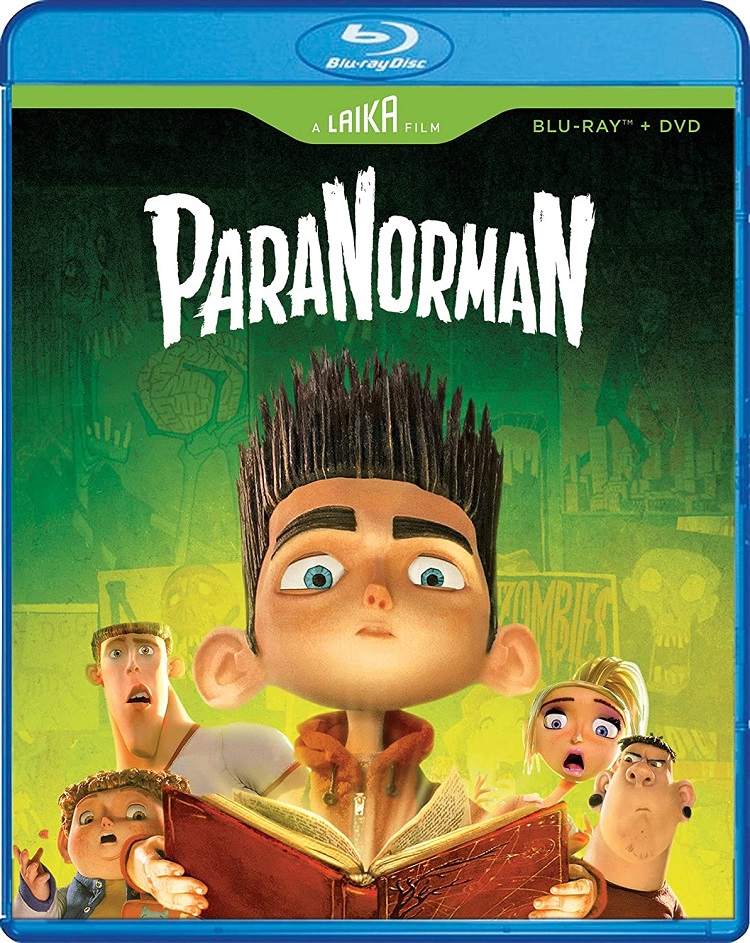 Norman Babcock (Kodi Smit-McPhee) is your average 11-year-old growing up in Blithe Hollow, Massachusetts. Well, as average as any boy who can speak with the dead can be. While that may sound like a good thing, it only brings Norman mockery and isolation, even from his own family. Nobody believes him, leaving him all alone. The only friend he has is the overly talkative Neil (Tucker Albrizzi), who is a fellow class member and equally ostracized by his peers.
But there is one other person who believes Norman: his strange, reclusive Uncle Prenderghast (John Goodman). He also has the same abilities and it's his responsibility to keep Aggie (Jodelle Ferland), a witch that was hung several hundred years ago during the witch trials, and the six people she cursed from rising from their graves and terrorizing the town. Just before the next event requiring the uncle to once again cast them back to their graves, he passes away, leaving Norman as the only one who can save the town.
The only problem with that is that Norman doesn't know where Aggie's grave is. Without this knowledge, he ends up being chased through the town by six zombies, while his bully Alvin (Christopher Mintz-Plasse), his sister Courtney (Anna Kendrick), the next-door-neighbor Mitch (Casey Afflek), and Neil help him escape and solve the mystery of what is really going on.
The Blu-ray contains thirteen Special Features:
"Inside LAIKA: Discovering the Characters and Effects of ParaNorman" – One of the longer features that go through the art of stop-motion animation used combined with the CGI digital effects that give the film it's unique look and creation process.
"Inside LAIKA: Revisiting the Puppets with LAIKA's Animation Team" – The stop-motion animators explore each of the main character's movements and characterizations.
"Feature-Length Storyboards" – The entire film using nothing but storyboards.
"Peeking Through the Veil: Behind the Scenes of ParaNorman" – Multiple small shorts discussing different topics such as the characters and voice talents.
"You Don't Become a Hero by Being Normal" – LAIKA staff talking about how they are not normal and can relate to how Norman feels.
"A Norman Childhood" – Writer/Director Chris Butler compares his own odd childhood to Norman's.
"Playing as a Profession" – Director Sam Fell explains how he has not grown up and has fun playing with dolls.
"Making Norman" – Time-lapse video of the artist creating the Norman puppet.
"This Little Light" – A time-lapse video creating a small table lamp for one of the desks in the library.
"Have You Ever Seen a Ghost? – Cast and crew discuss their own paranormal experiences.
"The Zombies of ParaNorman" – An homage to the original zombie films.
"Still Galleries" – Several galleries showing photos from the film and behind the scenes.
"Theatrical Trailer" – The original trailer for the film.
The Blu-ray is presented in 1080p High-Definition Widescreen with a 2:40:1 ratio and a DTS-HD Master Audio 5.1. The video is of good quality with clear and sharp images and high clarity even in the darkest of scenes. The surround sound seems to constantly have different noises and voices coming from all sides.
ParaNorman is a 2012 film by stop-animation studio LAIKA using a mixture of stop-motion, practical sets, and CGI. Not only is it a difficult and impressive accomplishment to make a feature-length film using these techniques, it is really well done. Just watching it you would think it was all animated as it meshes seamlessly. Unfortunately, the design of the humanoid puppets came across as odd and somewhat confusing for me. Random body parts were oddly proportioned and were distracting. I'm sure it was meant to fit in with the overall strangeness of the film and the topic they were dealing with. You normally don't deal with hanging witches, talking with the dead, and zombies trying to eat your brains in what is considered a children's movie.
But this might come down to a matter of taste. When it was released, it was nominated for and won numerous awards. It was well received by both critics and audience viewers. The story is interesting and unique. This Blu-ray release is of high quality with lots of entertaining extras for fans. So if this is your kind of film, it would be well worth obtaining this latest release.
And ParaNorman is returning to theaters for one day only on November 16. Buy your tickets now.