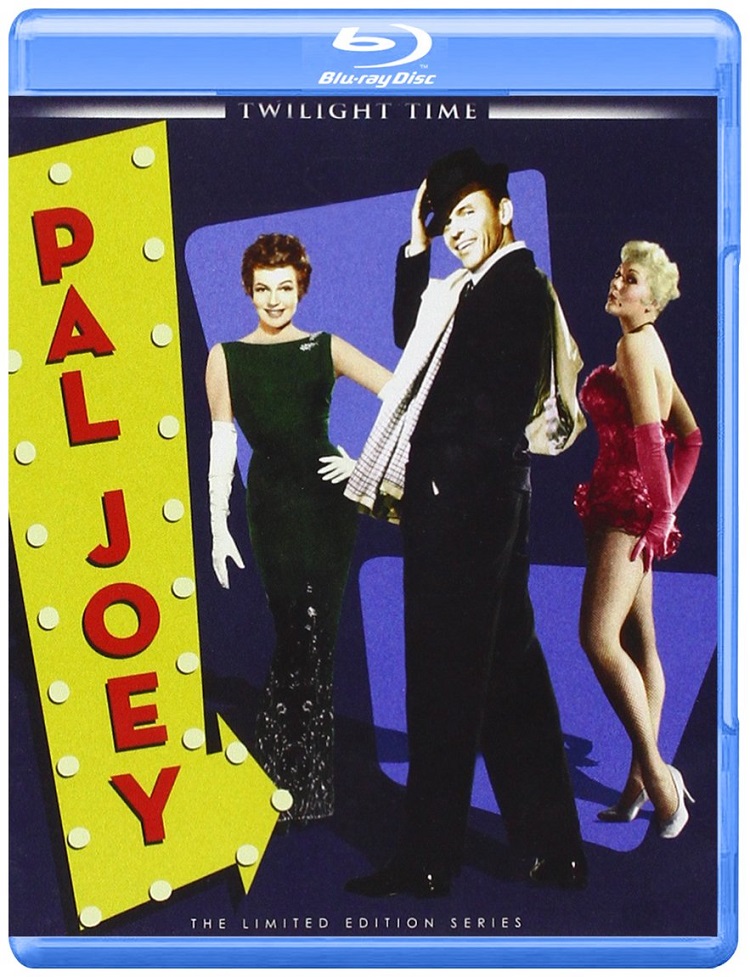 "Some guys have a system with horses, and I got a system with dames. It's a snap. You treat a dame like a lady, and you treat a lady like a dame." —Joey Evans (Frank Sinatra) on the subject of romance.
You know you're a popular fellow when you're being thrown onto a train by the police and told to never come back. And that's just what happens to Joey Evans (Frank Sinatra) at the opening of the 1957 romantic musical drama, Pal Joey, after he has been caught cavorting with a young lady from the respectable side of the tracks. Tossed onboard a car with a one-way ticket elsewhere, low-rent lounge entertainer Joey journeys back to his hometown of San Francisco, where the schmoozing, slang-talkin' moocher promptly finds a nightclub to finagle his way into working at.
It is there that, through an old acquaintance, Joey meets talented young singer/dancer Linda English (the beautiful Kim Novak, with a singing voice courtesy Trudy Erwin). Now, Joey's no stranger to the world of romancing — especially the kind that lasts less than a day. But with Linda, he begins to feel a genuine yearning to be with another human being — despite the fact that she's repulsed (at first) by the sleazy, womanizing showman. His nefarious ways with the opposite sex comes into play once again — even as he still tries to woo the green chorus girl — when he has the opportunity to court a wealthy, middle-aged widow named Vera Simpson (Rita Hayworth, who was actually three years younger than Sinatra).
Allowing the mature bombshell to use him as her personal boy toy, Joey convinces Vera to open up a high-scale nightclub (called "Chez Joey," nonetheless) where he can import all of his friends and colleagues — including Linda. But keeping up with this cougar while trying to get his newfound kitten to eat out of his hand at the same time is something even an experienced player like Joey isn't going to find easy. Nor does he in this charming tale of love and lust, which succeeded in finally putting Mr. Sinatra on the radar of many a critic (he had been in the movies for several years by the time Pal Joey rolled around) for his sincere and — pardon the pun — "frank" portrayal of Joey Evans.
Even though it's adapted from the long-running John O'Hara/Rodgers and Hart stage musical of the same name (which first opened in 1940, and ran for 374 performances), it's really hard to fathom that Pal Joey actually is a musical throughout most of the feature — since most of the songs here are sung by people who are performing on-stage or in front of others. As such, when Rita Hayworth (courtesy her singing double, Jo Ann Greer) starts belting out "Bewitched, Bothered and Bewildered" when she's alone in her bedroom, it almost takes you by surprise.
Strangely enough, Pal Joey's standout tracks (ie the classic "The Lady is a Tramp" and the spine-tingling "My Funny Valentine") were actually lifted from other Rodgers and Hart vehicles. Either way, though, Pal Joey is a fine film to sit back and enjoy. Fans of The Chairman of the Board should find themselves in heaven here, and Novak or Hayworth never fail to disappoint in anything — and this one is no exception.
Pal Joey saw a DVD release by Sony a few years ago, but Twilight Time's new High-Definition release is a marked improvement. For those of you who have a fetish for those golden days (and neon nights) when everybody smoked and drank martinis and all men wore a suit and tie, Pal Joey is a delight — as the transfer here shows off all that this '50s Technicolor spectacle had to offer in full glory, from the gorgeous Jean Louis costumes to the striking color palette used by director George Sidney's crew. Audio-wise, Pal Joey includes two stunning DTS-HD Master Audio mixes: one in 5.1, and the other in 2.0. Optional English (SDH) subtitles are included.
While most Twilight Time titles usually only include an isolated music score, Pal Joey goes two steps further. Yes, there's a separate audio track for the score only (and is presented in DTS-HD MA Mono), but we also get to see the original theatrical trailer for the film, hosted by of Ol' Blue Eyes himself. Also on-hand is the newly-produced nine-and-a-half-minute featurette "Kim Novak Backstage Featurette," wherein the reclusive former star (who is only shown via long shots) allows us to take a gander at her plush Oregon home, and she discusses her career offscreen while footage from the main feature plays.
Also included inside the Blu-ray case of this Limited Edition release (which is available exclusively at screenarchives.com), is another fine essay on the film as written by Julie Kirgo.
Highly recommended.