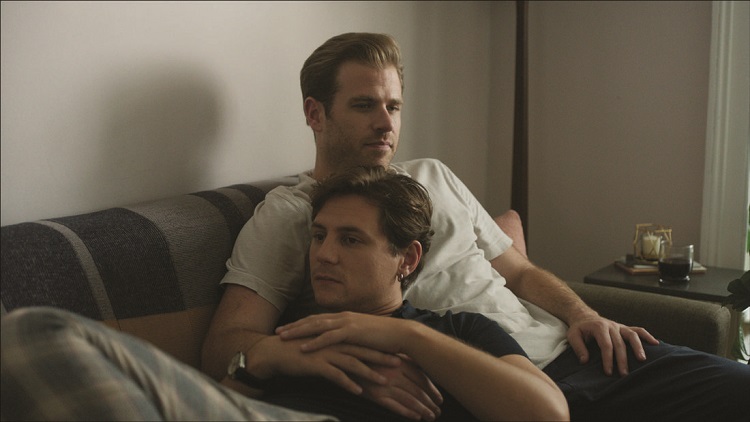 Sell By may be queer themed since it centers around a homosexual couple coming to grips with their turbulent relationship. Yet, it attempts to tap into the universal romantic experience by also focusing on the couple's straight friends and their love troubles. On the one hand, the film ends up being an exceptional ensemble piece, but on the other, the multiple narrative becomes rather disjointed.
The chief storyline involving the relationship between Adam (Scott Evans) and Marklin (Augustus Prew) still is quite focused. Both men try to analyze the ongoing distance between them while dealing with the concept of marriage which Adam certainly wrestles with. As they grow distant, though, they still attempt to show great affection and Evans and Prew do a fine job at formulating their chemistry. Not to mention, it's commendable to see a gay couple being played by openly gay actors. With the ongoing debate of straight actors playing gay roles still taking place, castings such as these are a breath of fresh air.
Along with Evans and Prew, Michelle Buteau stands out as Cammy, Adam and Marklin's friend who falls for a homeless man. After stealing her one scene as a 911 operator in Isn't It Romantic? and giving a terrific supporting role in Always Be My Maybe, Buteau proves why she should have more expansive roles going forward. She is a natural comedic presence while portraying the rather neurotic Cammy with a fair amount of acuity.
As previously mentioned, the other actors do fine work even if their respective storylines get lost in the shuffle. For instance, the character of Haley, played by Zoe Chao, takes a student under her wing only for her to realize he has particular feelings for her. Due to the film's loose narrative structure, Haley's conflict isn't given proper closure. In addition, Patricia Clarkson has a nice cameo as Ravella Brewer, an artist who Adam shadow paints for, but it's still a very small cameo.
Given how writer/director Mike Doyle has a background as an actor, it really shines through in the performances. Even though the writing isn't up to par, the acting still holds the film together thanks to the performers themselves along with Doyle's direction. Sell By also thrives thanks to its attempts to demonstrate the familiar yet relatable ups and downs of love. Lastly, its ability to create a space for queer people to exist within the predominantly heteronormative romantic comedy genre is quite admirable.