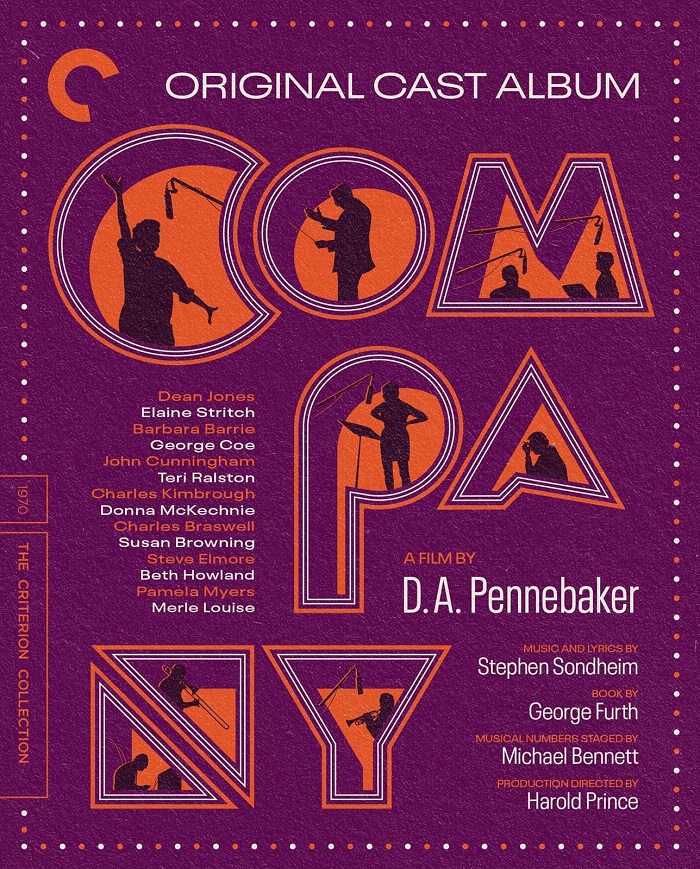 Originating as a series of 11 one-act plays by George Furth, Company evolved into a musical with music and lyrics by Stephen Sondheim after he asked Harold Prince, who would direct it on Broadway, what he thought of the material. Rather than a linear plot, it presents modern-day vignettes about marriage and relationships among a group of upper-middle-class New Yorkers. Company won Best Musical at the Tonys as well as awards for the three mentioned above.
Documentarian D. A. Pennebaker takes viewers behind the scenes of the recording of Original Cast Album: "Company" by editing the 14-hour recording process down to under an hour. A crawl explains this film was supposed to be a pilot for a nationally syndicated TV series of original cast recordings but became a one-off when the producers left for Hollywood to run MGM.
The cast, which includes well-known actors like Dean Jones and future sitcom stars Barbara Barrie and Beth Howland, sings with an orchestra and viewers get to see them receiving notes about their performances from album producer Thomas Z. Shepard and Sondheim, the latter a perfectionist. Pennebaker captures comments by those in the recording booth and includes interviews with Sondheim and Prince. The most notable sequence features Elaine Stritch struggling with "The Ladies Who Lunch" late into the night, before eventually triumphing to everyone's satisfaction.
Presented in its original aspect of 1.33:1, the liner notes reveal "this new digital transfer was created in16-bit 4K resolution on a Lasergraphics Director film scanner from the original 16 mm A/B Ektachrome reversal, except for the opening credits, which were restored from a 35 mm blowup. Thousands of instances of dirt, debris, scratches, splices, and warps were manually removed using MTI Film's DRS, while Digital Visions Phoenix was used for jitter, flicker, and small dirt."
With the image blown up from 16 mm, there's more film grain and focus is softer. The latter also occurs due to the moving, zooming work by the cameramen as they shoot on the fly. Blacks are inky but tend to crush, which is also a result of the source. There film's look is predominantly earth tones, whites, and blacks, but there are occasions where brighter hues can be seen. A hair appears in top of the frame during the start of "Getting Married Today."
"The monaural soundtrack was remastered from the original 1/4-inch and 16 mm magnetic tracks using Avid's Pro Tools and iZotope RX." The vocals and the music blend together well in the studio and on playback. The background ambiance comes through as muddled noise.
A new audio commentary by Sondheim recorded in 2021
A 2001 audio commentary by Pennebaker, Stritch, and Prince
Additional Commentary Excerpts (HD, 12 min) – Deleted audio clips from the interviews with Stritch and Prince
Side by Side (HD, 29 min) – Critic Frank Rich conducts a conversation over Zoom with Sondheim and orchestrator Jonathan Tunick
Jonathan Tunick (HD, 19 min) – Recorded in 2021, author Ted Chapin interviews Tunick on the art of orchestrating, and considering he's achieved an EGOT, he knows a thing or two about music.
"Original Cast Album: Co-Op," (HD, 25 min) – An episode of Documentary Now! that parodies Company. Paula Pell in the Stritch role is hysterical.
Documentary Now! Conversation (HD, 33 min) – Recorded in 2020, a Zoom reunion of the cast and crew of "Original Cast Album: 'Co-Op'" featuring director Alexander Buono; writer-actor John Mulaney; actors Rénee Elise Goldsberry, Richard Kind, Alex Brightman, and Paula Pell; and composer Eli Bolin. These folks love theater, Sondheim, and working together
Original Cast Album: "Company" is mostly for musical theater fans but it should also be of interest to those curious about how things are made. Criterion's high-def presentation makes the most of the source's limitations. The extras offer great insight into the musical and the film, and the Documentary Now! material is a wonderful bonus.