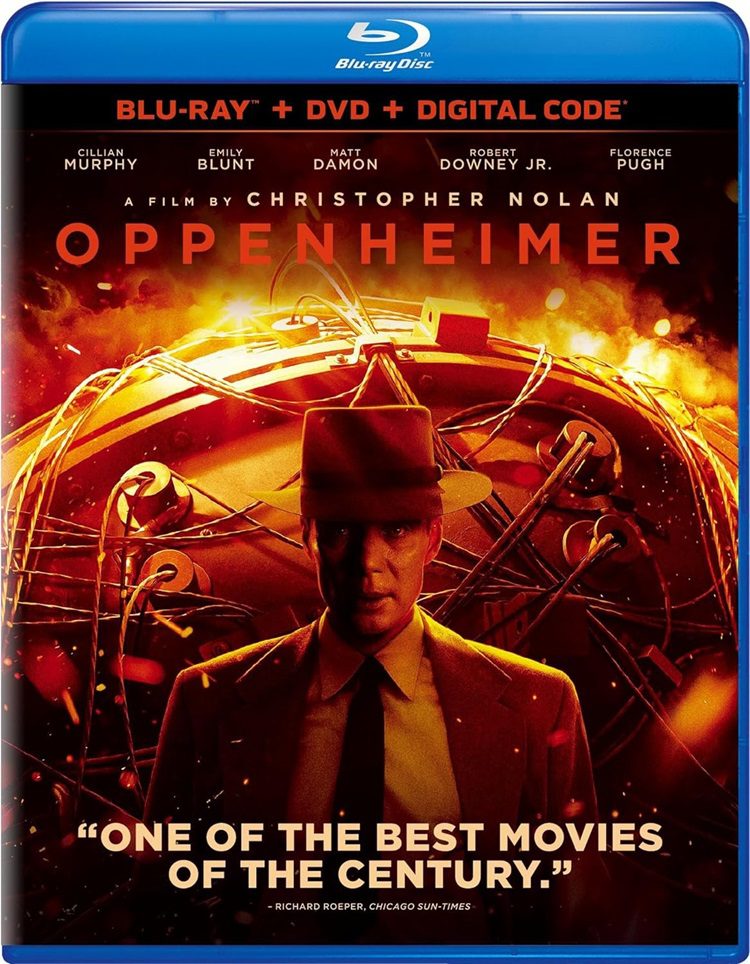 The Tuesday before Thanksgiving traditionally is a big week for new Blu-ray releases as it is the week of Black Friday and the start of Christmas-present purchasing. Anymore it seems like Black Friday sales start the day after Halloween and continue until well after Turkey Day. We've seen some of that this year with lots of great-looking Blu-ray sets having just been released, but there is still lots to talk about this week.
Oppenheimer, Christopher Nolan's biopic about the tortured inventor of the Atomic Bomb, was a surprise smash this summer. The director doesn't make small films and they usually make plenty of money, but no one expected it to nearly crack the $1 billion mark in the global box office. It was helped, in no small part, by its release date coinciding with Barbie, creating an infinite number of "Barbenheimer" memes.
Personally, I made it to theaters to see Barbie but missed catching Oppenheimer. I miss most things at the theater these days so that's no surprise. I only caught Barbie because my wife sews clothes for that doll line and Instagrams them, so it became a must-see for her, and thus I found myself at the theater.
But now that Oppenheimer is coming to Blu-ray I find myself poised to watch it and am happy to make it my Pick of the Week. Like all big brand releases these days, Oppenheimer is coming out in all formats in a variety of packages so check your local listings for more information.
Also out this week that looks interesting:
Mean Streets (Criterion): Martin Scorsese's semi-autobiographical film about street thugs on the streets of New York City put him (and Robert DeNiro, and Harvey Keitel) on the map. It's also a road map of sorts for his entire career, solidifying some of the style and themes he's been visiting throughout his entire career.
Saw X (Lionsgate): I rewatched the original film in this franchise a few weeks ago because this tenth film in the series was getting surprisingly good reviews. My intentions were to watch the entire series through October and then catch this film Halloween night. I never made it past the first film. I no longer have the stomach for extreme horror, and while the first film has an actual story beyond its clever torture traps, my understanding is the sequels just get increasingly gross. But like I say, the reviews for the new one have been good, so I'm sure there are plenty of fans awaiting this release. Maybe I'll skip all the others and see what this one is all about.
Doctor Who: Limited Edition Collector's Set: Just in time for the fourteenth season of my beloved series comes this giant boxed set featuring every season of the new series plus all the specials. As far as I can tell, there aren't any new special features on any of the disks, but the first four seasons are noted to be upscaled and it does come with some fun-looking figurines.
The Expanse: The Complete Series: One of the millions of television series I've been hearing good things about and have put on my list of things to watch, but have yet to get to.
Farscape: 25th Anniversary Edition (Shout Factory): Yet another sci-fi series I've been meaning to watch for ages.
The Police Academy Collection (Shout Factory): I used to love these movies as a kid, especially that guy who could make all the funny sounds. I haven't watched them since then, nor thought of them much either, but if you are a fan, this is a nice-looking collection. Each film comes with a new 2K restoration and lots of extras.
The Criminal Acts of Tod Slaughter: Eight Blood-and-Thunder Entertainments (Powerhouse Films): A fantastic-looking boxed set of horror films starring Tod Slaughter, one of Britain's first horror icons. It contains eight full-length films, plus several shorts and loads of special features.
The Scarlet Letter (1937) (Powerhouse Films): One of the earliest cinematic adaptations of Nathaniel Hawthorne's classic tale of morality in Puritan America gets a very nice-looking release with lots of extras that put it into historical context.
The Eurocine Collection: Vol. 1 (Full Moon Features): Back in the VHS days, Wizard Video regularly put out releases of obscure, weird horror, and exploitation films. Full Moon tries to replicate that feeling with this collection featuring six films that were originally put out by Wizard Video back in the day.
White Lightning / Gator (Kino Lorber): Burt Reynolds stars in these two films as an ex-felon moonshiner hired by the feds to infiltrate some bad guys and collect evidence on them. They are full of car-chases and PG-rated sexiness and are both a lot of fun. Read my review of White Lightning.