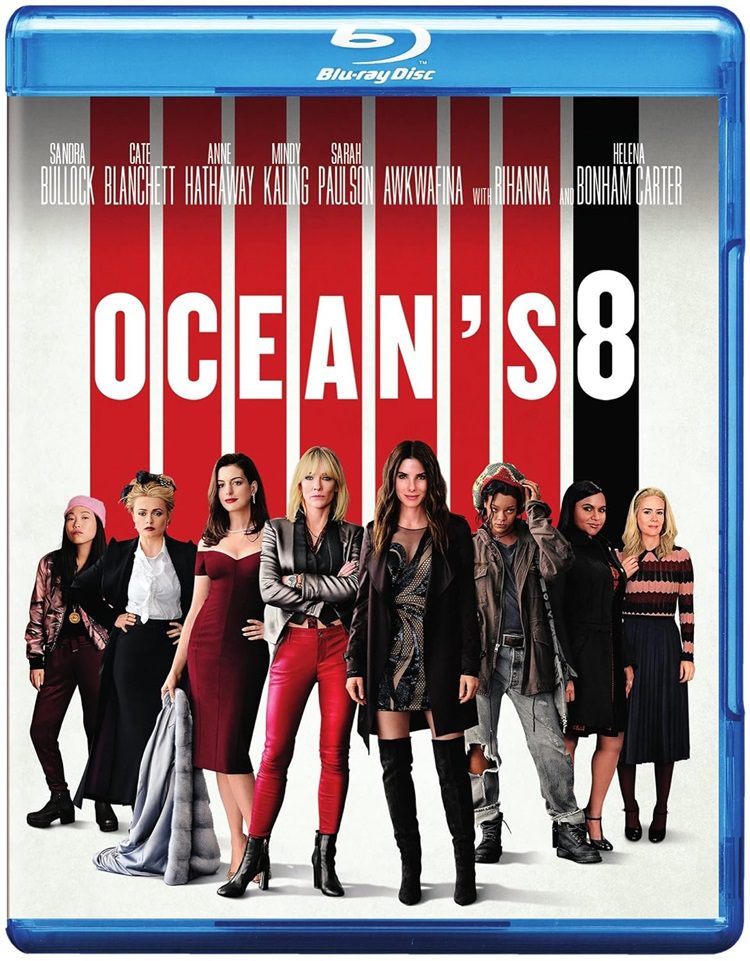 Even though it could've been its own original property rather than an Ocean's spinoff, Ocean's 8 is still enjoyable popcorn fare. It may not be perfect but it's still a fun movie-going experience featuring terrific, witty performances from its A-list cast.
Ocean's 8 follows the story of Debbie Ocean (Sandra Bullock), the sister of con artist Danny Ocean. After being released from prison on parole, Debbie quickly turns back to her life of crime. Debbie quickly assembles a group of women: Lou (Cate Blanchett), Rose (Helena Bonham Carter), Amita (Mindy Kaling), Nine Ball (Rihanna), Tammy (Sarah Paulson), and Constance (Awkwafina), to plan a heist at the Met Ball. Their plan is to steal a necklace worth $150 million which'll be worn by actress Daphne Kluger (Anne Hathaway). Adding potential chaos to their plot is Debbie's ex-lover Claude (Richard Armitage) who happens to get involved.
With a fun premise and an amazing cast, Ocean's 8 should be so incredible that it's criminal, right? Well, sort of. The heist is intriguing because you're curious about how they're going to pull it off. Yet, it feels too perfectly orchestrated with little dramatic stakes. Not that it's a bad thing, though, because the film works as pure escapist entertainment.
As for the cast, the main actresses are all amazing and bring their A-game. However, the MVP amongst them is easily Anne Hathaway as Daphne. Hathaway is essentially playing a parody of the way certain people in the media view her and turns every snobby laugh and moment of diva impatience into comic gold. Aside from Hathaway, Sandra Bullock and Awkwafina manage to emerge as standouts as well. However, great as they may be, the other actresses aren't given enough to work with. Even Cate Blanchett of all people is pretty wasted despite having second billing. But the issue is that aside from Bullock and Hathaway, the other actresses don't have a distinctive moment that allows them to stand out. Although, Helena Bonham Carter does have a hilarious scene involving the use of technological glasses.
Other than that, there really isn't a whole lot to add about Ocean's 8. The heist may be too perfectly calibrated and most of the actresses aren't given a whole lot of material to work with. But honestly, who cares? It's a simple, fun summer movie that has fun performances from its leading ladies. If they were to make an Ocean's 9, I'd still gladly check it out.