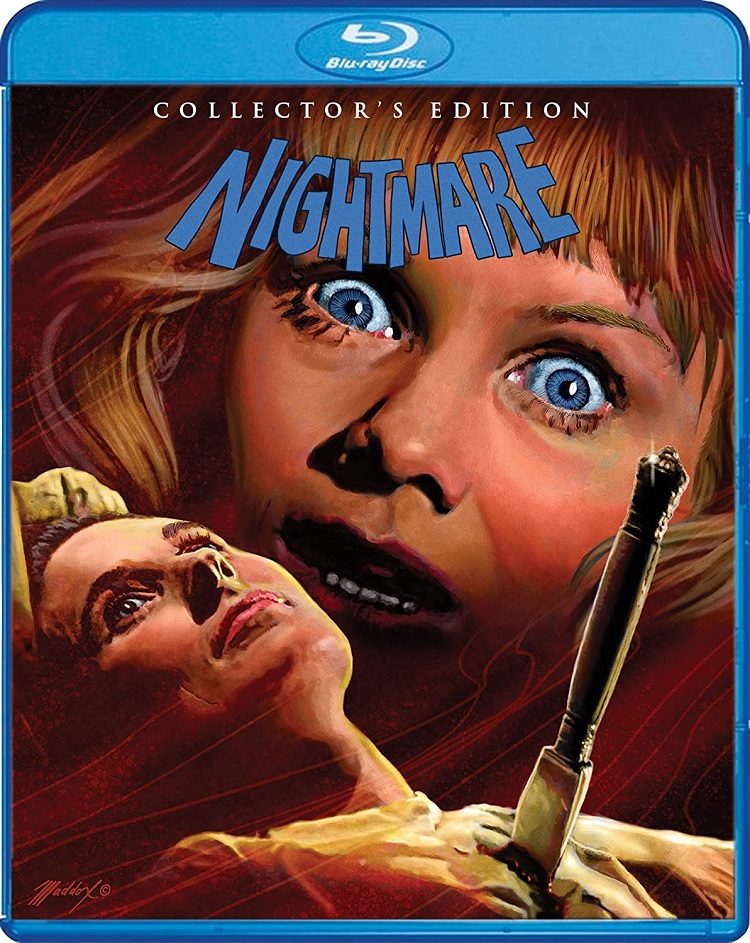 When you think of Hammer Films, their versions of Dracula, Frankenstein, the Mummy, and even Van Helsing automatically come to mind. This also appeals to the many sequels that have spawned from them. You don't usually associate them with psychological horror, and that is unfortunate because there are some small/low budget, but effective thrillers that are often overlooked. Despite its obvious flaws, I think that Freddie Francis' 1964 thriller Nightmare, is one of those hidden gems.
Jennie Linden stars (or co-stars) in the film as Janet, a young woman who suffers from recurring nightmares after witnessing her very unstable mother murdering her father a little girl. Fearing that she may follow in her footsteps, she decides to return home to her guardian Henry (David Knight), along with her schoolteacher Miss Lewis (Brenda Bruce). He also has hired the seeming thoughtful Grace (Moira Redmond) to be Janet's companion, with Mrs. Gibbs (Irene Richmond), the housekeeper, and John (George A. Cooper), the chauffeur, there as well to help her with her demons.
However, those demons catch up to Janet as she continues to have strange dreams of a mysterious woman in white (Clytie Jessop) tormenting her. When her birthday comes, she is given a birthday cake (the same one in her dreams) and is horrified when she the same woman (this time in black) is there. Thinking that she's dreaming once again, she inadvertently stabs and murders the woman. When she placed in a van to be sent an asylum, she sees the woman once again, in white.
The turning point of the film (and one of many twists) has the woman peeling off her face to be revealed as Grace. We find out that she and Henry were using Janet to kill the woman (revealed to be his wife) for her money, in which they get married. The honeymoon is cut short, where Grace starts to believe that Henry is trying to drive her mad as well. She thinks that he has gotten Janet out of the asylum and hiding her in the house to spook her. In order to frame Janet once again, she kills Henry and tries to call the police. But she doesn't get very far, as she is confronted by Miss Lewis, Mrs. Gibbs, and John. They also had their own plot going to get revenge on both her and Henry, for what they did to Janet. Now Grace is the one who is truly insane.
As I mentioned in the first paragraph about its flaws, it definitely has them. The mechanics of the plot doesn't always work, meaning that there are absurdities to them. Henry and Grace's scheme is a little thin, and you wonder why they go through all that trouble just to get his wife's money and get married. There are times when the hysterics go too far as well, especially to the point of camp. It's also another of those films that shows a woman as too emotional and irrational, which doesn't exactly make it progressive either. However, the first half with Linden is more effective because her performance is an accurate portrayal of mental illness, and she is quite believable in the main role as Janet. It also does have some genuinely creepy moments, especially with Jessop (who doesn't have any words of dialogue but is still effective due to her sinister mannerisms and expressive face).
Overall, I genuinely liked this film (despite the flaws) and think that it deserves to be considered as one of Hammer's non-monster flicks that mostly succeeds on its Gothic horror sleeves, while also being a solid black and white film to boot.
Scream Factory's stacked release has a new 2K restoration, along with some great special features, such as a new audio commentary by film historian Bruce Hallenbeck; Sleepless Nights, a new interview with famed author/film historian Kim Newman; Slice And Fright, a new interview with actor/author/film historian Jonathan Rigby; Reliving The Nightmare, interviews with actress Julie Samuel, continuity person Pauline Wise, and focus puller Geoff Glover; Nightmare…In The Making, interviews with Linden, writer Jimmy Sangster, and art director Don Mingaye, hosted by author Wayne Kinsey; Jennie Linden Remembers, the full interview with Linden; Madhouse: Inside Hammer's NIGHTMARE, featuring interviews with Rigby, and fellows historians Kevin Lyons, Alan Barnes, and John J. Johnson; theatrical trailer; and still gallery.