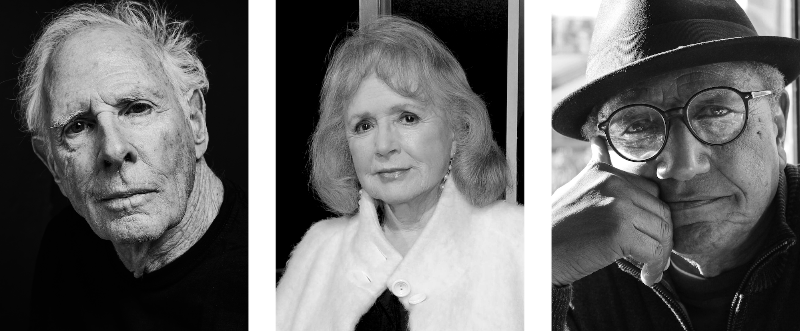 Turner Classic Movies (TCM) today announced it will honor Academy Award-nominated actor Bruce Dern, Academy Award-nominated actress Piper Laurie, and animator and story director Floyd Norman during the 13th annual TCM Classic Film Festival in Hollywood April 21 – 24, 2022. Festival passes for the annual event are currently on sale.
Each year the TCM Classic Film Festival pays tribute to a select group of individuals whose work in Hollywood has left a lasting impact on film. Throughout his prolific career, Dern earned critical praise and his first Academy Award nomination for his performance in Coming Home (1978) and another nomination for his performance in Nebraska (2013), both of which will be screened at the Festival. Laurie has worked with some of the most iconic directors and stars of classic Hollywood, while making a name for herself in Has Anybody Seen My Gal? (1952) and her Academy Award nominated turn in The Hustler (1961). Laurie will introduce both films at the Festival. Having bolstered his career through a lasting partnership with Walt Disney Studios, Norman worked as an animator on several Disney classics including The Jungle Book (1967) which will play at the El Capitan Theatre during the Festival.
One of the Festival's many fan-favorite events includes the poolside screenings presented by Citi, the Official Card of the Festival, at the historic Hollywood Roosevelt Hotel. This year is no exception with cult favorites like Soylent Green (1973), which is set in 2022, with actress Leigh Taylor-Young in attendance; a 40th anniversary screening of Fast Times at Ridgemont High (1982); and the Elvis classic Blue Hawaii (1961) being featured.
Other screenings during the TCM Classic Film Festival include a midnight screening of Polyester (1981) with Odorama; the film noir I, The Jury (1953) in its original 3-D format; and a special presentation of the silent film 7th Heaven (1927), accompanied in person by the Mont Alto Motion Picture Orchestra.
TCM recently updated the health protocols and safety measures for the event. Get the latest guidelines here: tcm.com/festival.