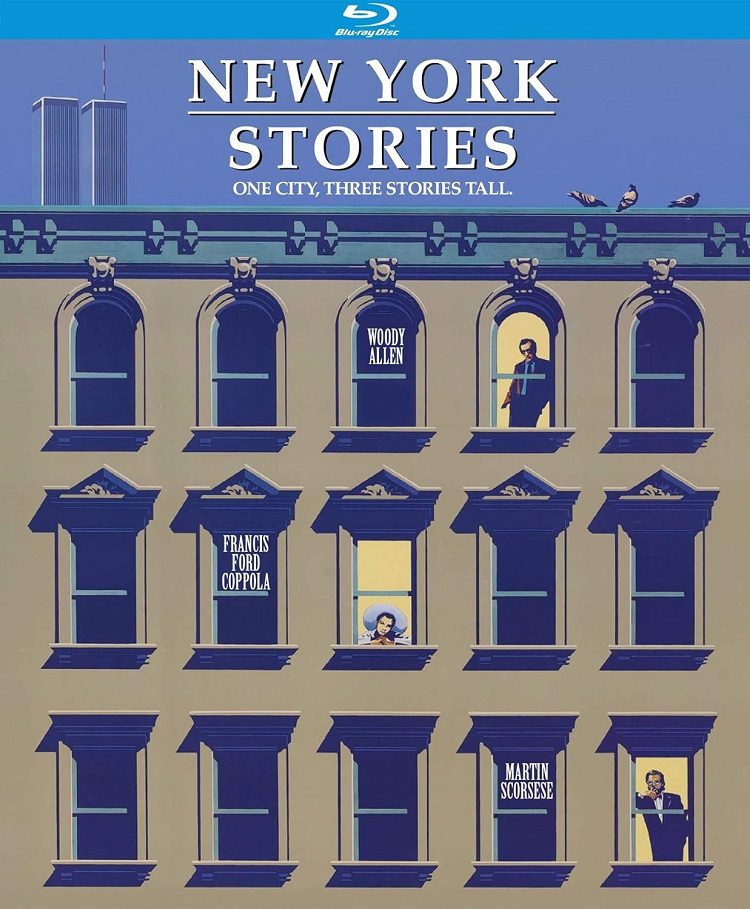 To quote the concluding narration from the Naked City (1958-1963) TV series, "There are eight million stories in the naked city." Unfortunately, none of the three New York Stories chosen for this anthology, connected by their settings, make for standout movies in the filmographies of their directors.
The best of the three is the first one presented. "Life Lessons" is directed by Martin Scorsese and written by Richard Price. It tells the story of celebrated abstract painter Lionel Dobie (Nick Nolte) and his tumultuous relationship with his assistant/struggling artist Paulette (Rosanna Arquette). She had been his lover, but when she enters the story, she is returning from a fling gone awry with a performance artist (Steve Buscemi). She wants to move out but he convinces her to stay by agreeing to their relationship being platonic. Lionel thrives on the turmoil she causes within him because it fuels his painting.
While "Life Lessons" is directed and acted well and has a great classic-rock soundtrack, the lesson is little more than people use each other. Both Lionel and Paulette do it, and even though one of them finally has enough and moves on, the cycle repeats for the other. It's a downbeat story with no likable characters.
"Life Without Zoë" is directed by Francis Ford Coppola who co-wrote it with his daughter and future filmmaker Sofia. Zoë (Heather McComb) is a spoiled rich kid who lives in a fancy hotel while her divorced parents, flautist Claudio (Giancarlo Giannini) and photographer Charlotte (Talia Shire), travel the world for work. While the plot focuses on her returning a jewel to an Arab princess, she hopes to reconcile her parents reconcile.
"Life Without Zoë" has little conflict and characters without depth, which adds to it feeling like it's a children's movie, making it out of place between the other two stories. The music by Kid Creole clashes with the story. Would have been better suited for a New York story featuring different characters and setting.
"Oedipus Wrecks" is written and directed by Woody Allen. Sheldon Mills (Allen) has an overbearing mother Sadie (Mae Questal) he finds embarrassing. One day, while at a magician's performance, Sadie disappears when taking part in a trick. After a few days, Sheldon lives freer with the weight of his mother gone. Then she appears (somehow) up in the clouds, talking to New Yorkers about Sheldon and his fiancee Lisa (Mia Farrow), whom Sadie doesn't think Sheldon should marry. Eventually, he takes an unconventional route to return his mother by using a psychic (Julie Kavner). The story is amusing with Allen traversing familiar comedic ground with the overbearing Jewish mother and dismissal of pseudoscience, but the gag goes on too long and loses steam.
The video has been given a 1080p/MPEG-4 AVC encoded transfer displayed at the film's original aspect ratio of 1.85:1. The work of the three internationally renowned cinematographers Néstor Almendros, Vittorio Storaro, and Sven Nykvist is well served. Colors in all three come through in strong hues and inky blacks. The image looks clean and delivers good depth and great detail, in particular the paint textures Scorsese shoots in close-ups.
The audio is presented in DTS-HD Master Audio 2.0, which is a shame as the classic-rock tracks from "Life Lessons" would sound great filling the surrounds. The dialogue is clear and the track is free of hiss and defect.
The only "extras" are trailers for New York Stories, Scorsese's Kundun, and Mazursky's Scenes from a Mall which Allen co-starred in. A shame there's no extras because even though the film is not highly regarded, it would be great to gather these three directors for a discussion about their shorts and the entire anthology. Am very curious how Coppola got involved because even though he grew up in New York and has made films set there, I don't think of him as a New York director like the other two or even people like Sidney Lumet or Spike Lee.
While I wouldn't recommend New York Stories, fans of the film should be pleased with the high-definition presentation on the Blu-ray from KL Studio Classics.