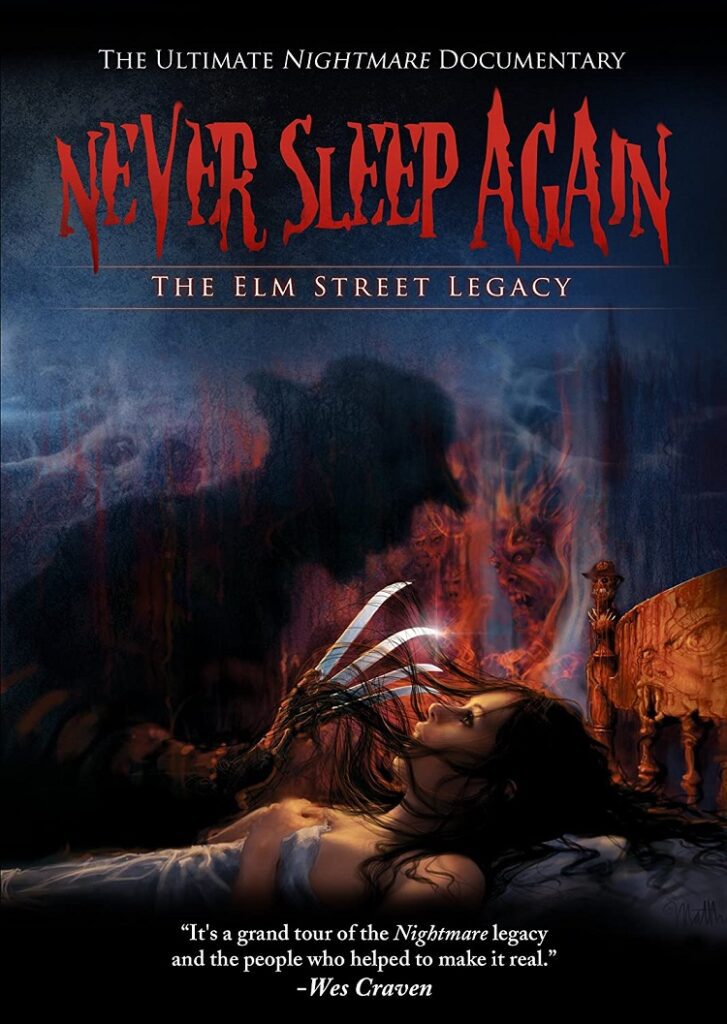 Never Sleep Again: The Elm Street Legacy was originally released on DVD back in 2010. It's received a proper HD treatment in the jump to Blu-ray, sporting the expected 1080p picture and audio clear as a bell (even if Wes Craven's reserved way of speaking had me turning up the volume a little to hear him). It's a collection of extras so big, it still requires two discs on this expanded format.
The first disc contains the main documentary, a four-hour trip through every Freddy movie from the first through Freddy's Dead and Freddy Vs. Jason. I read somewhere that the DVD original contained some commentary on the franchise reboot back in 2010, but I didn't recall hearing anything about it here. Maybe it's buried in one of the many extended interviews or commentary tracks — there's so much to take in here, it'd be easy to miss a detail here or there.
The documentary enlists the help of over one hundred cast and crew members, studio executives, writers, special effects artists, composers, and so on to recount what it was like making each and every slash, splatter, and nuance of Freddy's fateful dream sequences. It also delves into the surprisingly big splash Freddy made upon his debut, and the ups and downs of financial performance of each entry in the series. There were conflicts behind the camera, scripts getting rewritten every day right before someone yelled "Action!" and new effects techniques emerging constantly to realize the increasingly imaginative nightmares Freddy would come to haunt. They took animatronics, prosthetics, and set design about as far as they could go just shy of incorporating computer-generated imagery. It's a compelling look at how movies get made, stories get told, and how things sometimes shake out in weird ways in Hollywood.
Disc one includes feature commentary by directors Daniel Farrands and Andrew Kasch, writer Thommy Hutson, and cinematographer Buz Wallick. Disc two is where things really open up. You get hours worth of extras, including:
Extended interviews with cast and crew
Heather Langenkamp's "I Am Nancy"
For the Love of the Glove — one man's quest to recover the lost glove Freddy wore in the original movie
Fred Heads: The Ultimate Freddy Fans
Horror's Hallowed Grounds: Return to Elm Street
Freddy vs. The Angry Video Game Nerd
Expanding the Elm Street Universe: Freddy in Comic Books and Novels
The Music of the Nightmare: Conversations with Composers and Songwriters
Elm Street's Poster Boy: The Art of Matthew Joseph Peak
A Nightmare on Elm Street in 10 Minutes — key lines from the story of each movie as delivered by the present day actor or actress who originally played the part
Never Sleep Again: The Elm Street Legacy Teaser Trailer
If you're any sort of Nightmare fan and you missed the DVD release, you owe it to yourself to own this collection. If you already have the DVD, the picture and sound are a bit better here, but it's essentially mostly footage of people sitting around talking, so whether that's worth the upgrade price is up to you. I definitely learned a quite a bit about the story, what went on behind the scenes, and where everyone involved has gone since then, and had a blast watching it.