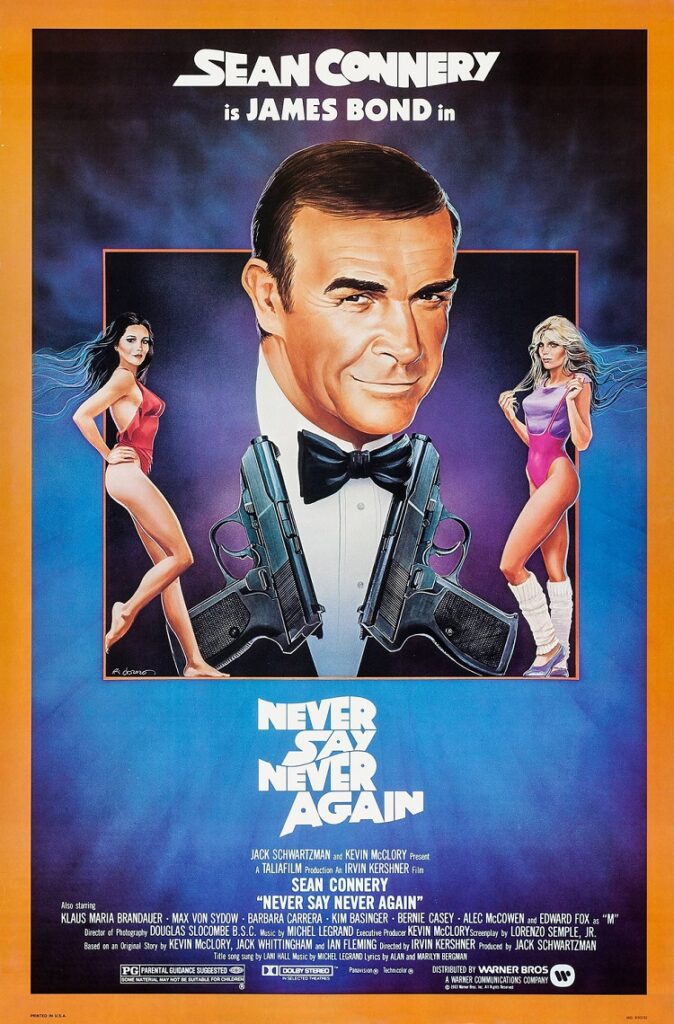 The year 1983 was strange, but interesting for James Bond fans. It saw the release of Octopussy, starring the then current EON Productions' James Bond, Roger Moore, but it also saw the release of Never Say Never Again, starring original Bond Sean Connery. The film is a loose remake of 1965's Thunderball, which producer Kevin McClory and screenwriter Jack Whittingham had successfully sued Ian Fleming over after he did not credit them for their contributions to the Thunderball novel. The title of the film came from Connery's wife, Micheline, after Connery vowed he'd never play the role again. While McClory wanted to film a new Thunderball adaptation for much of the 1970s, further legal action prevented the movie from being released until 1983.
Never Say Never Again differs from Thunderball in that it takes into account Connery was in his early 50s at the time of filming. Instead of trying to make Bond younger, as so many films seem to do with aging action stars, the script was written around Connery's age, showing Bond as older and rusty – past his prime even. A training mission goes poorly for him and he is sent to a spa to get back into fighting shape and eliminate his free radicals before returning to action.
The film's basic premise is the same as its predecessor – SPECTRE has stolen two nuclear warheads that it plans to detonate if their ransom demand from the NATO countries is not met. There are some key differences, however.
In the newer film, it is Jack Petachi (Gavan O'Herlihy), a United States Air Force pilot turned SPECTRE operative who has an eye operation to impersonate the retinal pattern of the President of The United States. He uses this identity to bypass security at an American Military base in England where he switches out dummy nuclear warheads for live ones. Petachi's sister is Domino (Kim Basinger), who is main villain, Maximilian Largo's (Klaus Maria Brandauer), girlfriend until she learns of her family's betrayal by Largo. In the original film, SPECTRE agent Angelo Palazzi (Paul Stassino) has plastic surgery to impersonate French NATO pilot Francois Derval, who is Domino's brother, in an attempt to hijack a jet carrying the warheads. In both instances, Domino vows revenge on Largo. Largo's treatment of Domino when he discovers she is working with Bond differs in both films as well. In the original, she is captured, with the intent to kill her while in the latter, she is auctioned off to some Arabic men. Both times, it is up to Bond to free her.
Never Say Never Again has some dated 1980s references as well, both from the bland score from Michel Legrand to the 3-D video game Bond plays against Largo, Domination. Still, the film features fine performances from Connery and Brandauer, as well as Max von Sydow as SPECTRE leader, Ernst Blofeld. Like the original, it features a number of fine action sequences, including an extended underwater fight scene.
Extras on the DVD include commentary with director Irvin Kershner and James Bond historian Steven Jay Rubin; and featurettes entitled The Big Gamble, which talked about the legal troubles of getting the film made; Sean is Back about the return of Connery; and The Girls of Never Say Never Again. Also included are the original theatrical trailer and a photo gallery.
The film was a refreshing change after 10 years of increasingly campy Roger Moore Bond films. While it grossed slightly less than Octopussy, it still did very well, proving Connery's box-office draw was still strong. Never Say Never Again was not an official EON Productions film, thus it was not allowed to use the opening sequence of Bond turning and shooting nor was it allowed to use the traditional Bond music. While it would have been nice to have these, the film isn't ruined by their non-inclusion and is a fun addition to the Bond legacy, official or not.
Operation: BOND will return with A View to a Kill.