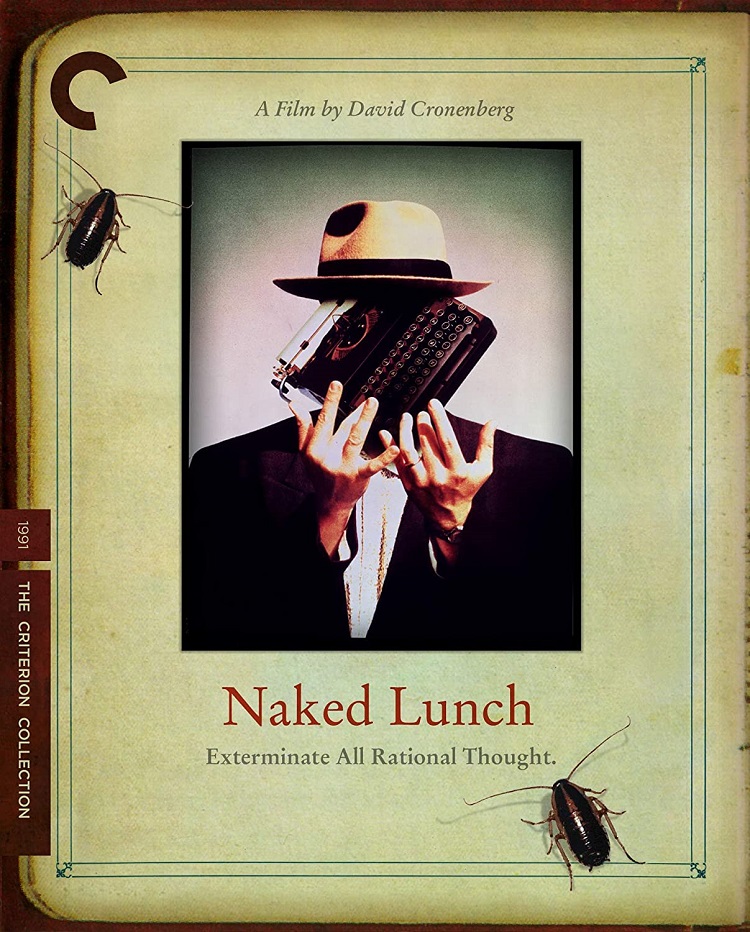 By incorporating elements of William S. Burroughs' life into the screenplay, David Cronenberg's Naked Lunch is not a straight adaptation of Burrough's classic Beat novel but more a story about its making. Cronenberg has created a captivating hallucinatory tale reminiscent of the book by retaining some stylistic and thematic elements.
In New York City 1953, Bill Lee (Peter Weller) works as an exterminator killing bugs, but his jobs are difficult to complete because his wife Joan (Judy Davis) shoots up the poisonous bug powder. While sitting around with a couple of writer friends, Hank and Martin (stand-ins for fellow Beat Generation writers Jack Kerouac and Allen Ginsberg), Bill states he has come to the conclusion that all rational thought should be exterminated. His drug addiction, which keeps him in a frequently altered, near emotionless state, seems to keep many of those thoughts at bay and suggests Bill is an unreliable narrator as the viewer follows him through the story.
While in police custody, Bill begins hallucinating from the bug powder. A talking beetle informs Bill he is a secret agent and Joan is an enemy agent from Interzone Incorporated who he must kill. Bill comes home to Joan screwing Hank, but doesn't seem to care. Needing to skip town, Bill meets Mugwup, a very odd creature used for its narcotic fluids that "specializes in sexual ambivalence," as does Bill throughout. The Mugwup offers Bill a ticket to Interzone, and while there, he is supposed to be filling reports to the beetle.
Bill goes to Tangiers where his drug use and hallucinations continue and increase. In a great scene to evoke this in the film medium, Tom Frost (Ian Holm) is talking to Bill and tells him, "If you look carefully at my lips, you'll realize that I'm actually saying something else," and Tom is shown saying something different. Bill engages in affairs with men and woman, but retains his reserved nature.
Bill struggles to write his reports, which Hank and Martin want to turn into a book. He wants to leave the Interzone, but to do so he must prove he is a writer. In order to do so, he must relive a great trauma, which some writers have to do, depending on the story they are telling.
While certainly not for everyone, Naked Lunch is a great blend of two artists. Cronenberg and his crew present a fantastic world dense with metaphor and imagery that will long linger after the film's end. The story and the main character's journey may not make itself known during the first viewing, but it is so intriguing it warrants revisiting. Knowledge of Burroughs' life helps clarify some things but is not necessary to understanding.
The Blu-ray comes with a 1080p AVC/MPEG-4 encoded transfer displayed at an aspect ratio of 1.78:1. Approved by Cronenberg, "this high-definition digital transfer was created on aSpirit Datacine from a 35 mm interpositive. Thousands of instances of dirt, debris, scratches, splices, warps, jitter, and flicker were manually removed using MTI's DRS and Pixel Farm's PFClean, while Image Systems' DVNR was used for small dirt, grain, and noise reduction," according to the booklet. Don't let the Fox logo fool you. The picture looks very good. The film presents strong, dull hues in the many browns and yellows that populate the frame. Detail abounds, especially notable in the texture of the creatures.
For the audio, "the original 2.0 surround soundtrack was remastered at 24-bit from the original 35 mm magnetic print master. Clicks, thumps, hiss, and hum were manually removed using Pro Tools HD. Crackle was attenuated using AudioCube's integrated workstation." The dialogue-heavy track comes through clean and clear. Howard Shore's jazz-based soundtrack demonstrates the dynamic range.
The special features include commentary from Cronenberg and Weller. Chris Rodley created "Naked Making Lunch" (SD, 49 min) for The South Bank Show. The "Special Effects Gallery" (HD) features the work of Chris Walas Inc, Oscar-winner for The Fly with an essay by Jody Duncan, which appeared in a longer from in Cinefix. "Film Still and Design Sketch Gallery" (HD) features the work of set photographer Attila Dory and sketches by art director James McAteer. Under the "Marketing" (SD) heading, there is "Trailer" (2 min); "Featurette" (6 min); "B-Roll Montage" (3 min), which is footage of the cast and crew on set; and TV Spot: "Review" (30 sec), which is almost the same as TV Spot: "Riveting" (30 sec). Audio of "William Burroughs Reads Naked Lunch" (63 min) and "Photographs of William Burroughs by Allen Ginsberg" (HD) also include writers Keroeauc and Paul Bowles. A 40-page booklet includes four essays that cover the film and the two main men, including one by Burroughs about the film.
Similar to the book it was named after, Naked Lunch is as unique today as it was when it was released. Criterion does a great job in presenting it in high definition and in offering special features that allow more to be learned about the film and its creators.