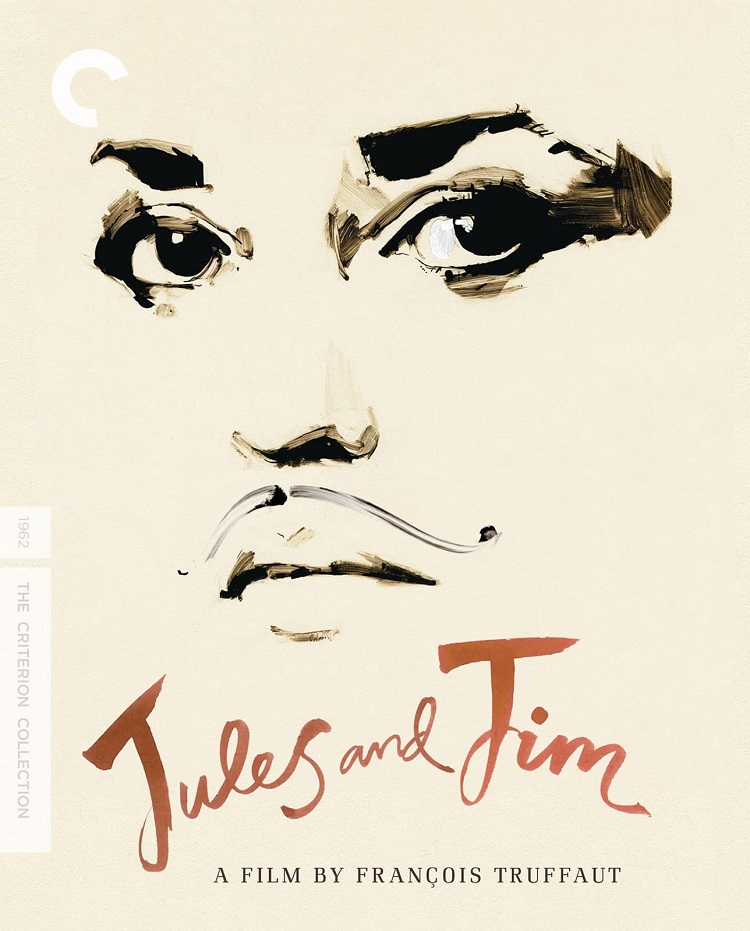 The greatest literature is often inspired by true events, and the story behind Francois Truffaut's Jules and Jim (1962) is a perfect example. The film is based on the semi-autobiographical novel of the same name, which was written by Henri-Pierre Roche in 1953. Roche was 73 years old at the time Jules and Jim was published, and it was his first book.
I think every would-be writer might find that little bit of trivia inspiring, but for Truffaut Jules and Jim was also an irresistible story. His film was hailed as an instant classi, and has just been released as part of the Criterion Collection, in a triple-disc dual-format set containing two-DVDs and a single Blu-ray.
The film covers a 25-year period in the lives of the characters, beginning in 1912. Jules (Oskar Werner) and Jim (Henri Serre) are friends who live in Paris. The two men appear to be in their twenties and spend their time checking out the artistic and bohemian scenes of the city and the women. At a slide show, they see a picture of a statue that is so intriguing that they go out and find it. Shortly afterwards, the two men meet a woman named Catherine (Jeanne Moreau), whose smile transfixes them, as it seems to be identical to the girl's on the statue.
Catherine is anything but a statue though. She is the wildest, most unpredictable woman either Jules or Jim has ever met. They are both taken by her, as well as being flabbergasted by her impulsiveness. At one point, the three of them are walking across a bridge, and Catherine just decides to jump into the river. They all laugh uproariously at this, but the incident turns out to be a dark foreshadowing of the happy-go-lucky trio's future.
The First World War will touch all Parisians, and the sad fact is that even these young Bohemians will not escape it. Jules goes home to Austria, where he is conscripted. Jim is French and also serves. The biggest fear both of them have is of killing each other in the madness of war. It is never fully explained why Catherine chooses to move to Austria and marry Jules, but she does, and bears him a daughter they name Sabine (Sabine Haudepin).
The strength of the bond between Jules and Jim is what makes this story so special. Catherine is an irresistibly fascinating woman, but she is not a good person. She flaunts her sexual power constantly and admits to numerous affairs behind Jules' back. In time, she does not even bother to hide her activities.
When Jim comes to visit the couple after the war, she makes a play for him, but is turned down. In one of the most heart-breaking scenes of the movie, Jules tells Jim to "take" her, because if he does not, she will go with another man, and Jules will never see her or Sabine again.
There is more, and the plot even dances with the maudlin at times, but the ending is unforgettable. Through the many bonus features included, we learn that the story is partially fictitious, but the friendship between Jules and Jim, and many of Catherine's actions are based on fact.
One of the most illuminating of the many supplements is a half-hour excerpt from The Key to Jules and Jim (1985), a documentary about author Henri-Pierre Roche by Thomas Honickel. Through interviews with Roche's son Jean-Claude, we learn that he was "Jim" in the book. We also meet Ulrich and Stephane Hessel, the sons of Franz and Helen Hessel, otherwise known as "Jules" and "Catherine."
While Roche's story is a marvelous one, this is a Truffaut film, and he brings a beautiful, almost dream-like quality in telling it. He was clearly proud of the film, and spoke of Jules and Jim many times over the years. The segment "Truffaut on Truffaut" contains five interview excerpts from various sources, spanning the years 1965-1980, with a total running time of 108 minutes.
In a 2003 interview for the Criterion Collection, the celebrated French New Wave cinematographer Raoul Coutard recalls his work on Jules and Jim (19:18). Jean Gruault cowrote the film with Truffaut, and was interviewed in 1986 for Rainer Gansera's documentary Working with Truffaut. Only a few minutes of the interview were used for Gansera's documentary, so the Criterion Collection presents all of it here for the first time (20:50). In 2004, film scholars Robert Stam and Dudley Andrew spoke about Jules and Jim for the Criterion Collection, and the discussion is presented here in full (23:25).
"The True Story: Truffaut on Roche" (7:20) comes from the French program Bibliotheque de Poche which first aired on October 12, 1966. In the show, Truffaut states that he is such of fan of the book that he has read it at least twice each year since he first discovered it in 1956. Although he had Roche's blessing in filming it, Roche passed away before he had the chance to see the completed movie. Sadly, he also missed the huge success of his book following the film's appearance.
Two commentaries and the original theatrical trailer round out the supplements. The set also includes a booklet featuring essays and some of Truffaut's original script notes. In all, it is quite a package. Jules and Jim was filmed in black and white, and the transfer looks beautiful with a 2:35:1 aspect ratio. The dialogue is French, with English subtitles.
The love triangle gone awry is an old story, but the genius of Truffaut makes Jules and Jim feel fresh and daring. It has been described as one of the seminal products of the French New Wave and is an acknowledged influence on such great directors as Martin Scorsese. More than anything else though, this is one of the most personal films I have ever seen. There is little wonder that Truffault spoke of it often, for Jules and Jim is a brilliant achievement.