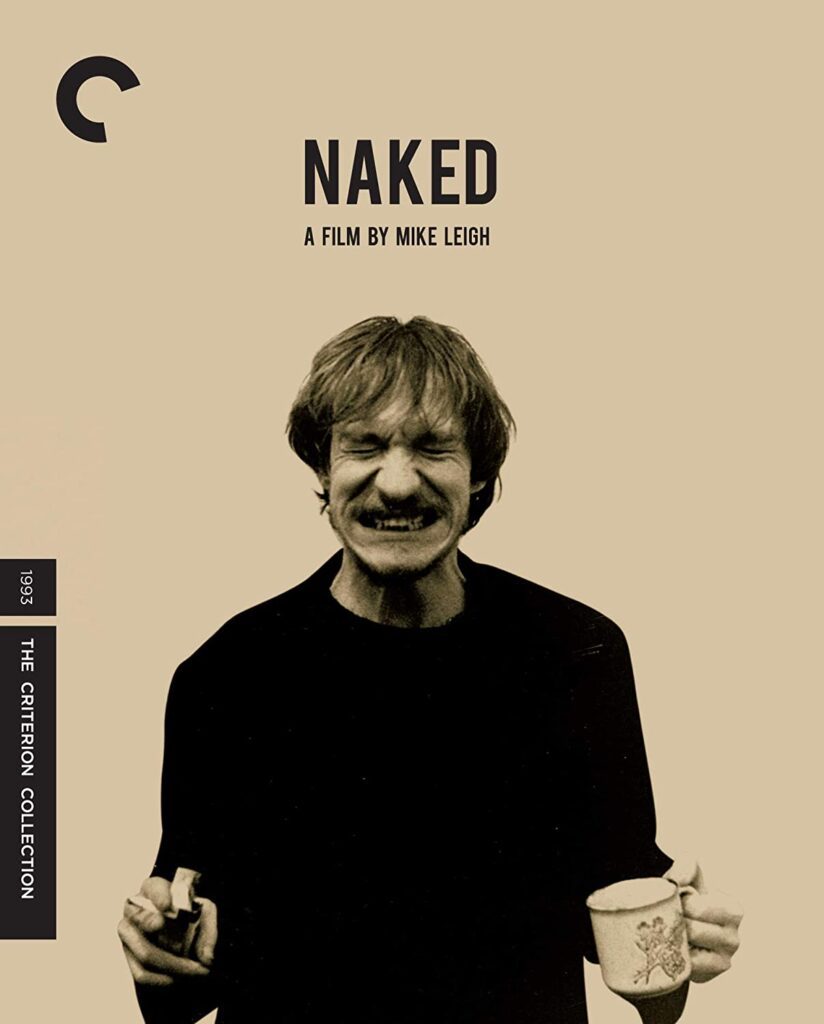 In Mike Leigh's 1993 UK film, Naked, I don't think a main character has turned the audience against him quicker than Johnny does here. We cut to a sex act happening in an alley in Manchester. The aggressive sex turns quickly into more than the woman wanted and she starts yelling "No! No!" Eventually she slaps him away and he steals a car and heads to London. That's our opening scene and introduction to our main character – a scraggly, unwashed, rapist named Johnny.
This Criterion release on Blu-ray follows an earlier release of the film on DVD. It's a film that I saw when it debuted on VHS in 1993. I had been a fan of Mike Leigh films at that time. Really that meant I had only watched High Hopes (a realistic family drama) and the dark family comedy from 1991, "Life Is Sweet". In Life Is Sweet, there's a scene with once the twin girls who can't be aroused unless she is covered in chocolate in bed. Her reluctant love is played by David Thewlis in a small role. This quirky sexual role would be a perfect tryout for his starring role as Johnny in Leigh's next feature Naked.
Johnny arrives in London at the apartment of his ex-girlfriend, Louise. He encounters one of her roommates, Sophie. Fresh off his raping in Manchester, Johnny seduces Sophie. Johnny is a cynical smart ass but he's got a charming way about him. The first thing you might need to do when watching the film is about this point in the film to turn on the subtitles. David Thewlis and the other actors have even more of an accent than I'm used to hearing on a typical BBC show. You'll find Johnny's quick wit and turn of a phrase is quite clever. His seduction is easy. Sophie, played by the late Katrin Cartlidge (also played Dodo in Breaking The Waves), is a simple character that finds Johnny's word play above her understanding but charming. Once again, the sexual portion of the relationship turns too violent for Sophie.
Johnny casts himself out of this apartment despite Sophie's desire for them to forge a relationship. Much like the humor he used towards Homer's Odyssey in an earlier conquest, he starts his own heroic journey across London. He seduces a previously mentioned waitress until she kicks him out. He spends part of a night with Archie (a distracted, tick heavy youth played by Ewen Bremner – better known as Spud in Trainspotting). Johnny expounds on life and the end of the world despite Archie's indifference while he tries to find his girlfriend. Johnny spends another night with a night watchmen roaming a building talking about his theories of the approaching Apocalypse. He'll eventually end up seducing an older woman that the night watchman desires only to have the tables turned on him. She wants him to bite her and he can't perform.
The ongoing theme is that Johnny can seduce but he can't deliver. He doesn't have the necessary emotional tools. There is the ability to find a common ground and converse with anyone. He has a self-deprecating humor that is attractive, even to the viewer who knows his history. But he can't please anyone. This is part of the post-Eighties world of Margaret Thatcher in the UK in 1993. The country was just coming out of bad economic times and a whole generation of youth wasn't sure how to react. They had only known strife. Leigh captures this frustration in the Johnny character and in his upper class alter ego, Jeremy.
Jeremy is Johnny taken to the Upper Class extreme. Jeremy is the landlord of the building and he is also a rapist. But his powers of seduction are not anywhere near those of Johnny. He is pompous and acts like he is entitled to sex with the women. He feels that it is his right to inflict pain on them. After his encounter with Sophie, she is bruised and emotionally drained. Her reaction to Johnny was to fall in love with him. Her reaction to Jeremy is anger and frustration.
The same frustrations are shown in the night watchman that Johnny spends the night working with in an empty building. It's the impotence that all the men show us. Security guard Brian guards an empty building. No one would want to break in but he can't leave. He has to go from room to room scanning his card and the place is empty. He sees an attractive woman across the way (the one who will ask Johnny to bite her) and yet he cannot bring himself to ask her on a date.
Johnny's journey through London comes to an abrupt end after he has followed a nighttime poster hanger around for a portion of the night. Another impotent man (hanging posters over top of other posters – only to go do it again the next night), this time lashes out at Johnny. Eventually faceless criminals (symbolizing the town of London) beat him, kicking him in the foot and head. He makes it back to Louise's apartment for the night just as her other roommate, Sandra returns from Africa. In Africa, she has been dumped by her boyfriend. I love the Sandra character most of all as she talks only in the beginning of sentences. Her frustration trails off the end of every sentence. It's funny and made even better later on when Johnny starts finishing them for her as he tries to seduce her.
Through this all, Louise wants to take care of Johnny and take him away from London. She agrees to leave her job and they'll run off together. But when Johnny can't seduce Sandra, he sets back out onto the road in search of something or someone to make him happy. We close on Johnny hobbling down the middle of the road. Walking the center line shows us that he hasn't yet made the decision as to what side he'll take in his future. This makes the film's message a very Gen-X generation film. Coming out of the economic and personal mess of the '80s, a whole generation felt lost and left behind by the changes going on. Like Johnny, he couldn't return to what he had known with Louise; he had to forge a new future on his own.
It's hard to not mention the misogynistic elements of the film. But yet it's not just the David Thewlis character. Every male is unable to please the women in the film. They are frustrated by the abuse in their relationships. It's not a coincidence that other than Jeremy, the only working people in the film are women. They are in control of this new society and just haven't figured it out yet. As the older woman showed us when she turned the tables on Johnny, women don't have to be dominated by men in this new society. These women run the fine line between being taken advantage of (or raped) and being a caring and forgiving Mother-type character.
The Blu-ray release is more than up to Criterion Collection standards. There's a beautiful digital transfer. Shot around London, it's not a bright, happy town. But it's got the perfect dull-colored look that gives the town the character that Leigh is trying to portray. There's a video interview with Leigh, a short comedy Leigh directed in 1987 with Thewlis starring, a booklet of essays, and an informative commentary with Leigh, Thewlis, and Katrin Cartlidge.
This is a dark film. David Thewlis is a clever and humorous and disgusting lead character. When I first saw this film in 1993, I was uncomfortable enough that I didn't know if I wanted to see it again. And this was the first time I had seen it since. It's aged well. The sex scenes are still shocking but once you stop being overwhelmed by them, there's that subtle message that runs underneath the film. It's a warning. Like Johnny's theories on the Apocalypse, it's a vision of what might happen. Is it destiny? Can Johnny find his place in society? Will it be to the left of center or to the right of center? The Criterion Collection presents thought-provoking films and they've succeeded here.