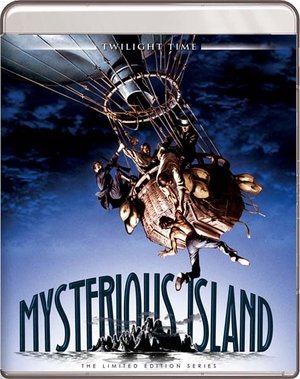 During the '50s and '60s, Hollywood was experimenting with one crazy newfangled idea after another: CinemaScope, surround sound, Jerry Lewis films, etc. Special effects, too, were breaking new grounds during this Atomic Age of filmmaking, and one young lad in particular — a feller by the name of Ray Harryhausen — quickly rose to become one of the most popular FX gurus in film history. Another lad — one who had ceased to be amongst the living quite some time before — was also a hot item: Jules Verne, the famous French science-fiction pioneer who had passed away in 1905.
With all the advancements Tinseltown was making within their own industry, they needed classic stories that they, presumably, didn't have to pay very much for; tales of adventure that could fill up a whole screen, dazzling the audience with a vast array of sights, sounds, and special photographic effects, too. Essentially, it would have been utterly foolish of studio execs not to have hired Ray Harryhausen to animate a moving picture based upon the works of Jules Verne. Thankfully, they didn't make that mistake (although they did make Cleopatra, but that's an entirely different story), and decided it would be a great idea to match Harryhausen's creativity with that of Verne (or, in this case, the writers adapting Verne).
Naturally, the recent success of a certain other Verne adaptation by the House of Mouse, 20,000 Leagues Under the Sea, in no way inspired them to make Mysterious Island, which featured the same character, Captain Nemo. No way whatsoever.
We begin with a group of Union soldiers [You know how they're Union soldiers? Look for the Union label. ta-dum Thank you!] escaping a Confederate prison and hijacking a gas balloon, taking one of their adversaries with them. After drifting across the country in one of the fiercest wind storms ever, they crash down into the ocean near the shore of a — wait for it — Mysterious Island. From thereon in, the men (Michael Craig, Michael Callan, Gary Merrill, Percy Herbert, Dan Jackson) must band together to survive against giant crabs, weird chicken monsters (they taste like chicken, though!), and even the opposite sex once a shipwreck provides them with two British ladies (Joan Greenwood and Beth Rogan) to take care of (and court).
The fairer sex and mutated poultry are the least of their worries, though — as the threat of pirates looms overhead. There's also a very unhappy volcano (naturally!) as well as an appearance of the infamous Captain Nemo (the great Herbert Lom, who has a somewhat small role, but commands one's utmost respect with his marvelous presence), who wanders around the area in a nifty homemade diving suit made out of big-ass seashells. But, given the nature of his past crimes (e.g. destroying battleships, allowing Kirk Douglas to live), can Nemo be trusted?
Although Sony Pictures Home Entertainment had previously released several classic Ray Harryhausen titles to Blu-ray, there was one notable title that eluded a High-Definition presentation. Twilight Time have rectified this situation by giving us a stunning transfer that is undoubtedly the best the film has ever looked. Accompanying the feature film are two English DTS-HS Master Audio options: one is a newly-remixed 5.1, while the other is the original mono sound (yes!). Thankfully, the newer mix is not of the "overcooked" variety. Optional English (SDH) subtitles are also included (another great big "yes!"), while the special features for this Region Free release include a DTS-HD MA 2.0 isolated Bernard Hermann music score and two HD trailers.
Like all Twilight Time releases, this one contains a wonderful and informative booklet by Julie Kirgo, and is limited to only 3,000 copies.