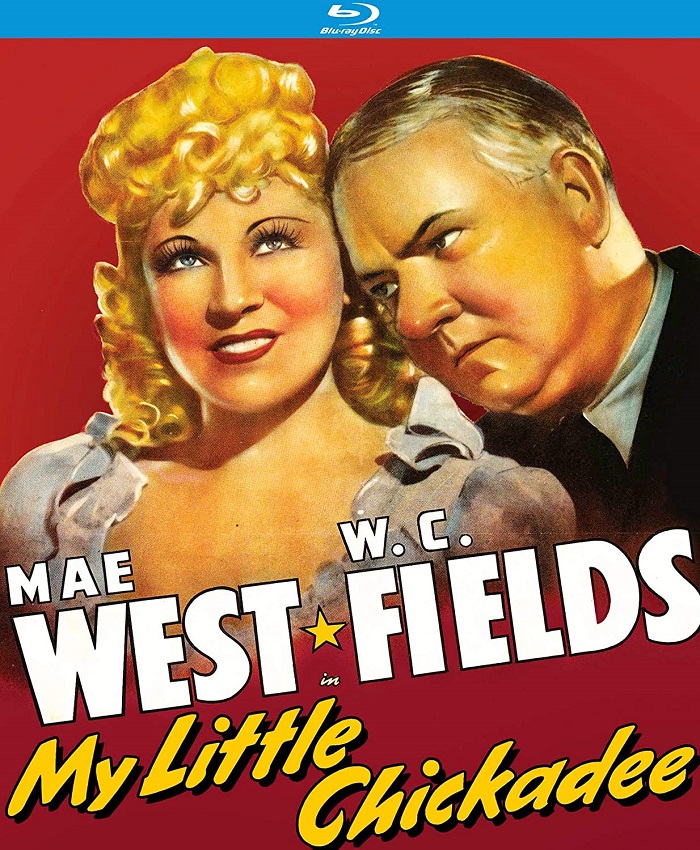 My Little Chickadee is one of nine films starring Mae West that Kino Lorber Studio Classics released at the end of June. This comic western features the pairing of Classic Hollywood icons Mae West and W. C. Fields. It's a shame that clashes between them, including Universal studio brass forcing West to share equal writing credit on her screenplay, which he did contribute to, led to this being a one-off.
Set in the Old West, Chicago singer Miss Flower Belle Lee (West) takes a stagecoach to visit family in Little Bend. The coach and its passengers are robbed by a masked bandit, who kidnaps Flower Belle. Not only is she released, but the bandit comes to visit her one night. Their rendezvous is overseen by town busybody Mrs. Gideon (Margaret Hamilton), who spreads the word. This leads to assumptions Flower Belle is in cahoots with the bandit, so she is run out of town.
Aboard a train, she meets Cuthbert J. Twillie (Fields). Mistakenly thinking he's wealthy, she agrees to marry him to alleviate her troubles, using a gambler who looks like a priest to wed them. When Indians attack the train, viewers learn how handy she is with a weapon. The same can't be said for Cuthbert.
Arriving in Greasewood City, Flower Belle gets them separate hotel rooms and puts off Cuthbert who hopes to consummate their marriage. Other men are interested in Flower Belle, including saloon owner Jeff Badger (Joseph Calleia). Cuthbert becomes sheriff, a job that frequently seeks new applicants, thanks to Jeff, in part so Flower Belle will become a widow.
Unable to get close to his wife and learning of her involvement with the masked bandit, Cuthbert disguises himself to get close to her, but ends up framing himself. The town wants to hang him, and while disinterested in him, she doesn't want to see an innocent man killed and works to free him.
Regardless of who wrote what, the story is well-written and features good twists in the plot, including how Flower Belle solves the mystery since a "man's kiss is like a signature." The gender-role-reversal story of a tough woman saving the day and saving her meek partner was a premise revisited within the genre in The Paleface starring Bob Hope and Jane Russell, and later in that film's remake, The Shakiest Gun in the West starring Don Knotts and Barbara Rhoades.
West and Fields have a few scenes together, but the film's funniest moments are when they are apart, reacting to those around them, such as when Flower Belle is in court and Cuthbert is playing cards. Fields clearly had a hand in his dialogue, considering how much it is of his persona's voice.
The video has been given a 1080p/MPEG-4 AVC encoded transfer displayed at an aspect ratio of 1.37:1. Cinematographer Joseph A. Valentine's work looks impressive right from the opening shot. The white clouds are distinct from the sky. Blacks are inky and the bandit's black cape is distinct from his horse. Texture detail can be seen in costumes, props, sets. Film grain is apparent. The picture looks free from damage and wear.
The audio is available in DTS-HDMA 2.0. Dialogue is clear. The instruments that play composer Frank Skinner's score come through with good fidelity. Effects sounds satisfactory. No noticeable hiss or signs of age.
My Little Chickadee is a delightful romp worth seeing some time, especially with the quality of the Blu-ray's video. The special features are a commentary track by film historians Alexandra Heller-Nicholas and Josh Nelson, and six trailers.