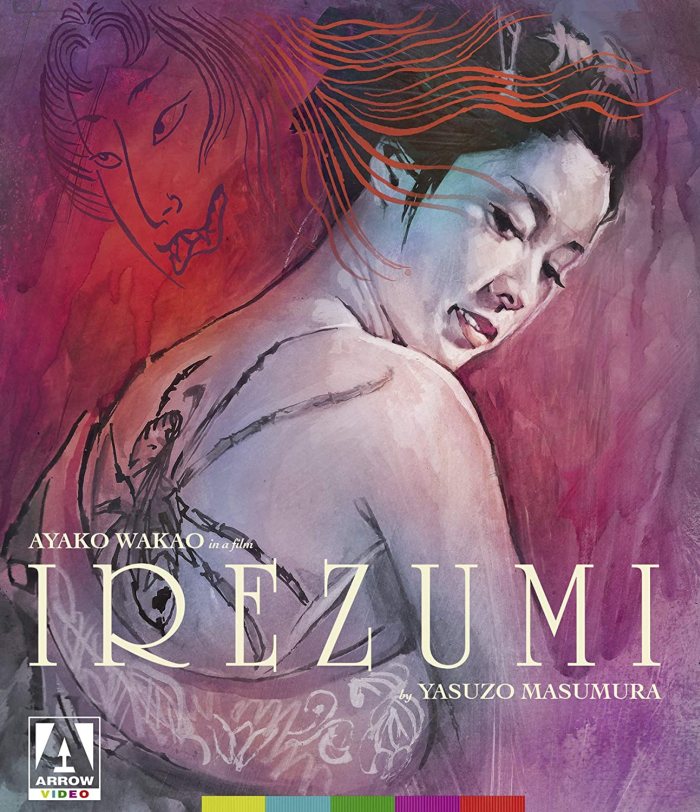 A wealthy merchant's daughter becomes a murderous geisha after receiving a huge back tattoo of a spider. At a glance, Irezumi seems like a lurid, blood-spattered, midnight genre movie, but it's actually a beautifully shot period drama. In the hands of director Yasuzo Masumura and his brilliant cinematographer Kazuo Miyagawa (Rashomon, Ugetsu), this adaptation of Junichiro Tanizaki's novel The Tattooer is a stylish tour de force.
Masumura's lovely muse, Ayako Wakao, stars as the proper girl caught up in a lethal web of her own design. When she agrees to run away with her lowly boyfriend Shinsuke (Akio Hasegawa), she sets in motion a chain of events that finds her transformed into a free-spirited geisha and indirectly responsible for the deaths of multiple men. She's kidnapped by a master tattoo artist who brands her with a massive piece that covers her entire back, somehow transforming her personality into that of a conniving vixen who has no qualms about becoming a sex worker and coercing her boyfriend to kill men for her.
While the tattoo is prominently displayed in the film, it doesn't seem to have any inherent supernatural qualities, it's simply a mark that has enough of a psychological impact on Irezumi's personality that she excels at life as a lethal geisha, concurrently tormenting the devoted Shinsuke who acts out by targeting the other men in her life. Wakao is excellent in her role, although it's completely far-fetched that she would ever harbor any feelings for the homely Hasegawa.
Miyagawa's cinematography is the true star of the film, and it is a breathtaking masterwork in this lush new restored version. His high-contrast dramatic lighting, framing, and brilliant utilization of color, especially red, combine to make the film a work of art that transcends the story. The film has received a 4K scan from the original 35mm negative, and the restoration has removed all imperfections, leaving a gorgeous film totally belying its 55-year-old age. It looks so amazing that it left me feeling depressed once again about the shoddy state of Japanese cinema today. The sound is presented in the original uncompressed Japanese mono form, wholly acceptable for the film that was reportedly shot entirely on soundstages.
While there are no archival bonus features aside from a trailer, the film receives a new introduction and overview of Masumura's career by frequent Criterion film expert Tony Rayns, along with a discussion of Miyagawa's career by Asian cinema scholar Daisuke Miyao. The film also has an optional new commentary track by Japanese cinema scholar David Desser, along with two essays in the included booklet. The Blu-ray cover art is also reversible as desired, presenting a replica of the film's original artwork in Japanese on the reverse side.
Irezumi is another gem in Arrow Video's rapidly expanding roster of spectacular niche films, and well worth adding to the library of all fans of Japanese cinema. For more information, visit the Arrow Video website.