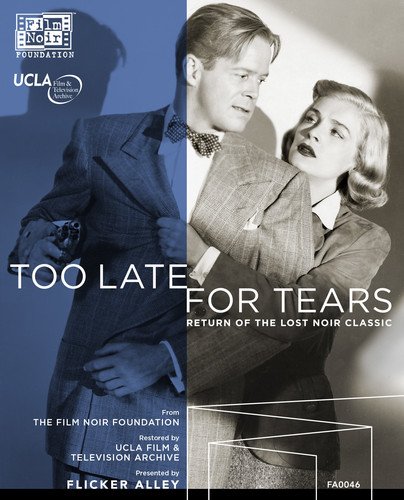 With the 2015 TCM Classic Film Festival a week away, I have started planning my schedule. Each year it is harder to decide on what to watch. I go in thinking I will stick with films I have not yet seen, but all-time favorites have a tendency to sneak onto my schedule. Below is my list of the top films I am most excited about and likely to attend (as of right now).
Thursday:
Too Late for Tears (1949): My festival will start off with my most sought after genre, film noir. I have never heard of the film but the description indicates this is one of the gorgeous Lizabeth Scott's most sultry performances as a suburban housewife that gets caught up in murder and mayhem after the discovery of a suitcase of cash. That along with co-stars Dan Duryea and a fantastic poster has me all in.
Friday:
Inherit the Wind (1960): Friday morning will get off to a perfect start with this courtroom drama starring Spencer Tracy, Fredric March, and Gene Kelly. This film about the defense of a teacher for teaching the theory of evolution has long been on my must see list and I am thrilled to be able to see it for the first time on the big screen.
Lenny (1974): I will need to lace up my running shoes to make it to my next choice, which includes an interview of Dustin Hoffman by Alec Baldwin about his Oscar-nominated performance of standup comedian Lenny Bruce under the direction of Bob Fosse.
Young Mr. Lincoln (1939): The next block of films is my toughest decision yet having to chose between three films I have never seen The Cincinnati Kid, Chimes at Midnight, and Young Mr. Lincoln. For the moment, I have decided on Lincoln since Peter Fonda and Keith Carradine will be in attendance. I can't image seeing Henry Fonda playing Lincoln as directed by John Ford will disappoint, but I have a feeling this timeslot will be a last-minute decision.
Norma Rae (1979): This is another film that I am shocked I have never seen and am jumping at the chance to see Sally Field in her Oscar-winning performance as a mill worker seeking to unionize. However, I am also seriously tempted by Raider's of the Lost Ark with a discussion with stuntman Terry Leonard.
On Her Majesty's Secret Service (1969): George Lazenby will be in attendance to discuss his one and only appearance as James Bond. It will be fun to end the first full day with some excitement and romance as my favorite spy battles his nemesis Blofeld (Telly Savalas) while courting a beautiful heiress (Diana Rigg).
Saturday:
The Man Who Would Be King (1975): They had me at Michael Caine and Sean Connery. Throw in a discussion with Christopher Plummer and there is no way I will miss this one. Based on a novella by Rudyard Kipling, John Houston directs the story of two British soldiers (Caine and Connery) trying to become rulers of a remote area in Asia under British rule. Should be a fun way to start off Saturday!
Imitation of Life (1959): Every year there is one film recommended by my mom that I always love. This year her selection for me is director Douglas Sirk's melodrama starring Lana Turner, Juanita Moore, Susan Kohner, and Sandra Dee. Produced by Ross Hunter, who was known in his day for his lavish spending on art direction, cinematography, jewelry, and costume design, the screening should be further enhanced by this world premiere restoration.
Sunday
Nightmare Alley (1947): With my exhaustion levels heightened by this time, I think it will be best to start off the last day with another film noir. Tyrone Powers stars as a mind-reading con-artist whose greed leads to him ultimate demise.
Psycho (1960): This film is one of the best thrillers ever made by one of my all-time favorite directors. While I know the story and course of events too well to be shocked, watching the stellar performances by Anthony Perkins, Janet Leigh, and Vera Miles along with the building intensity that only Hitchcock can provide makes this a must-see on the big screen. A discussion with Edgar Wright should also prove entertaining.
The Children's Hour (1961): Shirley MacLaine! I will take any opportunity to see this iconic actress speak. I had never heard of this film by William Wyler starring MacLaine and Audrey Hepburn as owners of a private school forced to defend themselves against the accusations of a student, but considering the caliber of all three, I trust I won't be disappointed.
Marriage Italian Style (1964): Having the opportunity to see another powerful actress speak is what brings me to my final film of the festival. Sophia Loren will discuss her Oscar-nominated role as a mistress who takes desperate measures to keep her lover Domenico (Mastroianni) from moving on to a younger woman.
I will likely change my mind multiple times over the next week about as there are several other films vying for my attention, such as The Wind and the Lion, Kiss Me Kate, and Desk Set featuring actors Candice Bergen, Ann Miller, and Spencer Tracy, but I know that no matter what I choose I will be sad when it is over and anxious for next year. Please follow me on Twitter (@lorna_cs) to see my final decisions and reactions from the festival.