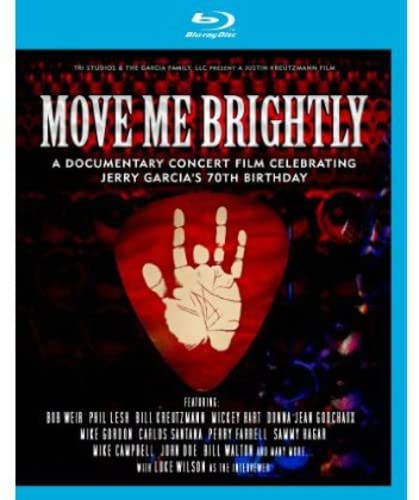 There's a moment in the middle of Move Me Brightly where David Hidalgo talks about the time Jerry Garcia showed up back stage just before Los Lobos was about to perform. He says they chatted for a bit and then he invited Garcia to join them onstage for a few songs. Garcia then flashed his tickets with a smile and said he was there to enjoy the show.
In a great many ways that sums up Jerry Garcia perfectly. He was first and foremost a fan of music. By all accounts, he was a living, breathing encyclopedia of music history. When he wasn't performing (and that was nearly always), he was listening. Look at the setlist for the Grateful Dead or any of his many solo projects and it will be filled with cover songs ranging from Miles Davis to Merle Haggard, from Warren Zevon to some 300-hundred-year old Irish sea chanty. Dude was made of music.
But that Hidalgo story also shows just how gracious Garcia was. He didn't want to go on stage and overshadow Los Lobos. Though he was an international celebrity, an icon for at least a couple of movements, and beloved by millions, he preferred to let others have the spotlight. He would rather the music speak for itself.
And what music that man spoke. Garcia with the Grateful Dead wrote some of the greatest songs in the history of rock and roll. But as any Deadhead can tell you it is the interpretation of those songs live and in concert that really counts. Garcia was a brilliant improvisational musician. He wasn't flashy with his guitar playing – he didn't make rock-star poses and shred as if possessed – but he had soul. He told stories with his fingers and emotions rang out like rain.
Sadly, he fought with many demons in his all-too-short life as well and had some very well-known addictions. He died in 1995 at the age of 53. Though I didn't know him, never saw him live, and didn't really get into the Dead until after he passed, I miss him terribly.
On August 1, 2012, on what would have been Garcia's 70th birthday Bob Weir invited a whole bunch of musicians, both young and old, over to his studio for a great big party. It was initially webcasted and is now available in stunning high definition on Blu-ray. The video was directed by Grateful Dead drummer Bill Kreutzman's son Justin and featuring numerous brilliant performances plus several interviews with a host of people who knew Garcia.
The cast of characters is filled with many of the sort of people you'd expect at a Garcia tribute. Guys like Mike Gordon of Phish, Neal Casal from Ryan Adams & the Cardinals, Jeff Chimenti who plays with Furthur (a sort of post Grateful Dead band for most of the surviving members), and Donna Godchaux-MacKay (who sang with the Dead through the '70s.) But there was plenty of new guys from places you wouldn't expect like members of the Hold Steady and Vampire Weekend.
For five hours, the ever revolving line-up played and jammed on Dead tunes and other songs associated with Garcia. Unfortunately, a good dozen of the songs played neither make it into the official documentary nor the bonus tracks supplied on the Blu-ray. What we do get is really quite wonderful though. This is not some hastily thrown together all-star performance filled with hot names meant to sell a buck. No, everyone onstage was hand-picked and are true fans of Jerry Garcia. There were several days of rehearsals lasting up to ten hours each before the gig and it shows. These guys tackle some of Garcia's best songs like the total pros they are.
There isn't anything revolutionary in any of the performances. They never launch into the improvisational stratosphere like the Dead could do on their best days but they do play the hell out of them. And then some. Everybody on stage seems to be having a great time and really putting their hearts into the performances. At times, there are a few too many instruments on stage ( at least a couple of times there are four guitarists and two keyboardists playing at the same time). This doesn't allow for a lot of nuance, at least none that you can really hear and make out, but it does give the music a great big sound and there isn't a soul on stage that isn't a crackerjack player.
The video on the Blu-ray looks terrific. The details are rich, and the colors are nearly perfect. There are times when you can see even the tiny dust particles floating across the stage. The audio as well is down right spectacular. It's warm and crisp and you can hear each instrument beautifully. My only complaint about the sound is that Donna's vocals are often very low in the mix, though I suspect that comes from the soundboard controller that night and not the Blu-ray mixer. Otherwise, this is a great-looking and sounding disk.
My biggest beef with the whole production comes in some of the editing choices. Far too often, the director overlaps the interview segments with the songs. The band will be right in the middle of a jam and he'll turn the music down so we can get a talking head rapping on Jerry. The interviews are mostly terrific, but to cut them into the performances in nearly unforgivable. It might be understandable if this was a theatrically released documentary and there just wasn't enough time to put in all the music and the interviews, but Move Me Brightly is a straight-to-disc deal and there is absolutely no reason to cut the music short. At the very least they should have created a music only track so that we could hear it sans the talking if we so chose.
It is rather maddening that they didn't include all the songs as well. The entire gig was recorded for a live webcast so I know the video is available. Why they didn't throw it all in as additional footage makes no sense.
These quibbles aside, Move Me Brightly is a truly remarkable bit of history. The interviews and reminiscences on Jerry Garcia are quite wonderful and the performances with both old and new heads are truly spectacular.
Below is the full setlist with an asterix denoting songs that are included in the Blu-ray
The Wheel & *Cumberland Blues (Phil Lesh, Bob Weir, Donna Jean Godchaux, Neal Casal, Jon Graboff, Jason Roberts, Joe Russo, Jeff Chimenti)
Loser (Casal, Russo, Weir, Mike Gordon, Chimenti, Godchaux, Jim Lauderdale, Roberts, Graboff, Adam McDougall)
Mississippi Half Step (Weir, Gordon, Jim Lauderdale, Godchaux, Graboff, Casal, Chimenti, Russo)
Dire Wolf (Weir, Harper Simon, Gordon, Russo, Godchaux, Graboff, Chimenti, Josh Kaufman, Sam Cohen)
*Dupree's Diamond Blues (Chimenti, Casal, Russo, Gordon, Cass McCombs, Sam Cohen, Josh Kaufman)
*Tennessee Jed (Chimenti, Casal, Godchaux, Russo, Gordon, Weir, Roberts, Graboff)
*Ship Of Fools (Chimenti, Casal, Godchaux, Russo, Gordon, Weir, Graboff)
They Love Each Other (Chimenti, Casal, Godchaux, Russo, Weir, Gordon, Jonathan Wilson, Graboff)
*Bird Song (Chimenti, Casal, Godchaux, Russo, Weir, Gordon, Graboff)
*New Speedway Boogie (Chimenti, McDougall, Casal, Godchaux, Russo, Weir, Gordon, Roberts, Graboff)
Loose Lucy (Weir Solo Acoustic)
*Friend of the Devil (Lauderdale, Simon, McCombs)
*Mission In The Rain (Chimenti, Casal, Godchaux, Russo, Gordon, Wilson)
Ramble On Rose (Chimenti, Casal, Russo, Weir, Gordon, Wilson)
Catfish John (McDougall, Chimenti, Casal, Russo, Godchaux, Gordon, Weir, Wilson, Graboff)
*Shakedown Street (McDougall, Chimenti, Simon, Godchaux, Chris Tomson, Godchaux, Gordon, Weir, Kaufman, Cohen)
*Terrapin Station (Chimenti, Godchaux, Russo, Gordon, McCombs, Weir, Kaufman, Cohen, Graboff)
*He's Gone (Chimenti, Russo, Godchaux, Weir, Gordon, Kaufman, Cohen, Graboff)
*Eyes Of The World (McDougall, Chimenti, Simon, Godchaux, Russo, Weir, Gordon, Lauderdale, Kaufman, Cohen, Graboff)
Scarlet Begonias (Chimenti, Craig Finn, Tad Kubler, Russo, Godchaux, Weir, Gordon, Kaufman, Cohen, Graboff)
Don't Let Go (Chimenti, Finn, Godchaux, Graboff, Russo, Weir, Gordon, Wilson, Simon)
*Days Between (Chimenti, Casal, Russo, Weir, Gordon, Kaufman, Wilson, Cohen)
*Franklin's Tower (Chimenti, McDougall, Casal, Russo, Simon, Weir, Wilson, Godchaux, Gordon, Kaufman, Cohen, Graboff, Tomson, Lauderdale)
*U.S. Blues (Chimenti, McDougall, Casal, Russo, Simon, Weir, Wilson, Godchaux, Gordon, Kaufman, Cohen, Graboff, Lauderdale, Finn)
*Goin' Down The Road Feelin' Bad (Chimenti, McDougall, Casal, Russo, Simon, Weir, Wilson, Godchaux, Gordon, Kaufman, Cohen, Graboff, McCombs, Lauderdale, Finn)
Ripple (Chimenti, McDougall, Godchaux, Simon, Wilson, Tomson, Casal, Roberts, Kaufman, Weir, Gordon, Russo, Wilson, Lauderdale, Graboff)