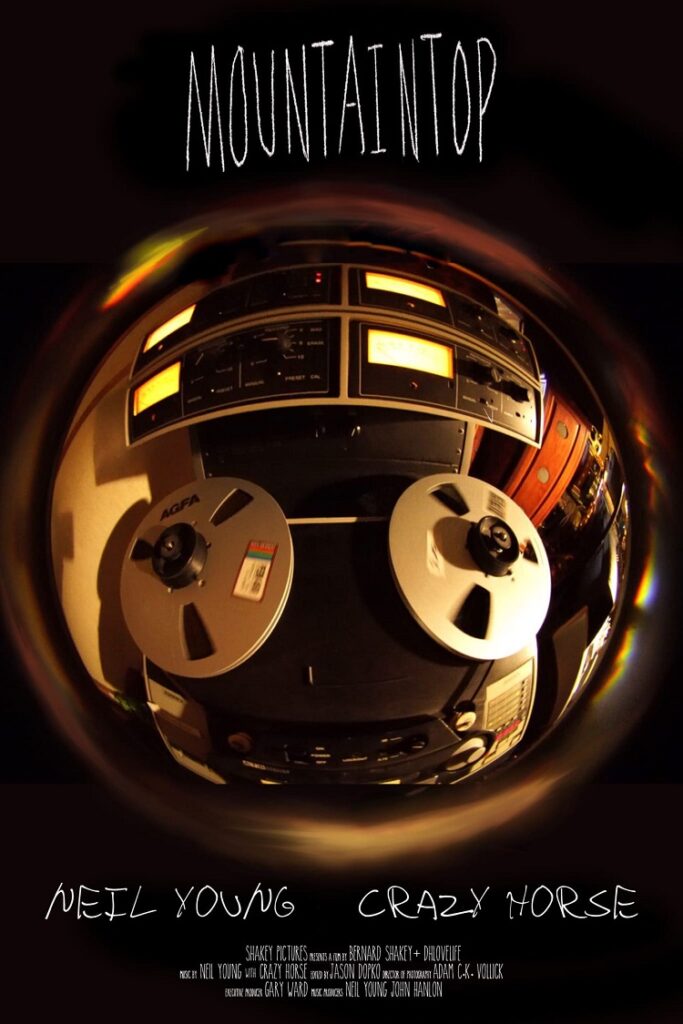 At Studio in the Clouds, Rocky Mountains, Colorado, 8750 feet above sea level, Neil Young reassembled his backing band Crazy Horse to record Colorado, his 39th studio album (and first with Crazy Horse since 2012's Psychedelic Pill), available on October 25, 2019. Crazy Horse has been playing with Young since his second solo album, Everybody Knows This Is Nowhere (May 1969). They are bassist Billy Talbot, drummer Ralph Molina, and multi-instrumentalist Nils Lofgren, who can be heard on Young's After the Gold Rush (1970), had short stints with Crazy Horse in the early '70s, before returning in 2018 to replace guitarist Frank "Poncho" Sampedro. Directed by Young, under his pseudonym Bernard Shakey, Mountaintop takes viewers into the studio to show the part of their process in making of the album.
With cameras positioned about the studio and the control room, the band starts working on "Rainbow of Colors," the album's second single, which was released last month. Not happy with the song's length, Neil makes edits to the lyrics on the fly. We then see them about to lay down background vocals, but then we cut to them back in the studio with those vocals playing. A quick cut and they are in the control room listening to the playback. They are so casual on figuring what fixes they need to make, if any, since Young playfully calls it "a piece of fuckin' gold."
That playfulness doesn't always extend to engineer John Hanlon, who produced the album along with Young, and his staff, who get berated when the equipment doesn't work right. Young doesn't want any impediments when the band is ready to create and perform, and Hanlon handles the brunt of his frustration. It's amusing, from a distance, when the studio problems, such as the wiring, appear to be at fault. At one point, Hanlon orders the cameras removed from the control room, after an especially frustrating time. He says lose the last half hour, but clearly the director had other ideas. In spite of the moments of verbal abuse, it's obviously a satisfying partnership as Hanlon has frequently worked with Young since Ragged Glory (1990).
The creation of "Eternity" is very intriguing. Previously, Young played a solo concert, performing what became demos, in front of an audience. Then back in the studio, the band plays along to it with Young on vibes and Lofgren tapping on a piece of wood. Background vocals are then added. Fans should be pleased with "Help Me Lose My Mind," which has the potential of becoming a great extended jam when played live. However, Young isn't pleased with a monitor during one take. "Milky Way" is a spacey sentimental ballad where Young's guitar can soar and take the listener for a trip.
On "I Do," Young has Lofgren move to pump organ, which sends the engineers scurrying since they hadn't miked it yet. Lofgren and Talbot hear an electronic sound and think they should include it, but don't know what it is. Young solves the mystery and agrees, showing how chance plays a part in creating their songs. Also added to the arrangement is a crazy-looking instrument: a glass harmonica. Invented by Ben Franklin, glass rings of different sizes are spun by a motor and Young wets his fingers to play it, adding gentle sounds.
Dedicated to Elliot Roberts, "the greatest manager of all time," Mountaintop serves as wonderful preview of Colorado and has me eager to buy it along with "Truth Kills," a B-Side to "Rainbow of Colors." It is also an inspiring delight to see these old men (Lofgren, the youngest at 68) still with a creative drive to make new music.