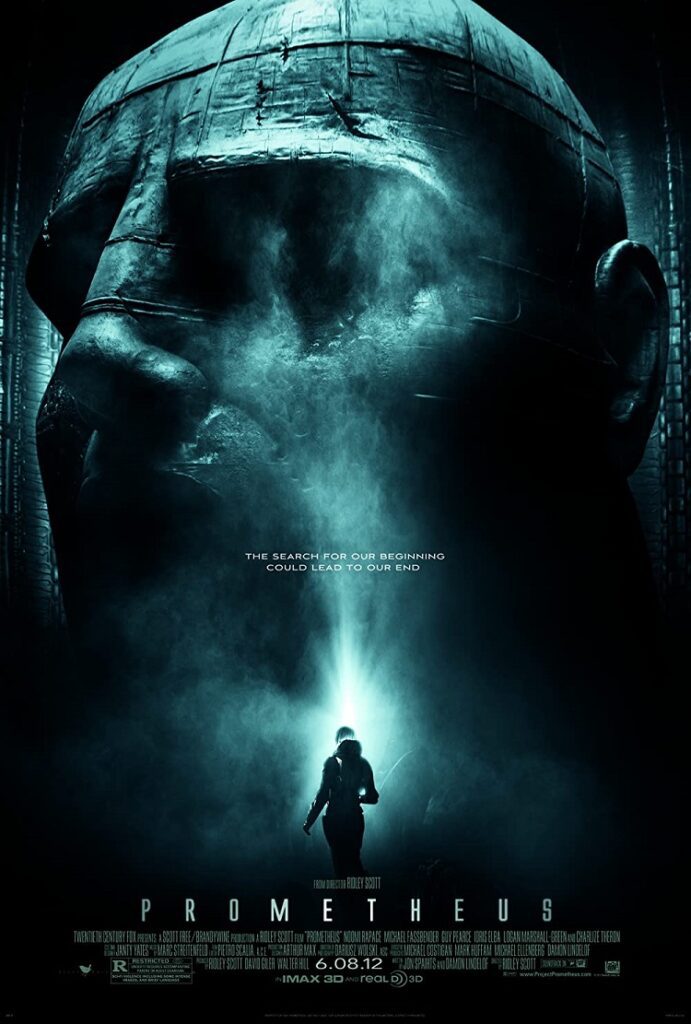 With a new year upon us, it's the perfect time to start marking the calendar with release dates. What follows are the seven I am most eager to see. Just missing the cut, though I expect to see them the weekends of their release are Pixar's Brave, Marc Webb's reboot Amazing Spider-Man, Will Farrell's Spanish-language comedy Casa de Mi Padre, and Sam Mendes at the helm for Daniel Craig's latest Bond installment Skyfall.
Prometheus (June 8) – While the Alien franchise hasn't delivered much worthwhile since James Cameron's Aliens, the return of Ridley Scott, the original film's director, to this universe has me eager to see what this prequel has in store. The cast includes Charlize Theron, Michael Fassbender, Gut Pearce, and Idris Elba. Odds are it won't end well for most of them.
Marevl's The Avengers (May 4) – While crossovers are popular in comics and animated television series, no studio has attempted something like this before. The two Iron Man movies, The Incredible Hulk, Thor, and Captain America all take place in the same universe and have built to to this moment, which has the potential of blowing the minds of comic book fans the world over. Expectations are high for writer/director Joss Whedon, who is charge of assembling the film. If successful, look for DC Comics and Warner Brothers working harder to create a Justice League movie.
The Dictator (May 11) – Sacha Baron Cohen reteams with director Larry Charles for this film about fictional Middle Eastern dictator General Admiral Alladeen (Cohen) from the Republic of Wadiya. I am a fan of their mockumentaries, Borat and Bruno, and am curious to see how they handle a more traditional comedy.
The Hobbit: An Unexpected Journey (December 14) -I must admit, most early news left me a bit nervous about this project: the legal issues, the loss of Guillermo del Toro as director, the creation of two films out of the book (or else making one film connect to The Lord of the Rings trilogy), and shooting in 3D.  But Peter Jackson and his team's work on the previous films earned them the benefit of any doubt.  It will be wonderful to revisit the friends of Middle Earth and make the acquaintance of new ones like Martin Freeman as a younger version of Bilbo.
Wreck-It Ralph (November 12) – I knew nothing about this animated film until I discovered it at the D23 Expo last year and seeing a small segment turned me into a huge fan. Wreck-It Ralph (voiced by John C. Reilly) is the villain from the 8-bit game Fix-It Felix but longs for the love and adulation a hero gets. He heads off on a journey to discover if he can be more than the role he's been assigned.
Moonrise Kingdom (May 25) – Wes Anderson's name alone is enough to make it to the top of my "Most Anticipated" list. Co-written with Roman Coppola, the story is set in 1960s New England as a pair of young lovers run off and thrown a small town into turmoil. While Anderson regulars Bill Murray and Jason Schwartzman are in the film, what's most interesting is the director is working for the first time with actors such as Bruce Willis, Edward Norton, and Frances McDormand.
The Dark Knight Rises (July 20) – What will likely be one of the most discussed and over analyzed films until its release as little bits of information leak out over the next several months, Christopher Nolan wraps up his Batman trilogy as Bruce Wayne battles Bane (Thomas Hardy) and Catwoman (Anne Hathaway) to save Gotham. Some fans are so devoted to the previous film, TDKR has a lot to live up to for them.
Did your favorites make the list?