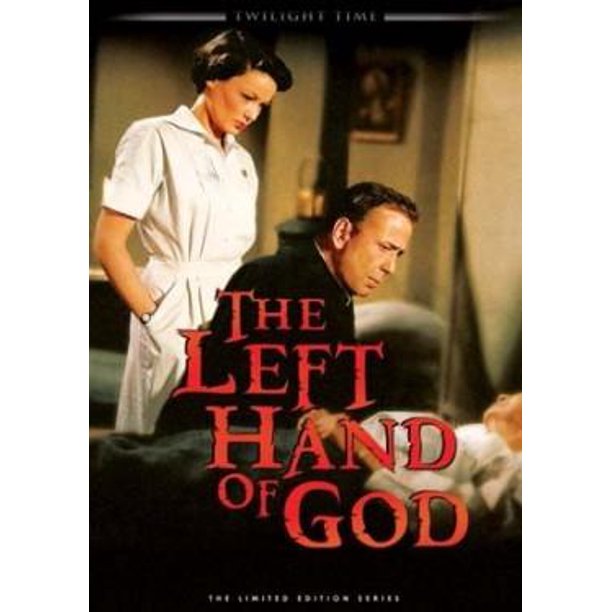 Upon one's initial glance at the cover of Edward Dmytryk's The Left Hand of God, the common goad is to ask "Wait, this movie has Humphrey Bogart playing a priest?" Well, yes and no. The story starts out with a lone Man of the Cloth (Bogie) trotting along in a rainy, Chinese mountains — with a gun. Shortly after he literally loses his ass, he finds his way to a remote village, wherein he introduces himself as Father O'Shea, the new spiritual leader of the local parish. But that's only half true: O'Shea is actually American World War II pilot Jim Carmody, who crash-landed within the borders of the large Asian country, only to be rescued by and subsequently forced to work for a nefarious warlord named General Yang (Lee J. Cobb — in yellowface!), whom he has escaped from — assuming the identity of a slain priest in order to do so.
While the rest of the globe is fighting World War II, Jim Carmody/Father O'Shea is engaged from a personal battle within his soul. His first desire is to appease the faith-deprived villagers as quickly as possible with some improvised scripture reading and hightail it before Yang comes-a-callin' to retrieve his "friend." As soon as he starts to interact with the locals, though — not to mention diving into the pages of the Good Book — he starts to change his tune. He also finds himself falling for beautiful Anne Scott (Gene Tierney), a nurse at the local mission hospital run by Beryl and David Sigman (played by Agnes Moorehead and E.G. Marshall, respectively — the latter of whom was already playing cranky old guys here long before he was one). But all of that soon changes once Yang does in fact come to town.
A seemingly minor footnote in Bogart's filmography, The Left Hand of God (which was based off of the novel of the same name by William E. Barrett) has been rescued from the annals of obscurity by the fine folks at Twilight Time, who present this underrated dramatic gem in a stunning transfer which brings the film's gorgeous colors to life, presenting the title in an anamorphic 2.35:1 widescreen ratio. Accompanying the movie is a clear and robust English stereo soundtrack and a secondary audio track which contains an isolated score by Victor Young; which is the only special feature to be found here, save for an excellent booklet written by Julie Kirgo.