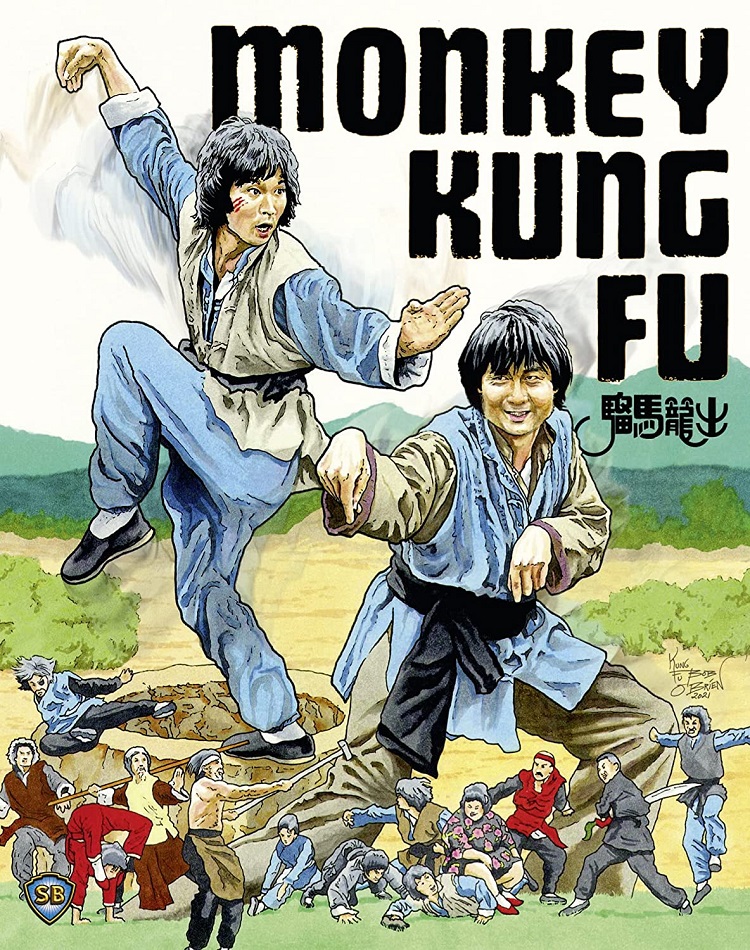 88 Films continues their monthly tradition of releasing excellent versions of classic (and not so classic) Shaw Brothers kung fu flicks. This month they've got the fantastic Monkey Kung Fu (1979) for us and the somewhat disappointing Shaolin Mantis (1978) for your viewing pleasure.
Jackie Chan had his first major success in 1978 with Drunken Master. That film's mix of fantastic stunts and goofy comedy won audiences over worldwide and turned Chan into one of the biggest action stars ever. Not to be outdone, Shaw Studios began making their own blend of comedic kung fu films and if Monkey Kung Fu is any indication, they did it quite well at it.
After dealing out what he considered to be righteous (and deadly) justice, Wei Chung (Siu-Tung Ching) finds himself in prison for that very deed. There he gets into a couple of rather wonderful fights with a notorious old prisoner.
It is here I must take a moment to note that the film doesn't bother with naming most of the characters and IMDb only lists the actor's names without any indication of who they play and I'm not versed enough in Hong Kong cinema to be able to parse out who played who. All of which means I will not be able to name most of the actors who star in this movie or give their character names.
The first fight involves Wei Chung attempting to lay his bedroll near the old man. The old man uses the bedroll as a weapon and he beats Wei Chung all over the cell with it. Later, Wei Chung sits in the old man's dining room chair and the two battle over it. This is the best fight sequence in the film and one of the greatest scenes in any kung fu film I've ever seen. The battle is choreographed like a ballet with both of them sitting, standing, and lying upon the chair in ways that defy physics. It is a scene I watched and then called my young daughter in to watch it again.
The old man senses something in Wei Chung and after their fight, he gives him half of a medallion and asks Wei Chung to locate the other half and a great secret will be revealed. The next day the old man is executed and Wei Chung makes his escape. Unfortunately, he is chained to another prisoner at the time. They fight each other a couple of times and then decide they must find a way to remove the chains. They find a blacksmith but he refuses to help them out, causing them to work together in yet another wonderfully choreographed fight scene.
Naturally, there are some bad guys who are also looking for that medallion and they spend the rest of the film chasing down Wei Chung. The plot is really quite light and it exists solely to give us ample amounts of fight sequences. The script is full of broad, dumb jokes, but the real joy comes out of the action. It is impressively done and so, so much fun.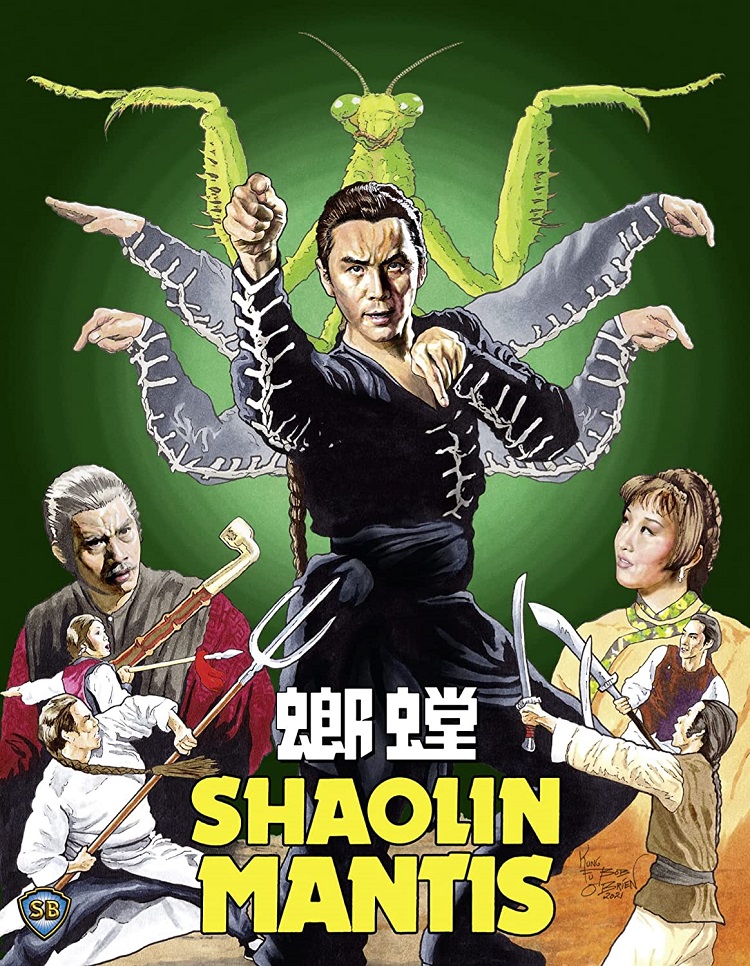 Shaolin Mantis is much more serious (well, as serious as any of these films can be) and not nearly as enjoyable. Wei Fung (David Chiang) is tasked by the Emperor (Hung Wei) to suss out rebel spies in the Tien Clan. If he fails, his wealthy family will be stripped of their wealth and titles, then imprisoned, tortured and killed.
With great speed, Wei Fung becomes the teacher of Chi Chi (Cecilia Wong), daughter of the Tien clan's leader. He pretends to have no great skill in kung fu and becomes easily frustrated at Chi Chi's desire to fight rather than learn. After a few arguments, they find common ground and then soon enough the two fall in love. When the clan leader (Chia-Yung Liu) learns that Wei Fung is a spy, he sentences him to death. Chi Chi declares her love to Wei Fung, lies that they have already become lovers, and announces her desire to marry him. The death sentence is rescinded, but the clan leader declares Wei Fun may never leave the clan grounds. As weeks pass, Wei Fung realizes he must leave very soon or his family will be murdered. Chi Chi chooses him over her own family and the two escape.
One of the things I love about kung fu movies is how ridiculous their plots can be. To escape, our heroes must pass through five gates where they must battle one of Chi Chi's cousins. They calmly walk to each gate, fight the cousin with a gaggle of onlookers watching, defeat him, let him live, and then are allowed to pass to the next gate. It works like a video game, or The 36th Chamber of Shaolin in which a character must complete a series of tasks to reach his goal. But within the story, the clan leader wants Wei Fung dead and so there is no reason for him to fight one cousin at a time at each gate, while numerous guards stand around and watch. It makes for some pretty fun cinema but on a plot level, it is beyond ridiculous.
One of the other things I love about kung fu movies is how they explore so many different styles of kung fu, some real, some made up. Like, there totally is a monkey style of kung fu. I don't know if mantis style is real or not, but I wouldn't bet against it. I am not a fighter and I know nothing about martial arts but it makes me laugh so hard watching these characters discuss their particular style.
Wei Fung escapes the clan and while resting notices how a praying mantis moves. He decides to study the insect and comes up with the mantis style. Cue montage filled with close-ups of a praying mantis. Cue battle to the death with the clan leader where the mantis style wins the day. It is a fine film. There is more story to it than Monkey Kung Fu and the action is fine, but compared to the utterly wonderful action in that film, things feel just a little more plain here.
You need to know a little history to understand the ending (luckily, you get a nice explanation in one of the audio commentaries). Basically, the Emperor was a real dude and he was apparently pretty terrible. It would be a bit like our hero spying on the French Resistance for Hitler. Sure, he might be doing it to save his own family, but in the end, you never want the Nazis to win.
88 Films has once again done an excellent job presenting these two films. Both of them look and sound terrific. They include both English and Cantonese soundtracks. Both come with new artwork and a nice reversible poster. Monkey Kung Fu comes with an interview with choreographer Tony Leung Siu-hung and a spirited commentary from Kenneth Brorsson and Phil Gillon of the Podcast On Fire Network. Shaolin Mantis has an interview with John Cheung and one with David West. There are two commentaries. Mike Leeder and Arne Venema give more of a free-wheeling conversation about all things kung fu than a straight-ahead commentary on the film, but it is a lot of fun to listen to. Frank Djeng keeps things a little more concentrated and scholarly in his commentary.
It is a real pleasure getting to see these Shaw Brothers films in high definition with nice packaging and some excellent extras. I hope we keep seeing them for many more months.