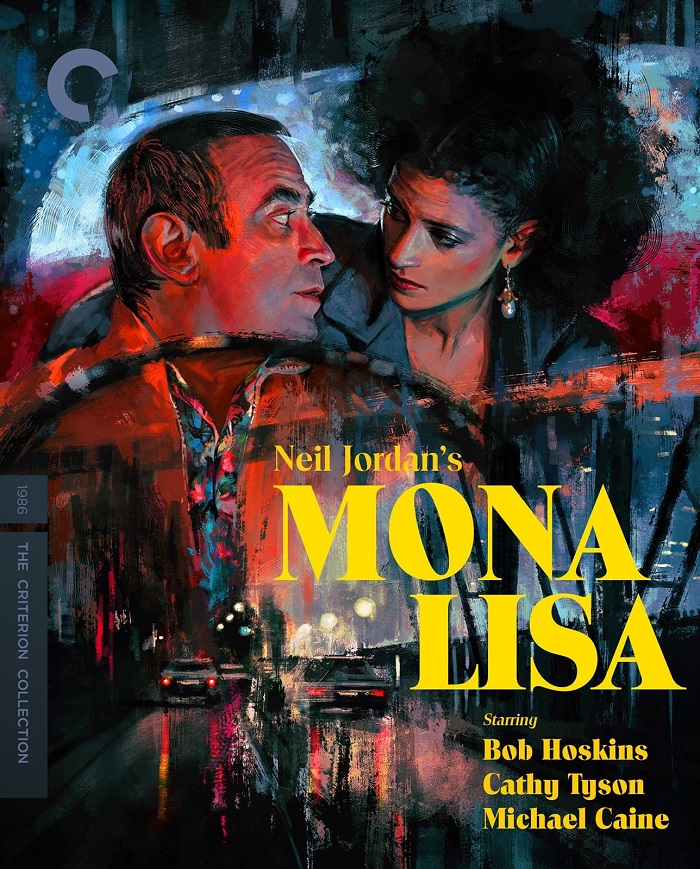 Neo noirs are contemporary films from 1970s and '80s that do take themes and elements from classic noirs, but they also up the ante, especially when it comes to sex and violence. They are able to reveal more that couldn't be in the 1940 and '50s. America did have a certain lock on neo noir for awhile, but soon other countries put their own spin on this resurgent film genre. One of the seminal international ones that came out during that time is director Neil Jordan's 1986 breakthrough Mona Lisa, starring the late, great Bob Hoskins.
Hoskins (in bravura, Oscar-nominated performance) plays George, a small-time hood in London who recently gets released from prison. He wants to make amends with his estranged daughter, but his ex-wife refuses to let her see him. Meanwhile, he gets hired by a creepy mob boss (Michael Caine) to become a driver for the mysterious and beautiful Simone (Cathy Tyson), a high-class prostitute. She asks him to find her friend, another prostitute, to which he reluctantly agrees. While he falls for her, he is led into London's underbelly, full of pimps and young call girls. In this case, this is not a world that George wishes to be in, but because of Simone, he's willing to face it, even if it takes them both to the point of no return.
The first time I saw this on TCM I immediately fell in love with it. It's an emotionally intense and unpredictable tale of love and compassion in a very dangerous world, one where humanity comes second to exploitation and power. Hoskins and the often overlooked Tyson (never better than she is here) have amazing chemistry all throughout the film. It's a testament to how crucial the right casting can be. Despite the fact that he's not in the film that much, Caine still leaves a sinister impression. With this gem, you can see the moody and surreal techniques that Jordan would include in his later works, such as The Crying Game and Interview with a Vampire.
Originally released on DVD, the great people at Criterion have now reissued the film on Blu-ray, and I'm definitely glad. Most of the supplements are vintage, but they're still viable. They include a 1997 commentary with Jordan and Hoskins; interviews from 2015 with screenwriter David Leland and producer Stephen Woolley; and an interview with Jordan and Hoskins from the 1986 Cannes Film Festival. A new supplement (available only for this release) is a new conversation with Jordan and Tyson, moderated by critic Ryan Gilbey. There is also a new essay by Gilbey as well.
If you're looking to find something new and substantial to add to your collection, then look no further than this modern classic. You won't be disappointed.
Other interesting releases:
The Shawshank Redemption (4K): A new edition of the beloved 1992 classic starring Tim Robbins as banker Andy Dufresne, framed for the murder of his wife and lover, is sent to the Shawshank prison. There, he eventually finds kinship with fellow prisoner Red (Morgan Freeman) during his sentence.
Alone in the Dark (Scream Factory): An underrated 1982 shocker where Jack Palance, Martin Landau, and Erland van Lidth play psychopaths who are unleashed from a mental asylum during a power outage. They cause chaos and destruction. They also pay a deadly visit to the new doctor (Dwight Schultz) whom they think killed their former therapist.
Cold War Creatures: Four Films by Sam Katzman (Arrow): A stacked box set with four classic B monster movies by the cult producer/director. Includes Creature with the Atom Brain, The Werewolf, Zombies of Mora Tau, and The Giant Claw.
Eli Roth's History of Horror: Season Two: A continuation of the AMC series with Eli Roth, as he and other genre icons explore the history and pop culture importance of the horror genre.