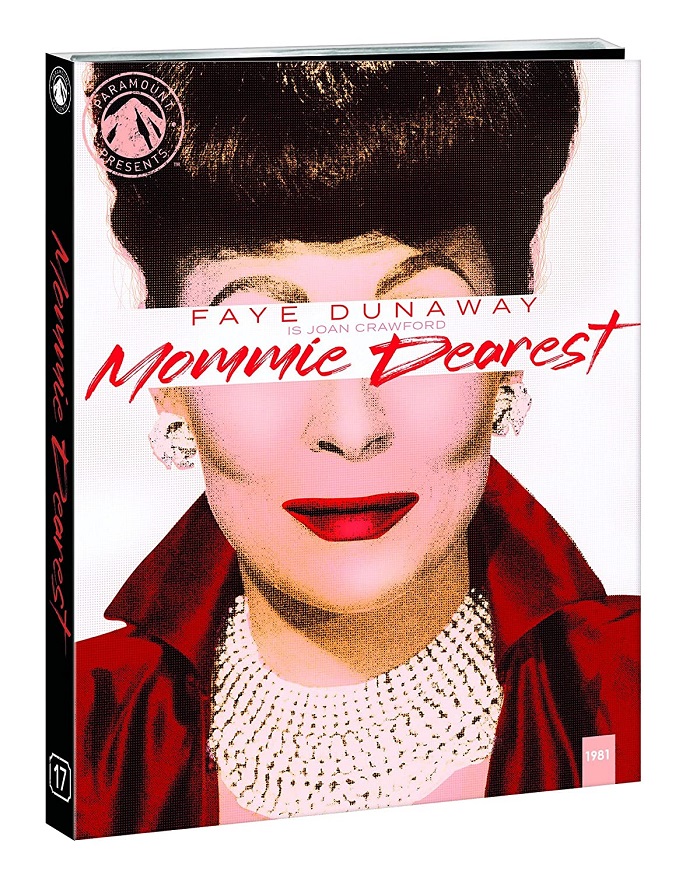 When it comes to cautionary tales of celebrities and their children, I think 1981's Mommie Dearest is the mother of them all. Make no mistake, this is one of the worst movies ever made, but at the same time it's one of the best worst ones. It's a film that has been picked apart, praised (especially in gay circles), reviled, and also parodied to death. Personally, I have to say that it has aged way better than most movies, including those from the '80s.
Joan Crawford (a sensational Faye Dunaway) has everything a famous Hollywood star could ever want: a film career, handsome boyfriend Greg Savitt (Steve Forrest), a giant house, and lots of adoring fans. However, there's something missing from her life, a child. For her, having a child completes the circle (and creates publicity), but because of a few failed marriages, and a notorious persona, she is declared unfit to adopt. But with the help of Greg, she finally has a child, a daughter she names Christina.
At first (in typical fashion), everything seems fine and dandy, as Joan throws Christina a very over-the-top birthday party. You see here that either Christina is getting too spoiled for her own good, or Joan is just using her for publicity. Later, they go for a swim, over and over again, which tires Christina. Joan tells her that she will always be better than her at everything; she's bigger, faster, and stronger than her. In her own twisted way, she's trying to teach "Tina" lessons on life. But, Tina gets mad and tells Joan that she isn't going to play with her anymore. Joan beats and locks her in the pool house. It, of course, gets worse from there, especially in the infamous wire hanger sequence. As Joan's stature starts to fade, so does her grip on reality. She becomes even more abusive and erratic towards Tina.
Based on the controversial bestseller by the real Christina Crawford, the film, along with the book, makes you question what is fact and what is fiction. You have to wonder was Joan really the way Tina described her in the novel, or was Tina just desperate for attention, due to the fact that she was the adopted daughter of one of Hollywood's most famous women?
No matter what everyone says about it (good or bad), the film remains a pop culture landmark. It's also one of those films that didn't exactly merit all the Razzie nominations and wins it received. Despite the fact that it is campy as hell, there were so many movies of the '80s that were so much worse. So, I think that it's stature now as an iconic film is totally deserved.
Making it's Blu-ray debut for the first time, I bet the 4K restoration makes the film all the more entertaining, confronting, and terrifying. The special features, including a commentary by John Waters, photo gallery, trailer, and several featurettes, are vintage but still worthwhile. There are also two new bonuses: a new commentary by drag queen Hedda Lettuce, and a focus on Frank Perry (the film's director). I think that if you're an actual fan and love this camp classic, then this release is definitely for you. Now, no more WIRE HANGERS!!!
Other releases:
But I'm a Cheerleader (Director's Cut): Natasha Lyonne stars as a pretty and popular 17-year-old high school cheerleader who is sent to a "rehabilitation camp" after she's discovered to be sexually attracted to girls. From there, she meets a tomboy (Clea DuVall) who shows her being a lesbian isn't bad at all.
In & Out: The great Kevin Kline plays a high school teacher who is outed by a former student when he didn't know that he was in.
Smokey and the Bandit (4K): The late, great Burt Reynolds plays the Bandit, a macho driver, hired to take a tractor trailer full of beer across state lines, while being tailed by pesky Sheriff Buford T. Justice (Jackie Gleason).
Who is Harry Nilsson (And Why is Everybody Talkin' About Him)?– An illuminating documentary about the late enigmatic and innovative folk-rock singer/songwriter, best known for his iconic song "Everybody's Talkin'" from 1969's Midnight Cowboy.