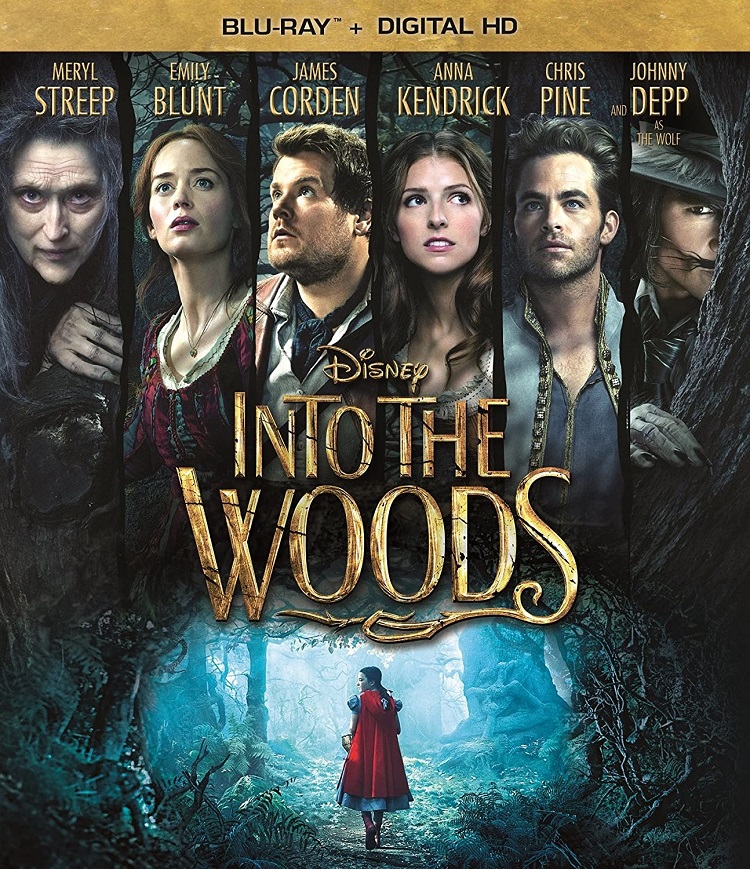 With director Rob Marshall's Into the Woods available Tuesday March 24 on Blu-ray, Disney Movies Anywhere, and Digital HD, Meryl Streep, who was Oscar-nominated for her role as the Witch, sat for an interview provided to us to promote its release.
Tell us what drew you to the project.
When I turned 40, I was offered three witches in one year and I realized this was the way my career was going to go: they don't know what to do with women past a certain age. So I turned them down and I have said "no" to playing witches ever since. However, I changed my mind when this role came along because this witch is quite different. First of all, she transforms. Her whole reason for being is to reverse a curse that has been placed on her; she sets in motion all sorts of devices and causes a dramatic upheaval in everybody's lives. I believe fairy tales have evolved as cautionary tales. They were told to scare children away from the dangers they would encounter in their lives and to encourage young women to marry rich men. Everybody is encouraged to find a Prince and live happily ever after and sometimes it doesn't work that way. This is where the Into the Woods fairy tale becomes reality and it gets really exciting, random, weird and almost like real life. For an actor, they are great fun.
Were you familiar with the stage production prior to signing onto the film?
I went to see the musical when it was on Broadway with the great Bernadette Peters playing the Witch, and I thought it was fantastic. There is no one like Stephen Sondheim. There is no one who writes singable, character-driven music that tells a story. The wit, the intelligence and the daring in his music is unparalleled, so I was really happy to have the chance to work on it.
Tell us about Rob Marshall as a director.
Rob has a percussive sense of the movement of the piece, like a conductor. He has got the rhythm of it in his body. He is a former dancer, so I think it is really important for him to keep the incipient heartbeat of the piece beating and pushing forward; musically, emotionally and visually. He is the ideal guy to do that. He is also extremely gentle as a man and has a soft touch, never over-powering, no big ego…it is all about the work and making it happen.
Talk to us about the look of the film. Did that have an impact on you as an actor?
I really depend on my hair and make-up designer, Roy Helland, who is amazing and has created two very different looks for the Witch and the Witch transformed. It is exciting, every time we get into a new project we're full of anxiety wondering if we have pushed it too far, but it is really fun to work that way. Why be safe? I'm playing a witch! And Colleen Atwood, our costume designer, is a tornado. Her work is so imaginative, free and dramatic. At the same time, she is well known for her attention to detail and some of the work is so carefully thought out, delicate and beautifully made – it is really beautiful and fun to wear.
The sets were extraordinary as well. There was a forest built on many different stages, because in one state it's one way, and post-apocalyptic, another kind of landscape entirely. And we also shot some scenes outside in real settings. We shot the Rapunzel sequence in an 11th century abbey north of London called Waverley Abbey and the "earthquake" scene at the beautiful Dover Castle, which is down on the Southern coast. As an actor when you're at a real castle and you have horses carrying people in carriages with rose blossoms falling from the sky, you're already in this sort of imaginary world so your work is practically done.
Talk to us about the singing the film required.
I really love the music from Into the Woods. I actually love it more every time I listen to it. When you first encounter the music, it's arresting but on the second and third listening it has more and more to give you. And when you're in a musical they pump the music that we've recorded in a studio beforehand through the whole set. I remember coming out of the theater on Broadway and singing "No One Is Alone" to myself – that song just pierces you when you hear it. The other songs are equally as wonderful.
Talk to us about the caliber of the talent involved.
It's an amazing cast…it's a real actors' group of talent. Rob Marshall has assembled a group of people who know what they're doing, but nobody ever gets a chance to play this kind of heightened reality, fantasy, fairy tale, and it's a unique opportunity: actors are chewing it up. I was delighted to be working with Emily Blunt as the Baker's Wife again, as she's wildly talented and has a particular warmth and sense of humor that's perfect for this…and a gorgeous singing voice as well. And James Corden as the Baker is legend because of One Man, Two Guvnors, the show he did on Broadway where he was able to step out of the play and address the audience in an improvisational way every night. And Anna Kendrick…Pitch Perfect is one of my favorite movies, so I loved working with her. And she does a great job playing an ambivalent Cinderella who's not sure if she wants to be with the Prince or not, which is a function of her intelligence and her natural smarts and reticence. I had worked with Christine Baranski on Mamma Mia, who is one of my dearest friends, and she's diametrically opposite of the evil stepmother, but she's having an awfully good time. And Jack's Mother, Tracey Ullman is one of my oldest friends, I've known her since Plenty when she was 21 years old, so it's a dream that we're working together again. I just adore her.
What do you hope audiences take away from the film?
This is a musical with a brain. There is an intelligence at work because it is Sondheim and Lapine. It is visually fun and emotionally satisfying but it also has this other element that engages us as artists and makes us want to bring everything we can to it. Musically, it is challenging and thrilling and so this is what I hope for the audience: that they will be thrilled and challenged.
What can you tell us about the new Stephen Sondheim deleted song "She'll Be Back", which is exclusive to the in-home release of the movie?
I have a song that is brand new that Stephen Sondheim wrote for our movie. It's called She'll Be Back. It turned out good and that was just thrilling. It's about Rapunzel leaving and The Witch thinking she'll be back, but she won't. We can all relate [to that].