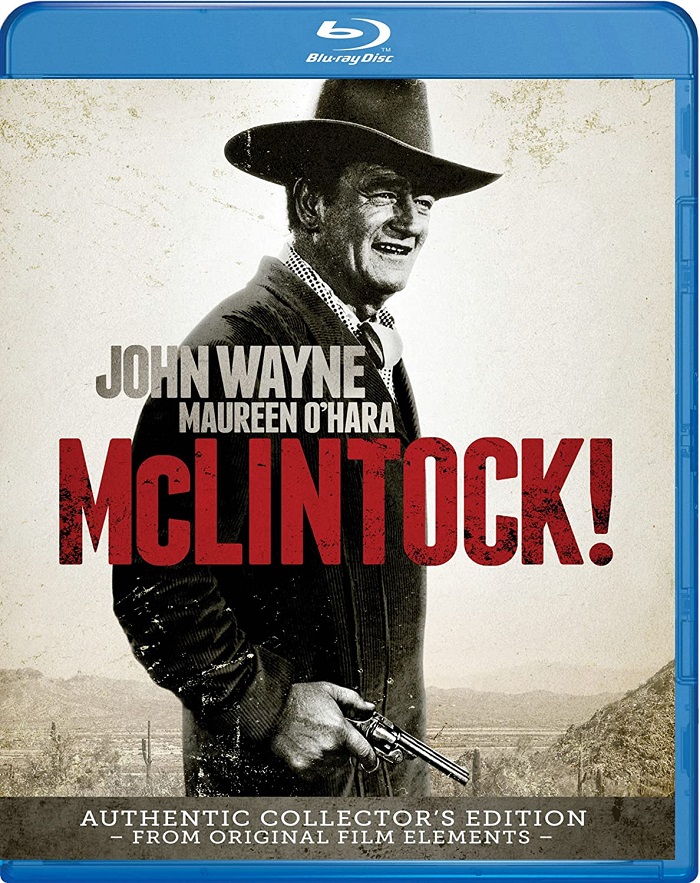 Made by his own Batjac Productions, John Wayne stars as the titular McLintock! in a variation of Shakespeare's Taming of the Shrew with Maureen O'Hara, the fourth time they shared the silver screen together. Set in the Old West, G.W. (named after the country's first President) McLintock is a major cattle rancher in the Oklahoma Territory and his estranged wife Katherine (O'Hara) returns to town after two years, wanting a divorce and custody of their daughter Rebecca (Stefanie Powers), herself returning from school with a suitor in tow, Matt Douglas, Jr. (Jerry Van Dyke). However, G.W., who never wanted her to leave, still wants her back.
Meanwhile, Devlin Warren (Patrick Wayne) is new to the area. His family lost their homestead when his father died. He begs G.W. three times for a job before finally being granted one, which he desperately needs to take care of his mother, Louise (Yvonne DeCarlo), and younger sister. Louise reveals herself to be a great cook and G.W hires her. She also being quite nice on the eyes seems a bonus until the jealous and suspicious Katherine discovers her, but the romance that may link the families occurs elsewhere.
In addition, the Comanche Indians find themselves at the center of some conflicts. They clash with some settlers when it is believed they are responsible for the kidnapping of young woman. The U.S. government wants to move them to Fort Sill, but McLintock offers the Comanches passive assistance, allowing them to fight for their independence during a 4th of July celebration.
John Wayne, a well-known conservative, uses the perks of being a producer to insert his political ideology into the film. G.W. repeatedly states people shouldn't be given things and instead need to earn them, and the Comanches are shown not wanting charity from the U.S. government. Wayne also gets a dig in at Senator (and future Vice President the following year) Hubert H. Humphrey with the sleazy character Gov. Cuthbert H. Humphrey, an adversary to Wayne's hero.
McLintock! also has a notable sequence with many getting involved in a silly movie fight upon a muddy hill with the cast looking like they had a lot of fun. Unfortunately, the Comanche chief is only focused on whiskey, one of film's politically incorrect moments along with the G.W.'s Chinese cook and the caveman approach winning the heart of a woman by giving her a good spanking.
The video has been given a 1080p/MPEG-4 AVC encoded transfer and it looks quite impressive for a film over 50 years old. The colors come through in bright hues and blacks are rich. The image offers great depth and sharp texture detail. The English audio is available as Dolby TrueHD Mono and Dolby TrueHD 5.1. Purists should be pleased to have the mono. Dialogue is always clear and ar mixed well with the music and effects. The 5.1 track doesn't take full advantage of the channels available and delivers a front-heavy presentation.
The extras, all mentioned in this paragraph are presented in SD, begin with an Introduction by Leonard Maltin (3 min). "The Making of McLintock!" presents three featurettes. Not sure what disc Part I appears on, but "The Batjac Story Part II: The Legacy of Michael Wayne" (16 min) puts the spotlight on son Michael, who worked on McLintock! as a producer and helped manage Batjac. "Maureen O'Hara and Stefanie Powers Remember McLintock! (13 min) and reveal memories of working on the film. A major sequence in the film is "A Good Ol' Fashion Fight" (11 min) and here viewers get a look behind the scenes of its staging and execution. "The Corset: Don't Leave Home Without One!" (8 min) finds Louise Coffey-Webb, Woodbury University's Curator of the Fashion Study Collection, exploring the undergarment, though not as thoroughly as some viewers may like. Stuntmen Tom Morga and Wayne Bauer lead the "2 Minute Fight School" (2 min) tutorial.
Leonard Maltin and Frank Thompson lead an informative and engaging Audio Commentary about the making of the film. Through the magic of sound editing, they are joined from separate interviews by actors Maureen O'Hara, Stefanie Powers, and Michael Pate; producer Michael Wayne; and director Andrew McLaglen. Appearing in HD are a Photo Gallery of posters and stills and a Theatrical Trailer (3 min).
Although not considered a standout in the Western genre nor the actor's filmography, McLintock! delivers an entertaining escape into the past with a successful blend of humor, romance, and action. The Duke leads a charismatic cast that the audience should enjoy watching. Paramount's Blu-ray offers impressive video, satisfying audio, and informative extras about the film's making.