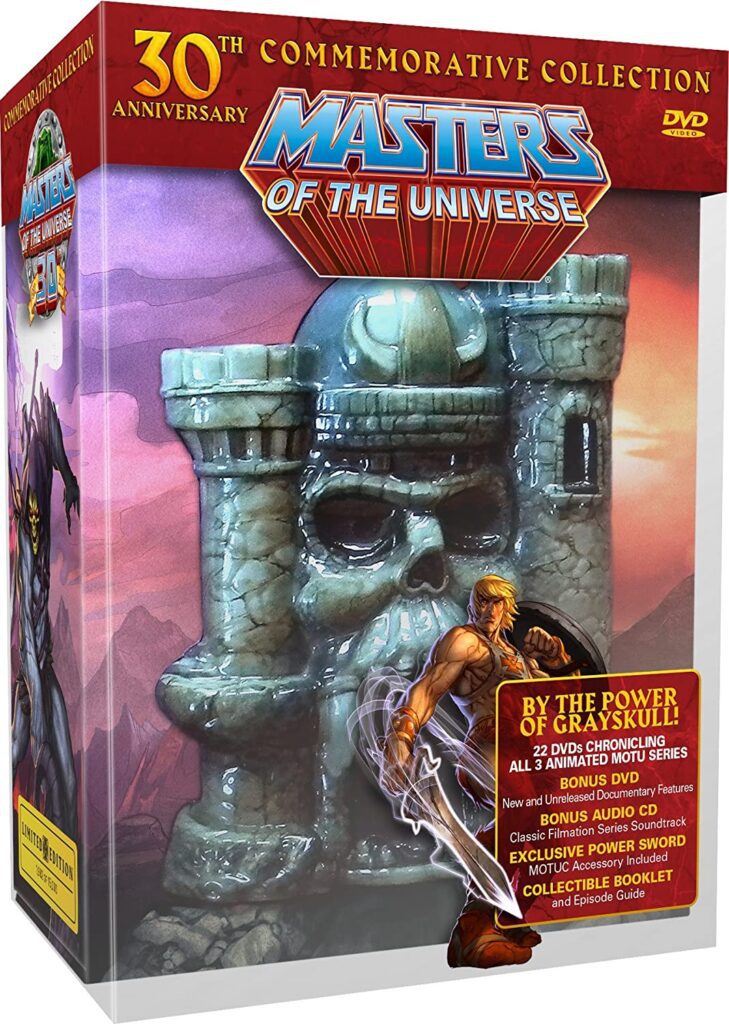 With essentially every television show and movie ever made now available at the click of a button, nostalgia is taking a glorious beating. On a fairly regular basis, I go back and watch things that I used to love as a kid. Sometimes it turns out that particular show is even better than I remembered, but more often than not I have to wonder what in the world I was thinking. Was I force-fed paint chips growing up? Did I sniff glue as a recreational activity? Surely I was smoking something wacky to ever consider that to be good.
This will most likely be true with He-Man: Masters of the Universe, in fact I know it is as I tried to watch the first episode on Netflix the other day and couldn't make it through. The animation was bad, the acting atrocious, and the plot made zero sense (seriously, those villains must have had a lobotomy to ever think that plan would work.) And yet I can't help myself; I simply must make Masters of the Universe: 30th Anniversary – Limited Edition my Pick of the Week.
I really do have fond memories of the show. I can recall coming home everyday after school and putting it on. I had memorized every word of the opening sequence, loved all my favorite characters, hated all the bad guys, collected all the action figures, and played with them with my cousins every weekend. Truth be told even then I think I knew it wasn't a great show as we used to make fun of things like how easy it would be to tell that He-Man was obviously Prince Adam in disguise or how he always tossed his sword from hand to hand as if that was some incredible action maneuver. But we didn't care. It was still awesome.
I guess I don't really care now, either. I simply want this collection. Maybe my daughter will like it as much as I did when she gets a little older. Or maybe I can use it to prep her for the mighty She-Ra. Or maybe I can share it with my son, if I ever have one. I don't guess it really matters. A little nostalgia goes a long ways.
It is a pretty spectacular collection even if the show wasn't all that great. It includes all 130 episodes of the original series that ran from 1983-1985 and all 39 of the reboot that ran from 2002-2004 and 20 fan favorites from the New Adventures of He-Man and the Masters of the Universe that ran from 1990-1991. I'm not at all familiar with that one, but it still feels a little bit of a letdown that the complete series isn't included. The set also comes in a nice Castle Gray box and includes a collectible sword, a CD filled with selections of the musical score, several documentaries, and a 48-page booklet episode guide.
All in all a pretty darn great set of nostalgia for a child of the 1980s.

Also out this week that looks interesting:
Trouble with the Curve: Clint Eastwood's baseball movie looks good, but doesn't seem to have made much of a wave in either critical or popular circles.
Californication: The Complete Fifth Season: This is a show I love to hate. In a great many ways it is ridiculous and fairly stupid, especially in terms of plot, and yet the writing is often very good, and Duchovny is perfect as the deplorable and yet adorable writer whose life is in shambles. They are also releasing a reasonably priced set of the first five seasons just in time for Christmas.
Sleepwalk with Me: Mike Birbiglia takes his stand-up routine (most of which has been heard on This American Life) and turns it into a movie. The bits I've heard on NPR have been brilliant so I'm looking forward to this.
The Resident Evil Collection (Resident Evil / Resident Evil: Apocalypse / Resident Evil: Extinction / Resident Evil: Afterlife / Resident Evil: Retribution): I've not seen any of these films but there is some part of me that has always wanted to even if they do look kind of dumb. I'm a sucker for zombies I guess.
Arbitrage: A post financial crisis drama about a corrupt hedge-funder. With a great cast including Richard Gere and Susan Surandon.