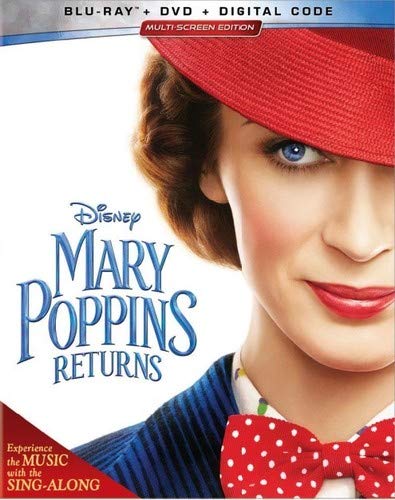 It's not like the world needed a sequel to Mary Poppins, but we got one anyway. And you know what? It's actually quite fun. Mary Poppins Returns doesn't deviate itself too much from its 1964 predecessor, but director Rob Marshall is able to convey something that is magical and cheerful and the perfect movie to take the family to see over the busy holiday season.
This time, it's Emily Blunt taking over the iconic role made famous by Julie Andrews (she won her only Oscar so far for the performance). Really, if there was an actress who is the practically perfect choice to play the famous nanny, it's Blunt. The moment she lands on the ground after riding in on a kite in the middle of a storm, she exudes so much quick-witted snappiness and it's an absolute joy to watch her occupy the screen.
Set 25 years after the events of the first movie, the Banks children, Michael (Ben Whishaw) and Jane (Emily Mortimer), have grown and still occupy their childhood home on Cherry Tree Lane – along with Michael's three children (Pixie Davies, Nathanael Saleh, Joel Dawson) and the family nanny (Julie Walters). Michael's wife has passed, and the family is in danger of losing their home. Fear not, as Mary Poppins comes back into the Banks's life to give them some more life lessons. With the help of a lamplighter (Lin-Manuel Miranda), Mary Poppins and the Banks family set out to keep their home from the clutches of the bank's president, William Weatherall Wilkins (Colin Firth).
The previews for Mary Poppins Returns mention the fact that Dick Van Dyke makes a comeback for the sequel, but as a completely different character. It would have been best if his appearance was kept as a secret cameo, because he's in the film for only about 10 minutes. It's fun to see him for his brief appearance, but one wishes that it wasn't revealed in the trailers. The same can be said for Meryl Streep. She's only in the movie for one scene and then a song before she disappears completely. Again, it wasn't necessary to reveal in the trailers that she's in the film, especially since her part is so small. Like Van Dyke, it's fun to see Streep, but it would have been more enjoyable if the role was kept as a cameo.
Mary Poppins Returns is filled with so many callbacks to the original that it's almost like Marshall wanted to remake the film but was obligated to make it a sequel. The moment Mary Poppins sees a mirror, she immediately checks herself out, and she later is seen walking away while her reflection is still there. There are also several characters who make a comeback, such as the PTSD-riddled neighbors that fire a cannon at the top of the hour.
Marshall hardly detracts from the original film, but is also able to introduce some new things to make it worthwhile. There's a scene in which the characters enter a china bowl and are transported to an animated world, much like the original film. But Marshall and his team are able to craft a beautiful-looking world that almost seamlessly blends live action and animation. I say almost, because there are some parts in the movie that use CGI and it feels out of place.
Outside of Chicago, I haven't been too fond of Marshall's other musicals (Nine, Into the Woods), so anticipation for Mary Poppins Returns was a bit low. But the songs, though not as catchy as the original, are a lot of fun to hear. I'm sure the more I listen to the soundtrack, the more the songs will stay with me. But, for now, I can name three that stuck out really well, while the others were good but didn't quite have the lasting effect I wanted.
To be completely honest, despite the numerous issues I had with it, I left Mary Poppins Returns with a giant smile. Its heart is in the right place, and the performances are a joy to watch. Blunt's, especially, is worthy of awards consideration. The film breezes by with very few moments that drag it down, and it's one of the better musicals to come out in recent memory. Even though there's a part of me that still thinks we didn't really need another Mary Poppins movie, this is still a film that lifts your spirits and will leave you in a good mood.