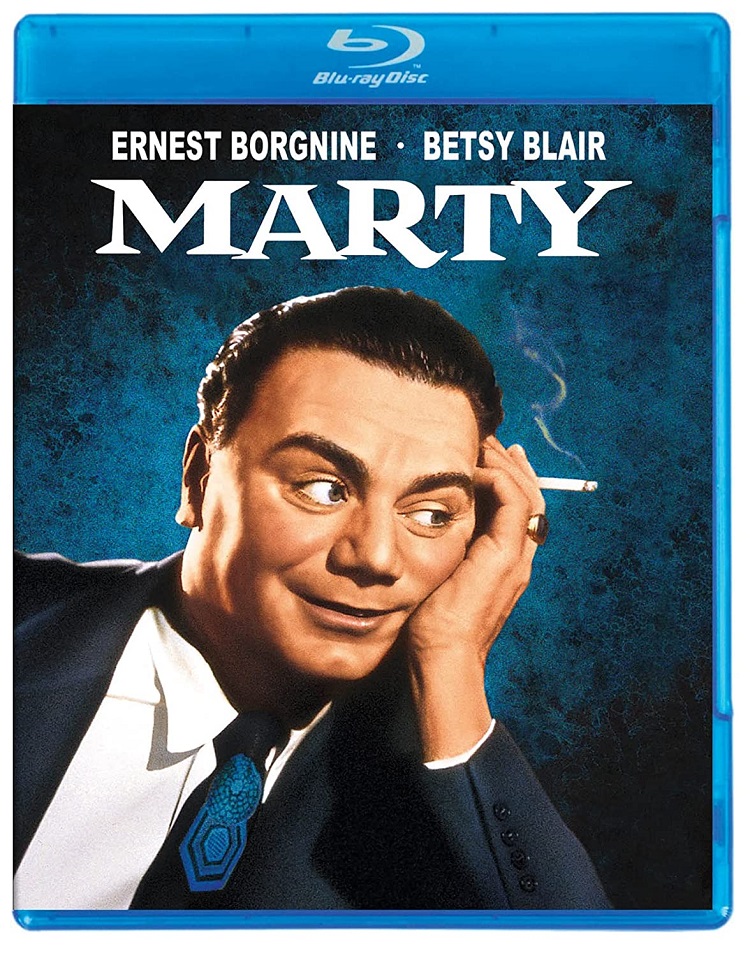 Today, 1955's Marty may not seem like an obvious choice for Best Picture, but make no mistake, it was refreshing to see a wonderfully simple film (written for the screen and adapted from the play by Paddy Chayefsky) about ordinary working-class people playing their chance (second or otherwise) at love. When I see it now, I find myself really relating to it, especially to the title character (beautifully played by the great Ernest Borgnine).
Borgnine is the 34-year-old unassuming (and unmarried) Bronx butcher living with his mother. She and everyone else wants him to get married but he doesn't feel that he is attractive or worthy enough to do so. He doesn't want to get his heart broken again, so he would rather just lay low. After (and reluctantly) agreeing to attend a dance, he meets and finds a kindred spirit in lonely but nice teacher Clara (Betsy Blair, a touching Oscar-nominated performance). They really do like each other, but when everyone wants him to find someone else, believing her to be a "dog" (horrible term for someone who is considered unattractive), he has to make a choice: his family and friends' approval, or his last chance at romance.
Again, the plot is very simple, but it's really more profound than meets the eye. The film doesn't take the typical approach like so many usually dull Hollywood romances do. It actually has honesty, heart, and a good amount of genuine emotion. It's an incredible film for people who've never considered themselves unworthy of love, especially because of their appearance or status. Personally, it's one of the best films ever made and a gem!
The new 4K restoration only has a new commentary by journalists/authors Bryan Reesman and Max Evry, and a trailer, but if you love the film and want something subtle and human, then I think it's still worth adding to your collection.
Other releases:
Drive My Car (Criterion): An acclaimed tale of grief and unexpected tragedy as an aging actor prepared for an upcoming production of Chekhov's Uncle Vanya finds kinship with his new, young female driver.
Devil in a Blue Dress (Criterion 4K & Blu): A 1940s-set mystery starring Denzel Washington as a decorated war hero turned detective who's assigned to find a missing socialite. During this, he finds himself mixed up in a dangerous political scandal.
God Told Me To (Blue Underground 4K): Larry Cohen's cult horror thriller about a New York detective who investigates a series of brutal murders by citizens who claim that they were summoned by God to do so.
The Sacred Spirit (Arrow): A member of a group of UFO enthusiasts finds his life altered when the leader dies. Now, he must continue the secret protect they both were working on to change human destiny.