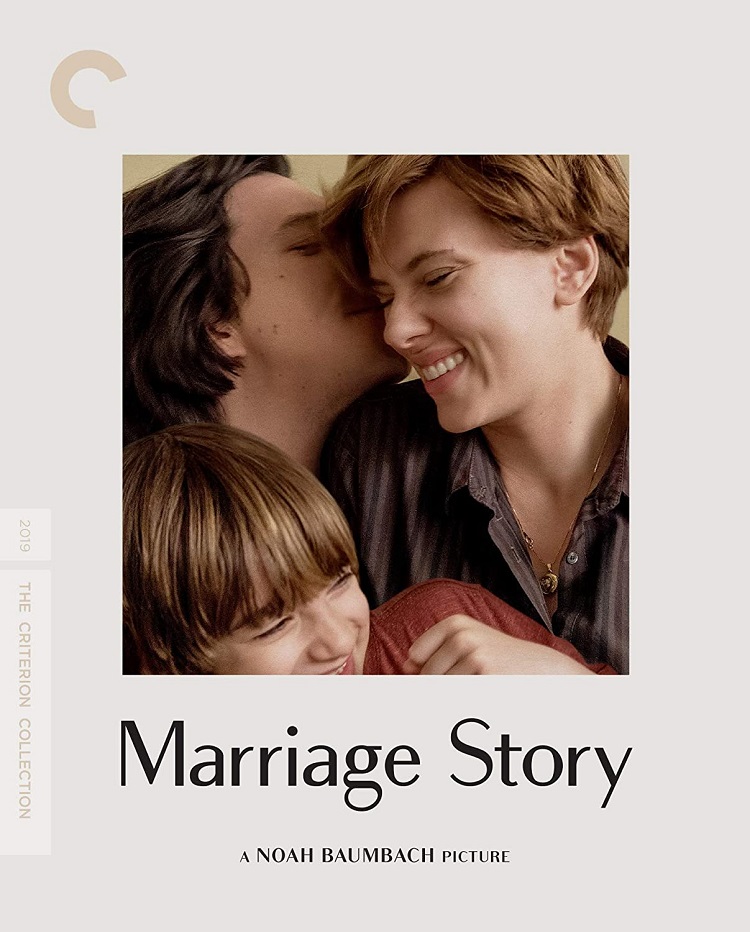 I'm not an expert on marriage, but seeing many films about it, I guess I can at least say that from my viewpoint, it can be quite the emotionally, mentally, and sometimes physically draining journey. There have been many films, including Faces, Kramer vs Kramer, Shoot the Moon, The Squid and the Whale, and most notably, Ingmar Bergman 1973's masterpiece, Scenes from a Marriage, that have put their own distinctive spin on the subject. I think it's safe to say that director Noah Baumbach's marvelous 2019 film, Marriage Story, is destined to join the ranks of highly accurate and piercingly real portraits of the difficulties of marriage and the often numbing process of divorce.
In beautifully pitched and career-best portrayals from both Scarlett Johansson and Adam Driver, they play Nicole and Charlie Barber, a New York actress and her theater director husband, who find that their marriage has run its course. Nicole feels that she has sacrificed her own passions and her voice, while Charlie is way too into his work. But Charlie himself thinks that he isn't good enough for her. They want to have a simple and straightforward divorce, with no drama, trying to make it as easy as possible for their impressionable young son, Henry. However, their hopes crumble as the divorce lawyers they've hired and the overall legal system, push them to the brink and force them to restudy their entire relationship and family.
In painful and ungarnished detail, Baumbach orchestrates all the anger, rage, regret, and conflict that usually happens in marriage. Johansson and Driver sublimely cement his vision to deliver two of the very best performances that came out of last year. The two leads both realistically capture the frustrations that their characters' have with each other, as well as themselves, especially in their epic screaming match near the end of the film in Charlie's new apartment. You don't choose a side; you understand both their characters' personalities, flaws, hangups, and issues. Baumbach also gets superb supporting performances from Laura Dern (who won an Oscar for hers), Ray Liotta, Alan Alda, Julie Hagerty, and Azhy Robertson as Henry. They each have their own moments to shine, and they don't disappoint nor steal the film away from Johansson and Driver.
For a film just released last year, Criterion did a fantastic job with their release, with supplements that further explore the film and it's challenging appeal. They include:
New interview with Baumbach.
The Players, a new video program featuring interviews with Johansson, Driver, Dern, Alda, Hagerty, and Liotta.
The Filmmakers, a new program about the production of the film featuring interviews with Baumbach, editor Jennifer Lame, production designer Jade Healy, costume designer Mark Bridgesm and producer David Heyman.
The Making of "Marriage Story", a new program featuring behind-the-scenes footage.
New interviews with composer Randy Newman and Baumbach about the film's score.
New program featuring Baumbach giving viewers a tour of a key location from the film.
Trailers ("Nicole" and "Charlie")
Notes on the film by Linn Ullmann.
I had been wanting to see this film for a long time, but it was definitely worth the wait. It was emotionally brutal, honest, truthful, and full of life. Baumbach has become one of my favorite directors working today, and I obviously think that Marriage Story is certainly a true reason why.