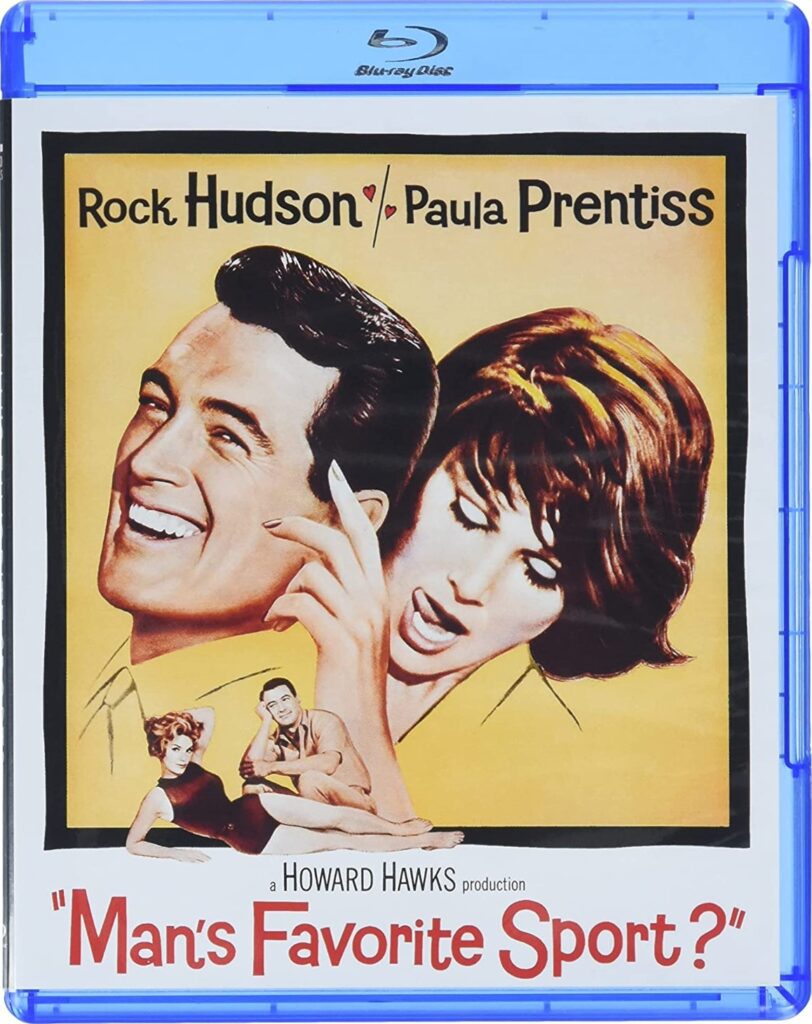 Rock Hudson stars in this romantic comedy about the author of a well-known fishing guidebook who has never actually fished, making him sorely out of his depth when he's forced to enter a fishing competition. He's also burdened with the annoying but adorable press agent Paula Prentiss who arranged the competition but seems determined to bother him at every turn.
It's a cute enough fish-out-of-water premise, but director Howard Hawks makes a couple of miscalculations. First, the film is just too long for a breezy romantic comedy. At two hours, it loses much momentum built for the romance, instead detouring into the daily mechanics of the three-day fishing competition. Second, Hawks employs the screwball antics he used in films such as Bringing Up Baby, favoring ridiculous over-the-top comedy over realistic amusing romance. Prime examples of this include Hudson's character crashing a scooter into a bear in the woods, who then continues to ride the scooter without Hudson, as well as another bear scaring Hudson so badly that he literally runs on water across a lake to get away from him. Hudson is a good sport enduring the cartoonish buffoonery, but he's too classy for material better suited for a madcap comedic actor.
Behind the scenes, Henry Mancini provides a swinging but limited score, while legendary costumer Edith Head dresses the cast in stylish threads. The sets start in a very Mad Men-esque office location at Hudson's salesman job at Abercrombie & Fitch, which seemingly operated more like REI at the time with a focus on providing sporting gear for wealthy outdoorsmen. From there, the rest of the story is set outdoors in a wooded lake area, although the lake appears to be a soundstage pond for much of the film.
The new Kino Lorber edition of Man's Favorite Sport? looks impeccable, with consistent color and contrast through all scenes and no apparent defects. Colors are slightly washed out, pleasant enough for the film's vintage, while sound is also scrubbed of any flaws. A commentary track is included from a film historian along with select remarks by Prentiss as well as her long-time husband Richard Benjamin, who had no apparent relationship with the film but tagged along anyway. The film's trailer is also included, along with trailers for other select Kino Lorber releases, but there are no other special features about the film.