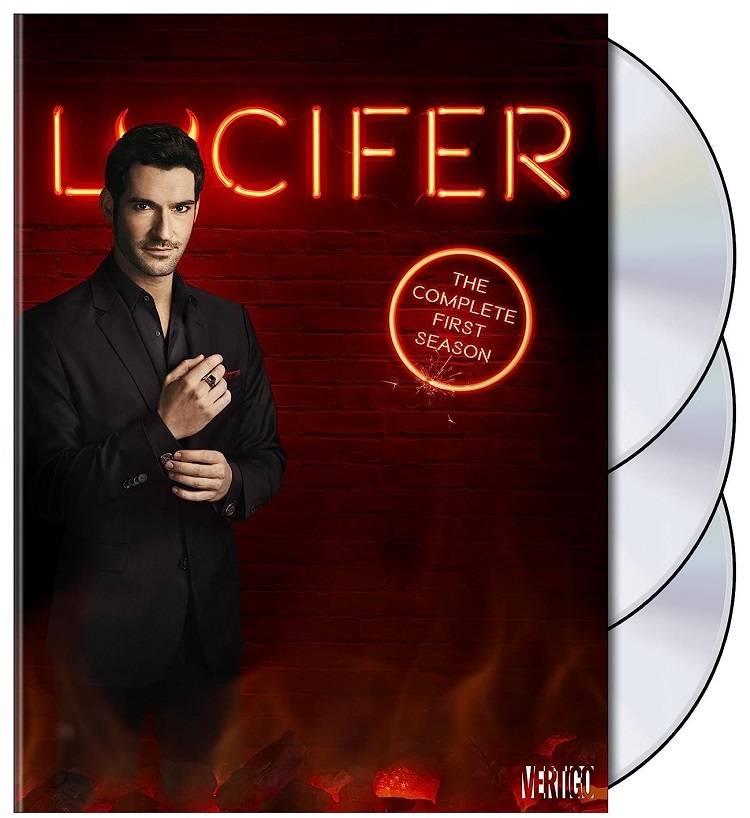 Do you know what would happen if you were to take every police procedural television series in the last 20 years alone and watched them back-to-back? Frankly, you'd be in Hell ‒ especially as the paint routinely and ritually applied over each show's numbers quickly began to peel away. At that point, you'd yearn to be saved by someone ‒ anyone ‒ from that which a GTA radio commercial once (aptly) described as "forensically boring." And it almost seems that such a scenario befell prolific producer Jerry "I'll Produce Anything" Bruckheimer. No doubt fearful the CSI franchise he has been inflicting upon humanity since 2000 is nearing the point of implosion, Bruckheimer obviously decided to strike up a deal with the Devil himself for a solution.
Naturally, Old Scratch saw in this the perfect opportunity to shine the spotlight onto himself. And while the idea of The Devil starring in his very own police procedural may seem like a bit of a stretch, Lucifer: The Complete First Season comes as a most-welcomed change of pace when compared to any of the other shows currently taking up valuable broadcasting space on TV (be they products of Jerry Bruckheimer or otherwise). Based on a supporting character from Neil Gaiman, Sam Kieth, and Mike Dringenberg's graphic novel series Sandman (and its subsequent spin-off, Lucifer, all published by Vertigo/DC Comics), Lucifer finds the Dark Lord here on Earth, passing the time by helping to solve crimes for the LAPD.
It's as unlikely of a scenario as one could hope for (only Jerry Bruckheimer would turn Lucifer into another police procedural), but of course, that's what makes Lucifer appealing. Here, the charismatic Tom Ellis plays Lucifer Morningstar, owner/operator of the prestigious Lux nightclub in Los Angeles. Having grown bored with punishing the damned souls of the underworld ‒ Lucifer's own punishment for betraying his heavenly Father ‒ history's quintessential antihero has retired and moved upstate (so to speak) in the pursuit of a new existence. And maybe even an opportunity or two to redeem himself in the eyes of those strange little humans whom he finds so deliriously curious (and fun to punish), who have given him quite the bad rep over the years.
After an up-and-coming pop star is gunned down in his arms outside of his club, Lucifer makes the acquaintance of LAPD Detective Chloe Decker (Lauren German, no stranger to police procedurals). Det. Decker immediately catches Mr. Morningstar's eye ‒ not so much because she was the star of a cult '80s T&A flick entitled "Hot Tub High School," but since she appears to be the only mortal woman on the face of the Earth immune to his over-the-top charm and in-your-face sexuality! It's a mystery Lucifer can't solve. More importantly, Lucifer discovers he likes solving mysteries, especially when they're nice juicy murders or involve prominent Hollywood celebrities and recording artists, members of the LAPD, and other forms of low-level scum.
Using his God-given gift for detecting a mortal's deepest desire ‒ be it to kill or, in the case of a fashion model, to eat ‒ Lucifer (whom no one actually believes isLucifer, despite his sheer honesty) and Det. Decker form an unholy alliance to bring bad guys to their knees. Occasionally assisting Lucifer is his deadly demon bartender Mazikeen aka "Maze" (Lesley-Ann Brandt), who resents her master's current situation. Meanwhile, angel Amenadiel (D.B. Woodside) tries to escort his brother back to Hell, seizing every chance in order to succeed. Kevin Alejandro is Decker's ex-husband Dan, whom Lucifer justly refers to as "Detective Douche"; young Scarlett Estevez is their daughter, who adores Mr. Morningstar despite his profound hatred of children.
Rachel Harris rounds up the regular cast as the lusty therapist Lucifer tries to gain insight into human beings from, and Kevin Rankin steps in mid-season as part of a story-arc. The earliest episodes of Lucifer are ‒ while perhaps "defining" ‒ a bit weaker than the latter-day (ha-ha) chapters in this debut season. You can practically sense the writers are trying to feel their way around with what they have here, and it's interesting to watch them sell their souls for something new and inventive. But if the writing and delivery of the very last line in the season finale ‒ which concludes after a brief trip to faraway land ‒ is any indication of what lies ahead for Lucifer, then the progression of this unusual take on cop dramas should be well worth the risk.
Give it a gander now, before the Devil knows your taste in police procedurals is dead.