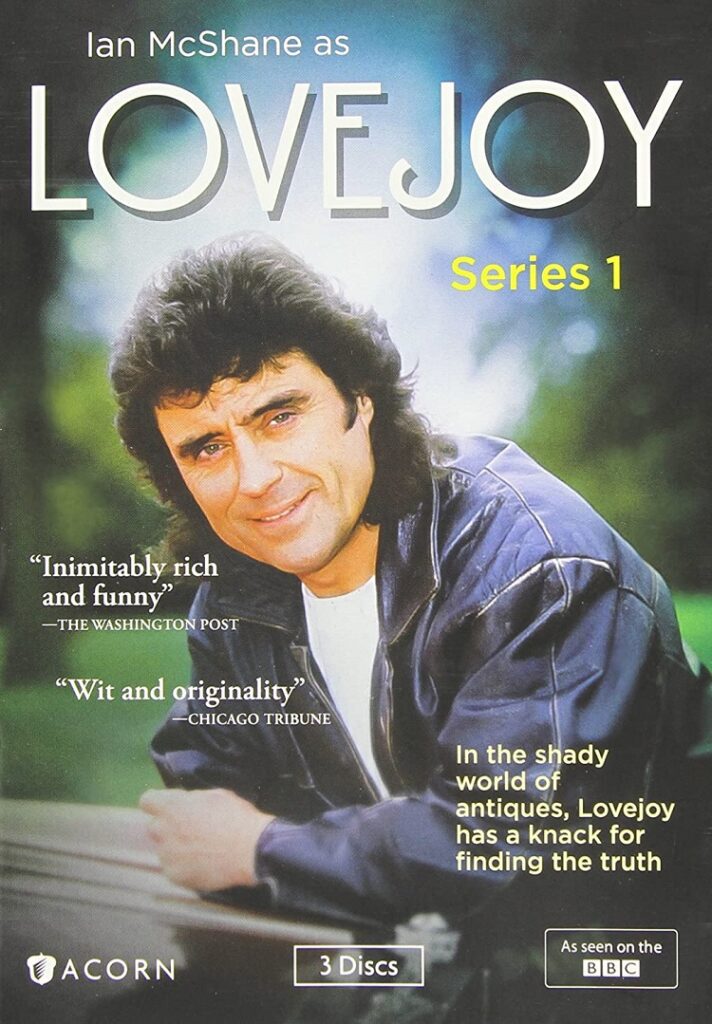 When American audiences hear the name Ian McShane, the first image that comes to mind is most likely his gritty, brilliant portrayal of Al Swearengen in HBO's Deadwood. But the actor has been busy on stage and screen since 1962. And before Deadwood, he created another iconic character, Lovejoy, whose series aired in the U.K. from 1986 to 1994. The shows were picked up in the U.S. and broadcast by the A&E Network in the 1990s. They haven't been available to American audiences on DVD until recently, thanks to Acorn Media, who has released the first set, Lovejoy: Series 1, with hopefully the remaining five seasons to soon follow.
Based on the character from the popular mystery novel series by Jonathan Gash, Lovejoy isn't a typical British mystery series. The focus is not on grisly murders or detectives trying to get into the heads of brilliant and idiosyncratic criminals. Set in East Anglia, McShane's Lovejoy is an antique dealer, who is mostly honest, but most importantly, has an absolute love of all things antique and ancient. He is also a "divvie," someone who can feel in his bones whether a painting or an object is the real thing or a clever fake. It's a wonderful quality to possess, but it can get Lovejoy into a lot of trouble. What makes the series especially fun is watching Lovejoy's true love for his work, and being able to learn a thing or two about paintings, porcelain, furniture, and even history along the way.
Lovejoy is frequently broke and even more frequently in trouble, but he is also blessed with some great friends, who either already share his love for antiques or are willing to learn. He has a protege, Eric Catchpole (Chris Jury), whose dad is paying Lovejoy to teach his son the antiques trade – which comes at a great time since his rent is long overdue and he is facing eviction. Lovejoy's barker, Tinker Dill's (Dudley Sutton) job is to try to attract interest in whatever item Lovejoy is trying to sell. Lady Jane Felsham (Phyllis Logan) is his friend, and at times, rescuer. The two also have a flirtatious relationship, although Lady Jane is far above his station and conveniently (or inconveniently) married. Charlie Gimbert (Malcolm Tierney), a rival antiques dealer and Lovejoy's landlord, is frequently the butt of Lovejoy's jokes and the bane of his existence.
The transfer on the 3-DVD set is good, but as is stated in a disclaimer at the start of each disk, the series is pre-digital era and the grain of film is apparent. But Lovejoy still looks good on a large-scale high-definition television screen. The format is full screen and the entire series has an approximate running time of 530 minutes. Subtitles and scene selection is available, but alas, no other extras are included in the set.
Disc 1: In "The Firefly Cage," we are introduced to Lovejoy and the gang as the divvie tries to avoid getting evicted, while also trying to determine the secret behind an antique Chinese firefly cage. The second episode, "The Axeman Cometh," showcases Lovejoy's growing friendship with Lady Jane, who helps Lovejoy avoid some trouble – in the form a very big man with an axe. In "The Sting," Lovejoy uses Charlie's love of jade to help double-cross a double-crosser. And in the final episode on the disc, "Friends, Romans and Enemies," an old Roman coin sends Lovejoy and others on a hunt for gold that turns dangerous.
Disc 2: In "The Judas Pair" someone is more interested in some antique pistols as killing machines than auction fodder. In a fun episode, "To Sleep No More," Lovejoy learns that sometimes a fake can be as valuable, or even more so, than the genuine article. Always having problems with his landlord, in "The Real Thing" Lovejoy decides to leave home for a while to get away from Gimbert, but soon finds himself in another sticky situation.
Disc 3: In "The March of Time" an antique clock tells a story about family and loyalty. In the last two episodes in the set and in the first season, "Death and Venice, Parts 1 and 2," Lovejoy is in the fabulous Italian city where he soon gets caught up in murder and an art scandal. As fun as his regular English setting is, these were two of the best episodes of the first series.
While Lovejoy does include a mystery of sorts in each episode, the true pleasures of the show are in the charm of its star, McShane, and the great settings and art objects that he shares with the audience. East Anglia may at first seem a sleepy part of England, but Lovejoy and Co., manage to make it seem downright exciting. For fans of the '80s and '90s, there are some fun hairstyles and clothes to enjoy, too. McShane occasionally breaks the fourth wall and addresses the audience directly, which also pulls the audience into his life and scams. I guarantee that after getting schooled by Lovejoy on the beautiful objects included in the episodes on this three-disc set, viewers will be eagerly anticipating the next season, which will hopefully be released soon.